To My Sisters Who Want To Be Mothers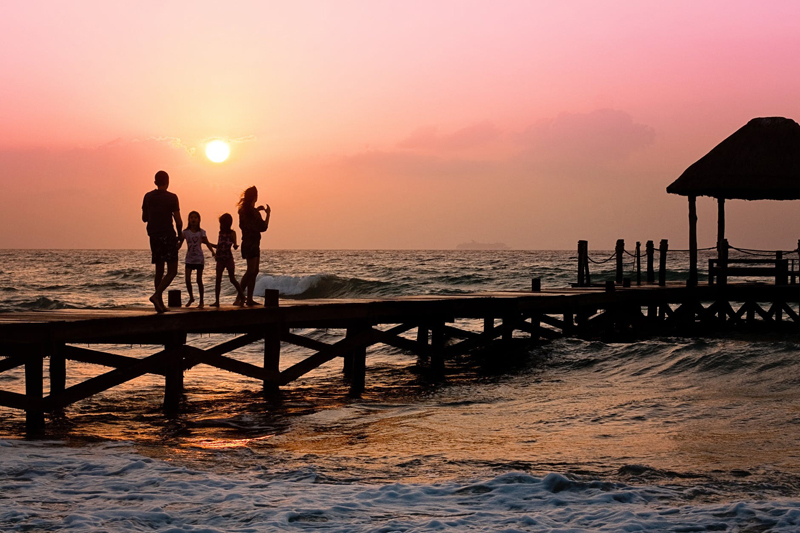 Approaching Mother's Day one more time, I look at my five children running around like little nuts. They are loud, mostly dirty, often inappropriate. They laugh uproariously at things that aren't at all funny, except they find them so, and that makes
me
laugh even harder than they do. They zoom around their world and mine with supersonic speed—my five musketeer-cowboy-spaceguys. They fill my head, my house, my heart with so much noise and activity that I barely have time to stop the rapid-fire spin cycle that is now my existence, and think for two seconds. But in rare half-moments like this one, when everyone is gone from the house but me, I have time to remember who I was and what my life used to be just a few years ago. So few, not even a decade. I had no children, but oh how I longed to be a mother!
My yearning was granted, obviously, with pouring immediately following the gentle raindrops of one miracle-baby, and now it seems like a different woman whose home was quiet and orderly. It is only as Mother's Day approaches, or when I meet another woman struggling with infertility that I recall,
oh yeah! I used to hurt that way too. I used to skip church that week in May every year and avoid even the smell of a baby shower.
But remembering, I feel it all again, and I can say to those of you feeling it now: There is hope.
I do not meant necessarily that your prayers will be answered in the same way mine were, nor can I tell you why motherhood eludes you worthy, loving sisters when so many in this world take it for granted, or even discard it--and their priceless children--altogether. What I can say emphatically is that it will be alright. I promise. There is peace for you, and a fullness of joy. Your prayers
will
be answered in the time and manner that your Heavenly Parents know is best for you, as long as you continue in faith and do not give in the sorrow Satan is trying to take and expand into despair. As a daughter of God, your Father supports you; He values and honors who and what you are, and your elder brother weeps with you, feeling your every tear, longing to answer your understandable confusion. This prayer is cast at the heavens by countless beautiful spirits:
Why, Father? I have done everything I can to be worthy. My husband and I are so willing and able to provide such a safe, loving home. I promise I would raise those spirits you send to know and love thee. Why give me this desire only to refuse to fulfill it? Why must I watch as others, who care
nothing
for this gift, are blessed over and over again? What must I do? I'll do it, I swear!
Like most of us when we are sealed to our husbands, I had in mind a pretty clear vision of how our family would grow. I knew from my girlhood that I wanted to both give birth and adopt children some day. As I left the temple with my shiny, new husband at the age of 21, I was sure we would wait a year or so, then have our first child. After this we would bear or adopt a child every two or three years until we felt our family was complete. I was certain we'd be all done with this acquisition by the time I was 30ish. It took about a year for me to really understand that this ordered, reasonable path was not to be mine. As my friends became pregnant without any effort or angst, and young families grew out and up all around me, like crab grass, I went from patience, to hope, to fighting off bitterness and engulfing depression. The cry above left my throat over and over again, and I could find no sense or solace at all.
What did make sense was that I had a good marriage, strong and supportive. Our infertility, the adoption attempts that fell through, even miscarrying drew us closer to each other, rather than tearing us apart. We had seven years to make our relationship the primary focus of our lives. We got to know each other really well, and it turns out we really like one another. The strength of our bond and the trust we developed have proved crucial in enduring some of the more unusual trials we've faced in the eight years since we became parents.
My righteous desire to become a mother dwelt in the context of a Christian life. I sought Father's will and a deeper spiritual understanding of all things. No, I did not understand why, when I already knew I wanted to adopt children, the answer was always,
not yet.
But as I moved about my life--going to school, working, serving in my ward, loving my husband--I found measure after measure of grace and comfort that came to me. One dark night after a prospective adoption vanished from my fingertips I wept to the Lord once again. This time I had shared our trepidation-laced joy with a few friends in our ward, and wished I hadn't. We had been approached by a young woman, a teenager we knew, who found herself pregnant, ashamed, and terrified. She asked us if we would adopt her baby, and after much prayer and fasting we both felt sure that Father's answer was,
yes
this
child!
Days after I called this brave girl to give her the news, then told my friends and family members about my very own miracle, she miscarried.
My well-meaning sisters tried to console me, saying it was "for the best," and that this must have happened just to set me on the path to adoption, or test my resolve to become a mother, or prove my faith to Father in Heaven. Honestly I was too distraught to be offended by these speculations. I still don't know for sure why we had that particular experience, but I know that one of the lessons I learned crying on my front porch in prayer that night was that I had to turn the matter wholly over to Him, and seek guidance even as to what I should pray for. Our prayers changed that very night from,
please let us have a child
, to
please let us know what to pray for
, and then very soon to,
please bless us that the children meant to be ours will find their way to our home in thine own due time and way. And bless us please to be close enough to thee that we will know when it is time to take action, and what action we should take.
It was a problem that I had worried and fussed with so long and examined so thoroughly, making one plan after another. Telling the Lord
this is what we will do; grant us this blessing if it be thy will
, then later, when "this" didn't work out,
ok, Father, now
that
is what we are doing. PLEASE if it is time now let me have it! (And I remind thee I've been very patient and faithful!)
Finally, having done all I possibly could, I surrendered completely, still awaiting guidance, but having accepted it was not for me to determine what shape my family in this life would take.
The children meant to be mine did find their way to me, through my body and that of another sweet woman, seeking her own way through challenging times. I know, more truly than I am sure of anything else except that the gospel is true, that my five boys were always intended by our Father to be mine. I have been blessed with the knowledge that of all the women on this earth, I am the only one He selected to be their mother. The gift of motherhood still humbles me. It is more precious than any other blessing I have received. And yet I tell you, sisters, I truly had reached a point of surrendering to the Lord's plan such that I could accept the possibility that I would never be a mommy in this life.
I admire women who take comfort in the idea that all of us are mothers in a way, and that all of us who are righteous will have the opportunity for motherhood in the eternities. I never felt comforted by those thoughts myself, though I do believe they are true. What comforted me was knowing that my Heavenly Parents know and love me, that I was not passed over because of something I lacked, or because They just didn't care, but that in coming to earth I accepted all the trials Their plan had in store for me. These trials are unique to my needs and abilities, and it was wisdom beyond me that infertility was included in this package for my life.
I cannot promise you that you will bear a child someday, or have the chance to be chosen by a Birthmother and in turn choose your baby. I wish I had the power to grant this gift to every worthy woman who wants it. And I know it is so hard sometimes to remain upbeat and happy when every message of womanhood in The Church is also tied to motherhood, and others seem to fall into this cherished role with little thought or effort. (This also is an illusion of limited perspective). But I can promise you that you are loved and known. You are cradled in Father's arms, held close to Him. Your fears and hopes are in His ears, your triumphs in His heart. Your setbacks and pain sting Him. He attends to you with every bit of the love and nurturing you would give your children, and more. I know this, because your Father is my Father, and He loves us the same.
I know, dear sister, that you have cried to Him as I have. The passage in Doctrine and Covenants Section 6, when He speaks to Oliver Cowdry on a much different personal struggle applies to us as well:
Yea, I tell thee, that thou mayest know that there is none else save God that knowest thy thoughts and the intents of thy heart…I have spoken unto thee because of thy desires; therefore treasure up these words in thy heart. Be faithful and diligent in keeping the commandments of God, and I will encircle thee in the arms of my love…Verily, verily, I say unto you, if you desire a further witness, cast your mind upon the night that you cried unto me in your heart, that you might know concerning the truth of these things. Did I not speak peace to your mind concerning the matter? What greater witness can you have than from God? (16-23)
He will answer our prayers, and remind us as often as we need of the peace He has spoken. I know it is presumptuous of me to offer advice, but if I could speak to myself years before I figured it out I'd say this: Give up the struggle for motherhood, and surrender to a Father who will give you every good thing when the time is right, and who loves you more than you can know in the meantime.
Follow @LDSFamilies1
You Should Also Read:
To My Mother
A Tribute To Eve (And My Own Mother Too!)
Eve and the Choice Made in Eden - Book Review


Related Articles
Editor's Picks Articles
Top Ten Articles
Previous Features
Site Map





Content copyright © 2022 by Jamie Rose. All rights reserved.
This content was written by Jamie Rose. If you wish to use this content in any manner, you need written permission. Contact Jamie Rose for details.