Soothing Children's Fears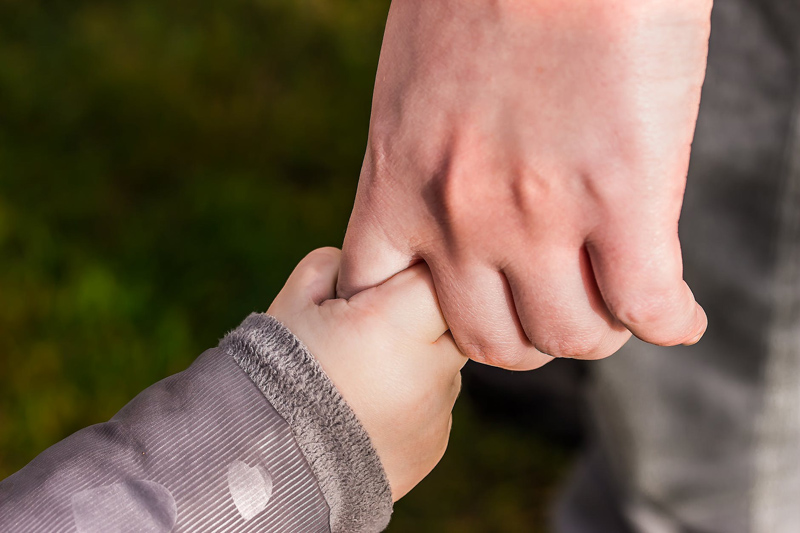 Soothing children's fears following traumatic events can soften both short term and long term effects of the situation. Depending on the age of the child, adults can provide comfort by following certain guidelines even when we are feeling none too safe ourselves.
Supporting children when they are experiencing distress helps them learn coping strategies and encourages resilience. Many adults find that comforting and reassuring children helps them to find the inner resources they need to carry on in difficult situations. Children find comfort in voices, contact, and familiarity. A snack, drink and nap, a stuffed animal to cuddle and a comfortable nook where they feel safe can each revive a child's courage and sense of well being.
It is always important that adults pay attention to their own needs for support and encouragement following traumatic events. Talking with other adults helps us acknowledge that we are not alone in our experiences and feelings. Pretending that we feel a strength that no one can sustain during traumatic events makes us more vulnerable to the stress.
Children with developmental disabilities are sometimes treated as if they are unaware of situations that are putting extreme stress on their caregivers, and may be 'filling in the blanks' with their own facts that are much more frightening than the actual situation. A simple remedy is explaining that something unusual is happening and giving permission for children to express their feelings or ask questions. It is reassuring to them that adults in charge are aware of their concerns.
Those with physical disabilities may be more frightened about potential crisis situations because they feel they have less control over their environment and may be less able to escape a dangerous situation than their mainstream peers. Children with disabilities are especially vulnerable to verbal and physical attacks from bullies, and bystander or survival guilt when they are not able to protect their friends or family from danger.
Most adults remember frightening experiences from childhood, and regret putting their children in situations where they are extremely frightened by simple, avoidable sounds or images. Balloons popping, dogs barking, startling claps or older children yelling 'boo'; halloween masks or clowns - and even a yearly photo op with Santa - can be extremely distressing to young children, especially those with sensory discomfort or other issues.
Even more frightening are natural disasters, terrorism, violence, and bereavement; scary scenes on television and in movies, and - especially - real events in the child's household or community. Children who have a father, mother or other relative serving in the military see frightening news stories on television, and like other children may be fearful about more than the possible loss of loved ones.
Children with disabilities, like their mainstream counterparts, can develop anxiety reactions, post traumatic stress disorder, depression and other problems.
When children develop mental health issues, symptoms can vary from those usually seen in adults, or they may be quite similar but are misinterpreted because they are attributed to a stage of development or a primary diagnosis.
For most children, the same care and comfort that their grandparents found in childhood works well in reuilding a sense of safety and hopefulness.
Children continue to need soothing and comfort from adults in charge long after dramatic events, and may not recover from some traumatic experiences without counseling, or medication with counseling, and time.
We know much more today about children's difficulties and their needs for special attention following traumatic events than in previous eras. Assuring them that there will be days ahead when they again will feel safe, happy and carefree helps them trust in the future no matter how frightening their experiences have been.
Browse at your local bookstore, public library or online retailers for books like:
What to Do When You Worry Too Much: A Kid's Guide to Overcoming Anxiety
or
A Terrible Thing Happened - A story for children who have witnessed violence or trauma
PBS Sesame Workshop:
When Families Grieve
Talking with children about the death of a parent; featuring Sesame Street characters
Sesame Workshop and 9/11
https://joanganzcooneycenter.org/Cooney-Center-Blog-172.html
What Art Therapy Learned from September 11th
Children's drawings of 9/11 increased our understanding of trauma and PTSD
https://www.psychologytoday.com/blog/the-healing-arts/201109/what-art-therapy-learned-september-11th
US DHHS -
Coping With Disaster: Suggestions for Helping Children
https://www.acf.hhs.gov/blog/2012/11/resources-for-children-and-youth-during-or-after-a-disaster
The National Institute of Mental Health -
Helping children and adolescents cope with violence and disasters
American Psychological Association Help Center
Disasters and Traumatic Events
Tornadoes, Hurricanes and Children
Resiliencia: Después del Huracán o un Terremoto
Helping Your Children Manage Distress in the Aftermath of School Shootings
Resilience in a Time of War: Pre-Kindergarten
Military Homecoming: Expectations and Culture Shock
Books About Cancer For Kids
https://www.notimeforflashcards.com/2014/08/books-cancer-kids.html
You Should Also Read:
Children, Grief and Loss
Severe Weather Events and Children
Terrorist Attacks and Children


Related Articles
Editor's Picks Articles
Top Ten Articles
Previous Features
Site Map



Follow @DownSynAdvocacy
Tweet





Content copyright © 2022 by Pamela Wilson. All rights reserved.
This content was written by Pamela Wilson. If you wish to use this content in any manner, you need written permission. Contact Pamela Wilson for details.