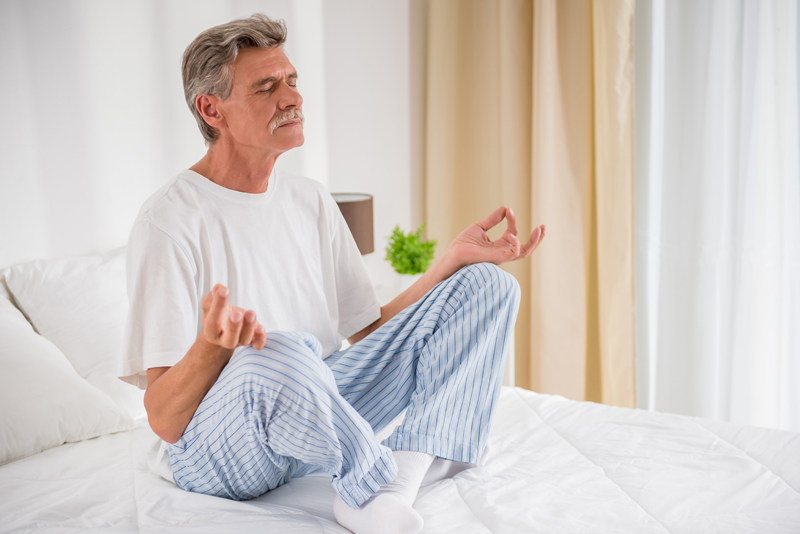 As seniors, it's important to keep our skin in the best possible condition. If you want all the benefits of a spa facial but cannot afford the day out, take heart. Your best spa day could be closer than you think – in the heart of your home! Your kitchen is full of produce and products that are great for your skin.

Use a lemon to clean
Begin by cleaning your skin. The citric acid in a lemon makes a perfect astringent, pulling excess oils out of the pores. If straight lemon juice squeezed onto a cotton ball is too strong for your delicate skin, dilute it with a little water by dampening the cotton ball first. Add a little lemon juice to your washing water to keep oils at bay.

Out with the Old, In with the New!
Both peaches and strawberries are full of alpha-hydroxy fruit acids. Besides removing dirt and dead skin cells, they'll make the new skin healthier. Both help unblock and shrink pores and fight blemishes. They will improve the texture of your skin and have been reported to lighten age spots and minimize wrinkles. Especially good on oily skin, these fine fruits reduce greasiness of your skin and encourage that healthy skin glow.

Peaches: Cut a slice of peach and rub it on your face and neck. You can also use the inside of the peach skin (and eat the peach!) Leave it for 20 minutes and then rinse the fruit juice away with warm water. For a deeper clean leave it on overnight.

Make a peach/oatmeal mask by slicing one peach and slowly cooking it (peach skin on) over low heat. Once the slices are soft, blend until smooth. Add one tablespoon honey and two tablespoons oatmeal. Blend only slightly, until well mixed. Put the mask on and relax for 20 minutes. Rinse with cool water and pat dry.

Strawberries: Mash 6-8 strawberries and apply to your face. Leave for 15 minutes and rinse away.

Add honey, or honey and lemon, for a deeper clean.

To fight aging, make a strawberry/milk mask by gently blending cream into your strawberry mash. Apply and leave on for 10 minutes.

No more desert-face!
Keeping our skin well nourished and moisturized is a growing necessity. There are several choices for a natural moisture therapy. Try each one until you find the option that works best for you.

Avocados: (great for weather-worn and aging skin; sooths roughness and irritation. The oils in the peel of the avocado seal moisture in the skin.)

For daytime use, use the inside of an avocado peel much like you would soap. Gently rub it on your face and rinse with warm water. As always, pat your face dry. For an overnight moisturizer, leave the avocado oils on your face until morning and then rinse as above.
Cucumbers: (long been used to reduce puffiness around the eyes. That's because they not only moisturize the skin, but tighten pores and reduce skin irritation.)

For eye puffiness, simply cut the cucumber and place a pair of 'circles' on your eyes. Relax for several minutes, remove and rinse with cool water.

Cucumber Masks are soothing and relaxing. To make, puree one small cucumber. Pour the puree into a bowl and add 1 tablespoon of plain yogurt. You can also add other ingredients: brewer's yeast, lime or any other food item listed in this article. Add them slowly – 1 teaspoon at a time – to keep from changing the consistency too drastically. Apply the mask and relax for 15 minutes. Rinse with cool water.

Egg yolk:
Carefully separate from egg whites. Stir and 'paint' on face. Allow to dry until it feels stiff when you smile. Wash with warm water and pat dry.

Oatmeal:
Excellent for itchy, irritated skin; draws out impurities and builds a barrier to keep moisture in. Encourages new cell growth.

Oatmeal Mask
Mix
2 Tbsps ground oats
2 Tbsps aloe vera
2 tsps brown sugar
1 tsp lemon juice
Mix into a smooth paste. Massage onto damp skin. Rinse with warm water.

Olive oil:
Apply olive oil directly to your face. Cover with a warm, moist towel for 10-15 minutes. Use the towel to wipe away oil when your treatment is done.

Once you've cleaned, exfoliated and moisturized your face and neck, use egg whites as a toner. Separate them from egg yolks and whisk until they begin to froth. Apply to your face and rinse away when they feel stiff when you smile.

Spa day is a great way to spend time with friends or the female members of your family. You may give a 'kitchen spa day' as a gift or have a spa-party. Take turns being the client, visit and have a snack.

Cheese and crackers might be a good choice.

You Should Also Read:
Cooking Tips and Tricks Quiz


Related Articles
Editor's Picks Articles
Top Ten Articles
Previous Features
Site Map





Content copyright © 2022 by Debora Dyess. All rights reserved.
This content was written by Debora Dyess. If you wish to use this content in any manner, you need written permission. Contact Debora Dyess for details.