Dealing with Diapers on Vacation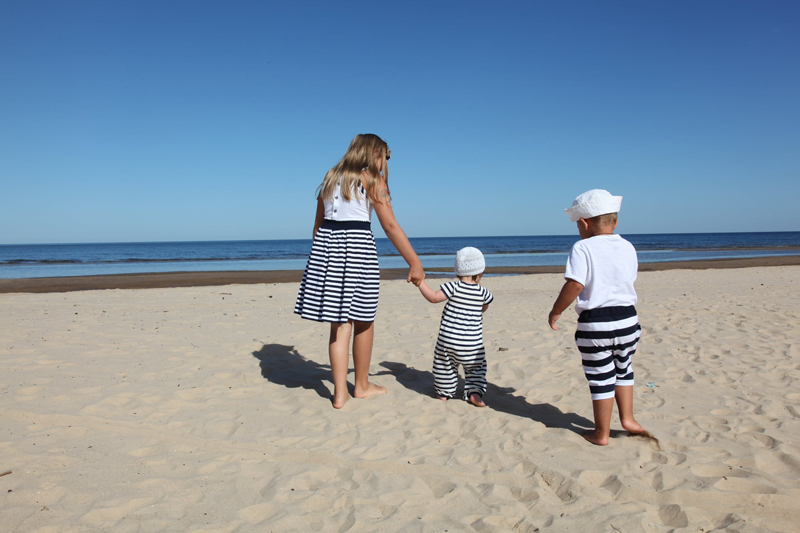 A family vacation doesn�t mean a vacation from diaper changing duties. Here are a few suggestions to help you deal.

Cloth or Disposable? If you use cloth diapers at home, you might want to consider switching to disposable while you�re on vacation. Disposable diapers have tons of advantages for travel: they are disposable, take up less space (you don�t need to store the soiled ones or bring special detergents) and save laundering time. The advantages of cloth over disposable: they�re better for the environment, may make diaper rash less likely, and if cloth is what your baby is used to you may not want to risk switching during vacation.

Dealing with cloth diapers on vacation. If you choose to go the cloth route, be sure to bring along a good-sized plastic lined bag for storing soiled diapers plus travel-sized containers of detergent and stain removers. If you�re just away for the weekend, consider bringing all the diapers home to wash. For an extended vacation, dealing with cloth diapers will be easier if you�re renting a house or apartment with a washing machine. If not, investigate cloth diaper manufacturers that sell flushable diaper inserts (see link below).

Dealing with disposable diapers on vacation. Always pack more diapers than you think you�ll need for travel (plane or car trips) but don�t pack more than a couple days worth to use at your destination. Disposable diapers are widely available so unless you�re traveling off the beaten path or need an obscure brand, save luggage space and buy diapers once you arrive. Pack several plastic bags (grocery bags are great) for disposal and re-use all the bags you collect during your trip. Bag up and toss used diapers immediately to keep your hotel room smelling fresher. Watch out for diaper rash; letting your baby hang out naked for awhile each day can help prevent it.

Changing baby. Whether you use cloth or disposable diapers, bring along washable or disposable covers (or alcohol-based wipes) for the germ- infested changing tables you�ll encounter. A small bottle of hand sanitizer is great for when you can�t wash your hands. Keep a couple of small receiving blankets in the bottom of your stroller or diaper bag; if there�s nowhere to change baby you�ll be able to make do with a patch of grass outside. Always bring twice as many diaper wipes as you think you�ll need and a good compartmented bag to help you stay organized. For vacations that involve a lot of walking, a backpack diaper bag will keep your hands free to carry your baby or push a stroller. If your trip involves visiting the beach or pool, remember that your usual diapers will not work in water. Bring disposable swim diapers or washable swim pants.

One last hint: be sure to change your baby frequently; it�s very easy to forget this when you�re rushing from the plane to the rental car with a cranky child. We�ve had more than one diaper catastrophe en-route to the hotel!



You Should Also Read:
Baby Carrier Reviews
Packing 101 for Baby


Related Articles
Editor's Picks Articles
Top Ten Articles
Previous Features
Site Map





Content copyright © 2022 by Kimberly Misra. All rights reserved.
This content was written by Kimberly Misra. If you wish to use this content in any manner, you need written permission. Contact Tiffiny Spire for details.