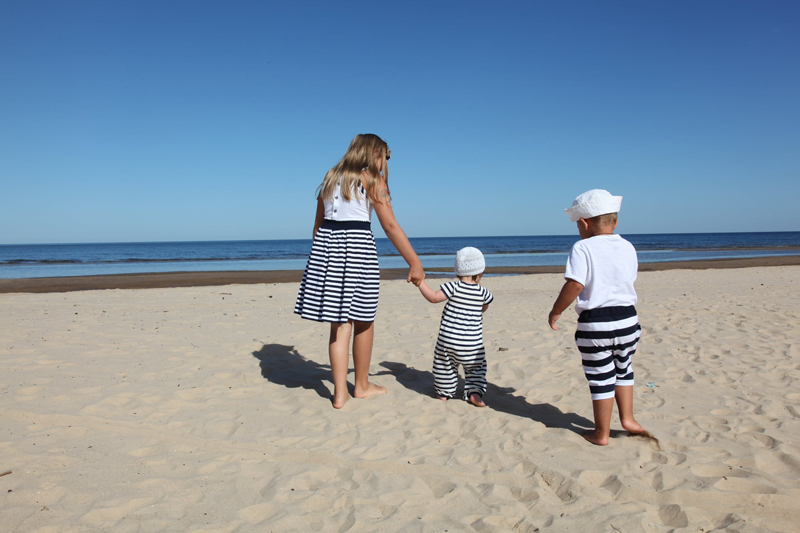 Kelty Frame Child Carriers. These are heavy duty (but lightweight) aluminum frame carriers. They're best for babies who are sitting up on their own. We bought ours with our first child and it's still going strong three kids later. The sturdy nylon material is tough and hasn't shown any wear. Nice features: a kickstand that lets you momentarily set baby down without them tipping over, toy loops, a storage pouch for supplies, a mesh pocket for a water bottle, a 5-point harness, a padded waist belt, a sun/rain hood (you may want to add the optional insect mesh), and reflective tape. It's relatively easy to get baby in and out, but it's best to have someone help you the first time.

The downsides: I've found this carrier works best for those on the tall side. My husband (6') used it regularly, I (5'4") personally find it too cumbersome to use. The carrier is big and can be awkward to maneuver in tight spaces such as on public transportation or crowded shops. While the stated weight limit is 50 pounds, we've found it works best with kids less than 35 pounds. These carriers are also on the pricey side.

The bottom line: Great choice for a sturdy carrier for hiking and camping. If you plan on using public transportation or visiting heavily crowded areas, a soft carrier may be more maneuverable.

Ergo Baby Carrier. This is a soft carrier that can be worn either on your front or back. It can be used with infants (by purchasing an infant insert), but I like it best with babies seven months to two years. This carrier is easier to use in crowded areas than a frame backpack and doesn't take up too much space in your luggage or daypack. It is washable and the material holds up well during heavy use. Most importantly, it's comfortable. Once you have baby in, the chest and waist straps can be easily adjusted for comfort. The shoulder straps are well padded and there is a sleeping hood to help support baby's head.

The downside: The Ergo doesn't give as much support as a frame backpack for serious hikes; you will eventually feel shoulder strain, especially with a heavy child. It can also be a bit tricky to get used to putting baby on in the back carry position, but ergobabycarrier.com has helpful tips and videos to get you started.

The bottom line: This is a great carrier for sightseeing in crowded situations, to pack along in a carry-on bag, or just to use around the house.

Mei Tai style Baby Carriers: These are made by many different companies, I have used, and can recommend, those made by meitaibaby.com which have the added benefit of an adjustable bottom that lets you control the size of the carrier's seat. These are soft carriers that are even less structured than the Ergo, so they take up less room in your bag. They can be worn either on the front (best for young babies), or on the back for older babies. Mei Tai's are a bit trickier to use than the Ergo and Kelty carriers, but still fairly easy to learn. The best part about Mei Tai's is the color choices; they come in tons of gorgeous patterns and colors.

The downside: Mei Tai's don't have the same level of padding as the Ergo so they're best for babies and smaller toddlers. The learning curve is a little steeper, but we were still able to pick up the technique quickly.

The bottom line: This is a great, stylish choice for short sightseeing trips, shopping, or using on public transportation.



You Should Also Read:
Flying With Your Baby
Packing 101 for Babies
More Baby Carrier Reviews


Related Articles
Editor's Picks Articles
Top Ten Articles
Previous Features
Site Map





Content copyright © 2022 by Kimberly Misra. All rights reserved.
This content was written by Kimberly Misra. If you wish to use this content in any manner, you need written permission. Contact Tiffiny Spire for details.