The Hazards of Frankenfish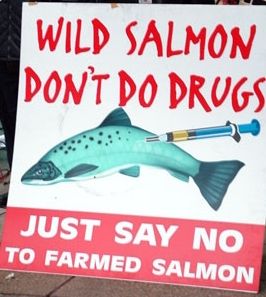 Aquaculture laboratories, such as AquAdvantage, are genetically engineering (GE) catfish, salmon, shrimp, oysters, bass, trout, and tilapia. In order for the GE fish to grow as intended, they are purposely exposed to antibiotics, hazardous dies, fungicide, antifreeze protein, various growth hormones that are not rendered inert by food processing, and environmental contaminants like polychlorinated biphenyl (PCB), polybrominated diphenyl ethers (PBDE), and dioxins.
Concerns over the expansive creation of Frankenfish fall into three major categories; safety for human health, risk of ecological and animal welfare damage, and violation of current global and national laws. When combined with weak or non-existent food labeling practices, as is the case in the United States, these Frankenfish pose a serious health risk.
Independent research studies indicate that the chemicals used to produce these fish are linked to developing a resistance to antibiotics, mental impairment in offspring, autoimmune deficiencies, eye problems, toxicity buildup, increased risk of contracting cancer, and a significant increase to developing severe allergies. On an environmental scale, these chemicals are widely disbursed throughout the Earth's water systems, as they are either distributed through fish food, biological waste produced by the fish, or directly added to the water. The more frequently this chemical cocktail is put into the water the greater the toxicity compounds, ultimately changing the natural composition of water.
GE fish that are trapped in fisheries routinely escape. When this happens they either are attempting to procreate with the general population, or are consumed as sustenance by an abundance of marine and wildlife that makes fish their primary dietary resource. In turn, these consumers experience a higher mortality rate, and a lower successful offspring rate, which has the potential to disrupt several food chains. A computer model done by Purdue scientists, calculated that if 60 GE fish were released into a natural population of 60,000 it would only take 40 generations for species to suffer extinction from exposure. Equally as disturbing, is the knowledge that countries around the world already have established clean water acts to prevent this irresponsible behavior. Yet, aquaculture laboratories around the world are permitted to violate established laws, while people are left with the continuous bill to enforce them.
One of the most pronounced organizations to keep the public informed about GE hazards is the
Center for Food Safety
(CFS). CFS has a rich history of legally defending common sense issues with successful resolutions. The organization was established in 1997 and is based in the United States. There are several active petitions for consumers, environmentalists, and animal lovers to sign.
Take action by making your voice heard. The Earth is not a temporary playground. It is our home.
You Should Also Read:
Genetically Modified Salmon and Health Risks
Are You Scared of Arachnids? Meet the Lifesaver!
Animal Welfare, Human Health, and Chemical Abuse


Related Articles
Editor's Picks Articles
Top Ten Articles
Previous Features
Site Map



Follow @WildlifeWelfare
Tweet





Content copyright © 2022 by Deb Duxbury. All rights reserved.
This content was written by Deb Duxbury. If you wish to use this content in any manner, you need written permission. Contact Deb Duxbury for details.