Tequila Sunrise, Tequila Sunset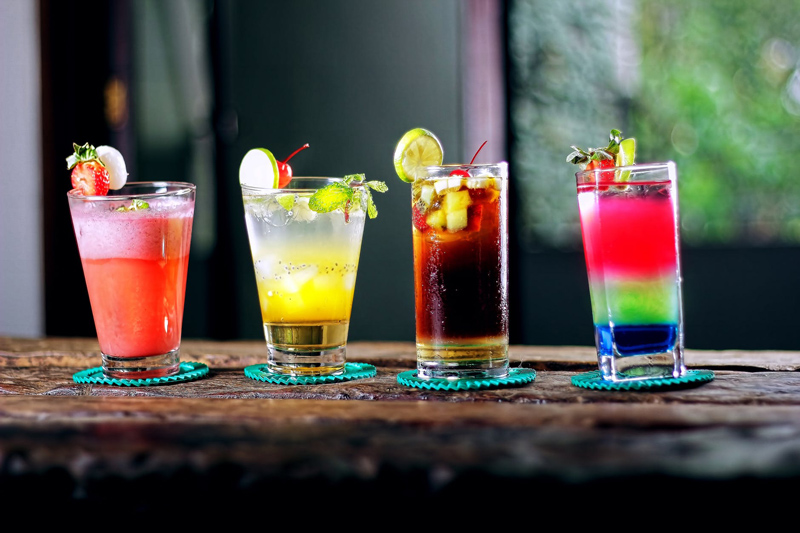 Margaritas are everywhere and tequila has become so popular the tequila farmers in Mexico are having a hard time keeping up with demand. Expand your appreciation for this refreshing elixir with the Tequila Sunrise and the Tequila Sunset. Whether it's for brunch or a cocktail party by the pool, your guests are sure to be delighted by these beautifully layered cocktails that are as much fun to make as they are to drink.

----------------------

Tequila Sunrise Recipe

2 jiggers gold tequila
4 jiggers orange juice
1/2 jigger grenadine

Fill a highball glass about half full with ice and add the tequila and the orange juice. Do not stir. Silver (clear) tequila can be used but the gold enhances the layered effect.

Insert a spoon, upside down, into the glass and pour a stream of grenadine over the back of the spoon so it gently sinks to the bottom of the glass, creating a beautiful red layer that resembles the morning sun just peeping over the horizon.

Be careful not to pour the grenadine too slowly or it will blend with the tequila and orange juice instead of sinking to the bottom to produce colorful layers.

Grenadine was once made from pomegranate juice but most of it sold today is made from high-fructose corn syrup and artificial food-grade dyes. Pomegranate-based grenadine is hard to find but well worth it if you can find it.

----------------------

Tequila Sunset Recipe

1 jigger gold tequila
1/2 cup lemon juice
1 jigger orange juice
1 jigger honey
1 pony creme de cassis

Pour the tequila and juices into a cocktail shaker filled with ice, shake to blend, then strain and pour into the cocktail glass.

Add the honey, pouring in a trickle so it sinks gently to coat the bottom of the glass.

Add the creme de cassis, pouring over the back of a spoon if necessary, to create a layer of glowing red just above the honey. Do not stir before serving.

For the most refreshing cocktail, chill all ingredients except the honey; cold honey doesn't pour very well. Serve in a well-chilled cocktail glass.

If the Sunset recipe is too tangy tart, add more honey.

Black currant is the predominant flavor in creme de cassis, which has a rosy red color that works perfectly for layering cocktails flavored with fruit juices. The syrupy sweetness of the creme de cassis is a great way to balance the tart flavors of citrus juices.

----------------------

For the tastiest cocktails, use freshly squeezed orange and lemon juices. Fresh lemon juice is especially important for the Tequila Sunset recipe.

You Should Also Read:
Sea Breeze, Sea Dog, Salty Dog, Yellow Parrot
BBC Cocktail Recipe
Playboy's New Host & Bar Book - Book Review


Related Articles
Editor's Picks Articles
Top Ten Articles
Previous Features
Site Map



Follow @drinkandbemerry
Tweet



Content copyright © 2023 by Sandy Hemphill. All rights reserved.
This content was written by Sandy Hemphill. If you wish to use this content in any manner, you need written permission. Contact Sandy Hemphill for details.