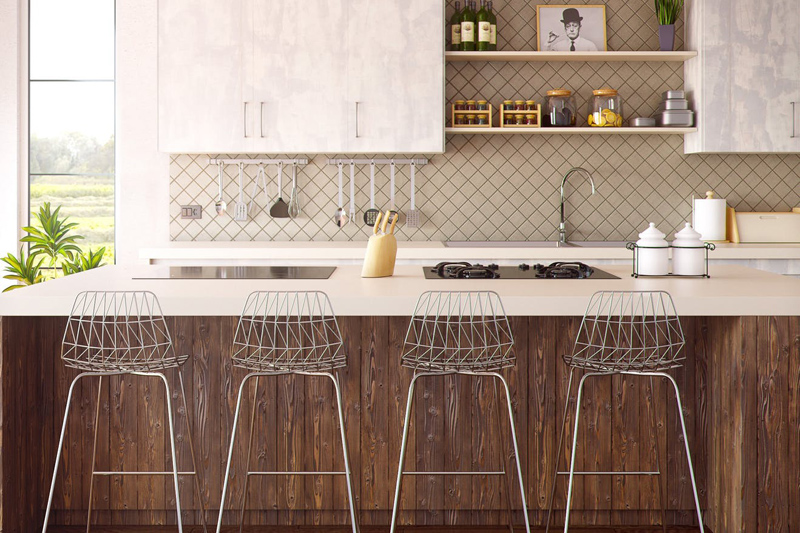 The stuffing for your Thanksgiving feast can be baked inside the turkey or in a separate casserole dish. Because there's an increased risk of foodborne illness when stuffing is baked in a turkey, here's some things to remember if you still prefer stuffing made the traditional way...

The turkey must always be completely thawed before stuffing.

The turkey should be stuffed just before it goes in the oven.
Never stuff a turkey the night before!
Stuffing should also be prepared just before it goes into the turkey. Don't use raw, uncooked ingredients. Vegetables and things like sausage, oysters, etc. must be cooked before adding them to stuffing. When a stuffing recipe calls for eggs, use "pasteurized eggs", now available in many supermarkets, or use an egg substitute, such as Egg Beaters®. To save time, some of the ingredients can be chopped, prepared and refrigerated separately, a day ahead of time. Just before stuffing the turkey, the pre-cooked ingredients can be combined with the bread cubes, seasonings, broth, etc.
To stuff a fresh or a thawed turkey...
Remove the neck and giblet pack. Rinse the turkey with cool water, inside and out. Pat the inside cavities dry with paper towels and sprinkle with a little salt and pepper.
Pack the stuffing loosely. You can stuff both the body cavity and the neck cavity. Stuffing expands as it bakes so tightly packed stuffing won't be able to reach a high enough temperature in the time it takes to roast the turkey. Figure on being able to safely use about 1/2 cup to 3/4 cup stuffing for each pound of turkey weight. Trussing is not necessary. To keep the stuffing in the body cavity, just tie the ends of the drumsticks together loosely with clean white string. To keep the stuffing in the neck cavity, bring the excess neck skin over the opening, and hold it in place with large toothpicks. Place any remaining stuffing in a buttered dish to be baked separately.
Use a Turkey Roasting Timetable as a guide for the approximate time needed to cook a stuffed turkey. You'll also need a food thermometer to check the temperature of the turkey meat and the stuffing. Even if your turkey has a pop-up timer, a meat thermometer must still be used to check the internal temperature.
First, check the temperature of the inner thigh. Insert an instant-read thermometer into the meaty part of the inner thigh, not touching the bone. The inner thigh temperature should be 180º.
Next, insert the thermometer in the very center of the stuffing. The temperature of stuffing should be 165º.
If the turkey and the stuffing are done, remove the turkey from the oven, and immediately place the stuffing in a covered serving bowl. Cover the turkey with foil, and, for easy slicing, let the turkey stand for 20 minutes at room temperature before carving. If the turkey itself is well done but the temperature of the stuffing has not reached 165º, remove the turkey from the oven and spoon the stuffing into a baking dish to continue baking while the turkey rests.
Roasting an unstuffed turkey takes less time than roasting a stuffed turkey. Since, according to The USDA, for safety and uniform doneness, stuffing should be cooked separately in a casserole, you might want to play it safe and follow that advice. You can prepare the stuffing while the turkey is roasting, and bake it in a covered casserole dish, also at 325°, during the last 35 to 45 minutes the turkey is roasting. If you like your stuffing with a drier, crunchy layer on top, remove the lid for the last 10 or 15 minutes.
Stuffing is not recommended for a grilled turkey.
| | | |
| --- | --- | --- |
| | Stuffing Recipes | |
First, a few stuffing tips...
A one pound loaf of bread yields about 10 to 12 cups of bread cubes. That's about the average amount needed to make a basic bread stuffing for a 12 to 14 pound turkey.
To make bread cubes, you can buy a loaf of bread ("day old" is great) and slice it into 1/2" to 3/4" cubes. You can also buy ready to use bread cubes.
Some of these recipes and many other stuffing recipes call for dry bread cubes. To dry the bread cubes, place them in a single layer on a cookie sheet and let stand, uncovered, overnight. For fast drying, place them in an oven set at 275° for about 20 minutes.
Many stuffing recipes don't give an exact amount of liquid. About one cup of broth or other liquid to about 10 cups of bread cubes is average. The amount of liquid should be just enough to moisten and bind the ingredients together. A mound of the mixture should barely hold its shape but not clump.It should never be soupy.
Stuffing baked in a casserole tends to be drier than stuffing baked in the turkey. You can usually use the lower amount of the liquid ingredient listed for stuffing baked in the turkey and the higher amount if you're preparing the recipe to be baked in a casserole dish.
Unless you're making a huge turkey, there will usually be extra stuffing that won't fit inside the turkey. Place any remaining stuffing in a buttered baking dish to be baked separately. Bake at 325° for 35 to 45 minutes.



Links to more stuffing recipes....
Wynona Judd's(Cornbread)Dressing
Cranberry-Orange Stuffed Turkey
For your Thanksgiving Table...

Rachael Ray 16x10-in. Double Decker Expandable Potlucker
This double decker thermal carrier holds two 9" x 13" baking dishes with an expandable second compartment. The insulated lining allows you to carry both hot and cold foods at the same time. It's perfect for holidays, potlucks, church suppers, picnics and so much more.
Pyrex 19-pc. Glass Bakeware Set with Plastic Lids
These durable Pyrex dishes go from refrigerator or freezer to the microwave, convection or preheated conventional oven. The plastic lids are microwave-, refrigerator- and freezer-safe, and fit tightly to lock-in freshness. The set includes a 2-qt. Oblong Dish with a Plastic Lid; a 3-qt. Oblong Dish with a Plastic Lid; an 8-in. Square Dish with a Plastic Lid; a 1.5-qt. Loaf Pan with a Lid; 1, 1.5 and 2.5-qt. Mixing Bowls with Lids; a 9.5-in. Pie Dish and Four 10-oz. Bowls.
You Should Also Read:
The Home Cooking Recipe Index and Site Map
The Home Cooking Cookbook Corner
About the Turkey


Related Articles
Editor's Picks Articles
Top Ten Articles
Previous Features
Site Map





Content copyright © 2023 by Sandy Moyer. All rights reserved.
This content was written by Sandy Moyer. If you wish to use this content in any manner, you need written permission. Contact Allyson Elizabeth D´Angelo for details.