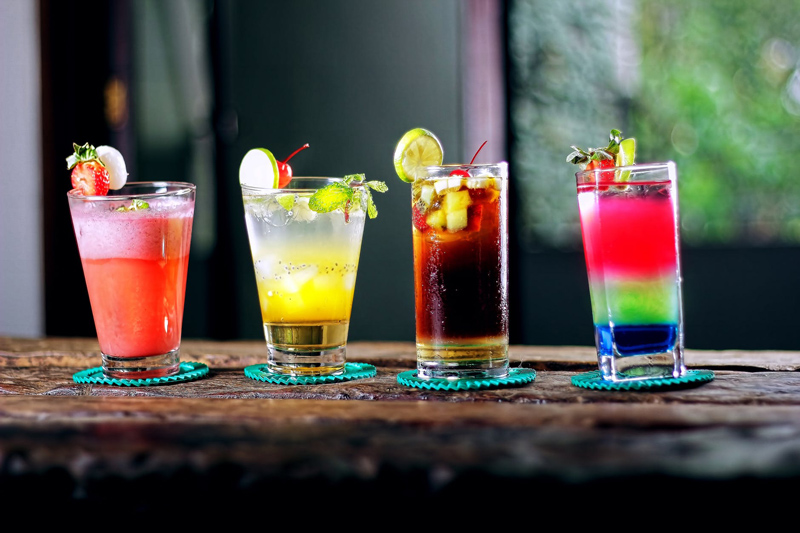 One of my favorite Bella babes is getting married soon and her Celtic wedding theme is full of fun. She asked me to come up with some Celtic cocktail ideas and I thought I'd share them with you.

The bowl, or punch, recipes are listed in quantities large enough to serve a crowd. The others are for individual servings. Each of the individual-serving cocktail recipes can be expanded easily and made mostly in advance, chilled, and poured from a pitcher into small, ice-filled cocktail glasses as drinks are ordered. For recipes that call for a bubbly ingredient - ginger ale, club soda, and the like - add the bubbly at the time of serving so the bubbles won't go flat during storage time.


-------------------------------------------


Emerald Bowl

3 bottles Riesling wine
2/3 cup brandy
2/3 cup apricot brandy
1 1/2 pints apple juice

Garnish: cucumber slices


By the bowl: Chill all ingredients before mixing. Pour all ingredients over ice in a punch bowl containing a block of ice or about 1/3 filled with ice cubes. Float cucumbers in punch.

By the glass: Pour all liquid ingredients into large pitchers; chill. Serve by the glass over ice with a cucumber slice for garnish.


May your glass be ever full.

May the roof over your head be always strong.

And may you be in heaven half an hour before the devil knows you're gone.

-------------------------------------------


Irish Apple Bowl

20 ounces applejack brandy
20 ounces Irish whiskey
10 ounces Rose's lime juice
4 limes, thinly sliced
2 apples, cored but not peeled, and cut into rings or 1/2-inch chunks

2 quarts plus 1 pint of ginger ale


By the bowl: Chill all ingredients before mixing. Mix all ingredients except the ginger ale in a punch bowl and chill at least an hour to ripen the flavors. Just before service, add ice to the punch bowl and top it off with the ginger ale.

By the glass: Pour all ingredients except the ginger ale into pitchers; chill for at least one hour before serving. Pour punch into ice-filled glasses, filling the glass about halfway. Top the glass with ginger ale.


When we drink, we get drunk.

When we get drunk, we fall asleep.

When we fall asleep, we commit no sin.

When we commit no sin, we go to heaven.

So, let's all get drunk, and go to heaven!

-------------------------------------------


Irish Milk and Maple Punch

2 jigger / shot of Irish whiskey
1 cup milk
1 tablespoon maple syrup

Garnish: nutmeg


Combine liquid ingredients in a cocktail shaker filled with ice; shake until thoroughly chilled. Strain and pour into ice-filled cocktail glasses. Sprinkle with nutmeg.

If this sounds interesting but too rich, top it off with a little club soda.


May you enjoy the four greatest blessings:

Honest work to occupy you.

A hearty appetite to sustain you.

A good woman to love you.

And a wink from the God above.

-------------------------------------------

You Should Also Read:
Scotch Whisky, Rob Roy, Clansman Coffee Recipes
BBC Cocktail Recipe
Staging Your Party Like A Pro


Related Articles
Editor's Picks Articles
Top Ten Articles
Previous Features
Site Map



Follow @drinkandbemerry
Tweet



Content copyright © 2023 by Sandy Hemphill. All rights reserved.
This content was written by Sandy Hemphill. If you wish to use this content in any manner, you need written permission. Contact Sandy Hemphill for details.