Oktoberfest & Marzen Styles of Beer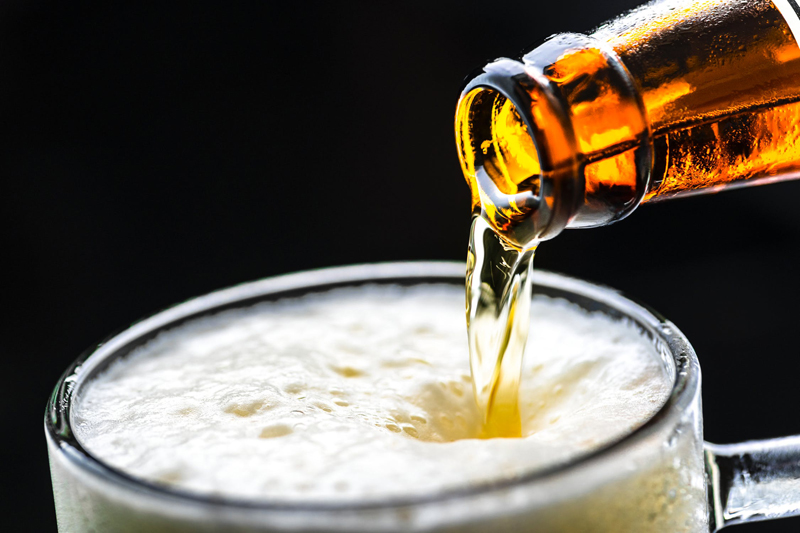 In the northeastern section of the United States, the air turns crisp in October, similar to the turning of the seasons in Northern Bavaria, a region that gave birth to the development of a diverse portfolio of lager beer styles. Most of the pesky summer bugs have gone and the air is charged with a tingle of energy that creates ideal conditions for outdoor beer festivals. Oktoberfestbier, overlapped with Marzen and Vienna styles, flows abundantly, paired with foods that speak of seasonal comfort. The sweet breadiness of the Oktoberfest style is enough to convince even the most hard-line mainstream-beer enthusiasts to stray into the world of craft beer. So what is Oktoberfest? Where is its origin?

In the Middle Ages, Europe's brewing community observed that beer made during the warm summer months had a tendency to spoil quickly. By contrast, beers made in the colder months, between late fall and early spring, were crafted with more malts and a good portion of hops. They were laid down to mature in cool cellars and caves that had been packed with the winter's ice and snow, and developed rich, rounded flavors and a crisp, clean edge during that lengthy fermentation period.

During the 1500s, the Assembly of Estates took a serious look at beer brewing practices in the region controlled by Bavaria. Concerned over the use of less-safe ingredients in the brewing community, Bavarian Duke Wilhelm IV issued a Beer Purity Law on April 23, 1516, proclaiming that only barley malt, water and hops (with yeast as a presumed element) could be used in making beer. This "rule" was commonly referred to as the Surrogatverbot, but in a 1918 debate about beer taxation, Hans Rauch, a member of the Bavarian State Parliament called it the Reinheitsgebot and the moniker stuck.

In 1553, Duke Albrecht V of Bavaria issued a law that forbade brewing between April 23 and September 29 in an effort to protect consumers against the purchase of beer that could have soured during summer brewing. With Duke Albrecht's cold-weather decree, all beer that came out of Bavaria was in the lager style, fermented in the cold temperatures that are most compatible for lager yeast. *

This beer would be consumed throughout the summer months, but became better as summer turned into fall. The storage vessels were needed for the next brewing season, so the remaining beer was ceremoniously drunk with great gusto. These celebrations eventually gave way to the first official Oktoberfest in 1810, when Bavarian King Maximillian I Joseph introduced a festival to honor the wedding of his son Crown Prince Ludwig and Princess Therese of Sachsen-Hildburghausen. Free food and drink was available in four locations in Munich, with a horse race being the festival's main highlight, held on a green now known as Theresienweise.

The original March beer, or Marzenbier, was heavily malt forward, dark, and quite strong. Gabriel Sedlmayer of the Spaten Brewery lightened this style over the years, in response to the modern preference for beers with light-amber color, a style that was popularized by Viennese brewer Anton Dreher.

According to EU Regulations, only large breweries located inside the city limits of Munich are allowed to carry the appellation "Oktoberfest." These breweries are: Hacker-Pschorr, Spaten-Franziskaner-Braü, Augustinerbraü München, Hofbraü, Paulaner, and Löwenbraü, and do not include any smaller breweries or breweries of any size outside the city limits. These other breweries refer to this same style as märzen. American breweries are not governed by these same laws, however, and brew their own interpretations of the style, referring to both Oktoberfest and Märzen as interchangeable designations.

Oktoberfest beers exhibit the slightly sweet, honey-like breadiness of Munich Malt, Vienna Malt, Pilnser malt, and often have a touch of crystal malt. Flavors of toffee are common. Although they lean toward the sweet side, their flavors are soft and rounded, never cloying, and are brought into balance with a firm bitterness. American Oktoberfests are typically darker than their German counterparts, and occasionally display more assertive hop bills or non-traditional dry-hopping.

Beer Fox Recommended Oktoberfest Lagers include:

Hacker-Pschorr – Hacker-Pschorr, Munich, Germany;
Spaten Oktoberfestbier Ur-Märzen – Spaten-Franziskaner-Brau, Munich, Germany;
Paulaner Oktoberfest-Märzen – Paulaner Brauerei, Munich, Germany;
Beck's Oktoberfest – Brauerei Beck & Co. Bremen, Germany;
Oaktoberfest – Firestone Walker Brewing Company, Paso Robles, California;
Oktober Fest – Stoudt's Brewing Company, Adamstown, Pennsylvania;
Left Hand Oktoberfest – Left Hand Brewing Company, Longmont, Colorado;
OktoberFish – Flying Fish Brewing Company, Cherry Hill, New Jersey;
Ramstein Oktoberfest – High Point Brewing Company, Butler, New Jersey;
Samuel Adams Oktoberfest – Boston Beer Company, Boston, Massachusetts;
Ayinger Oktober Fest-Märzen - Privatbrauerei Franz Inselkammer / Brauerei Aying, Aying, Germany;
Brooklyn Oktoberfest Beer – Brooklyn Brewery, Brooklyn, New York;
Festbier – Victory Brewing Company, Downingtown, Pennsylvania;
The Kaiser – Avery Brewing Company, Denver, Colorado;
Great Lakes Oktoberfest – Great Lakes Brewing Company, Cleveland, Ohio;
Staghorn Oktoberfest – New Glarus Brewing Company, New Glarus, Wisconsin;
Bob's '47 Oktoberfest, Boulevard Brewing Company, Kansas City, Missouri;
Duck-Rabbit Märzen – Duck-Rabbit Craft Brewery, Farmville, North Carolina.
The list is incomplete, but will give you a solid base as a springboard to discovery for searching out Oktoberfest beers available in your local region.

Cheers!

*Mechanical refrigeration would not emerge to assist brewers until 1873, with Carl von Linde's invention of refrigerated beer storage tanks, and Gabriel Sedlmayer's installation of one of these experimental appliances in the fermentation cellars of the Spaten Brewery in Munich. The success of this advancement in technology cut the ties that restricted brewing to the colder months, allowing these styles to be brewed at any time during the year.

If you're going to invest in a beer fridge, get a good one:
Newair 126-Can Stainless Steel Beverage Cooler


Easy to clean, compact mini-refrigerator:
Midea White/Black/Stainless Steel Compact Refrigerator Mini Fridge 1.7 CF/ 2.4 CF/ 3.1 CF
You Should Also Read:
German Schwarzbier - Bold and Black
The Seductive Style of Kölsch
Pilsner Urquell - A Bohemian Original


Related Articles
Editor's Picks Articles
Top Ten Articles
Previous Features
Site Map





Content copyright © 2022 by Carolyn Smagalski. All rights reserved.
This content was written by Carolyn Smagalski. If you wish to use this content in any manner, you need written permission. Contact Carolyn Smagalski for details.