Five Signs Your Son is Growing Up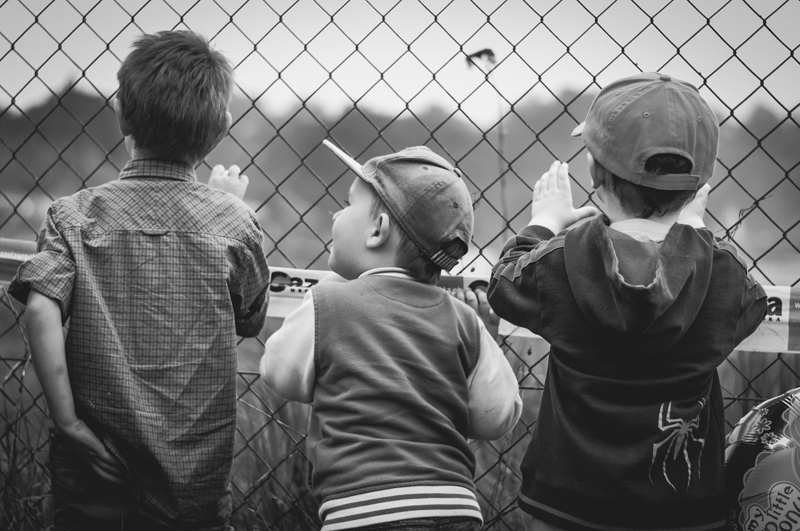 There is something unutterably sweet about little boys. They do everything with such gusto and, lucky for moms, showing affection is one of them. I don't agree with those who say that no one will ever love you as much as your son; I would say that I am actually closer to my daughter, at least in terms of the time we spend one-on-one together and our shared interests. I would definitely agree, though, that no one will ever love you as, well, violently as your son. Little boys don't just hug you: they propel themselves into you at full speed. They don't just kiss you goodnight: they plant a loud and resounding (and usually wet) smack on the cheek. Because boys are so exuberant, it is almost more painful when you realize they are growing up. That exuberance is often the first thing to diminish. So what are some other signs that your son is growing up?

1. He starts matching his clothes. My daughters had a sense of style at a young age (if by style one means the ability to match clothes). I could trust my girls to get themselves dressed and be reasonably sure that their appearance would not embarrass either them or me. My boys, though, have always been a different story. They figured that a shirt and a pair of shorts meant a matching outfit. The colors and/or patterns had no bearing on that assessment. Trust me when I say that my boys have come up with some…interesting combinations. When your son can begin to match his clothes with no prompting, he is definitely growing up.

2. He starts eating more. And more. And more. For me, this is one of the first signs that a boy is growing up. One day he starts to eat…and he never stops. My older son eats several apples, a couple of yogurts, a couple of bananas, and handfuls of baby carrots every day. That's between meals. Said son is only 8 and the only part of them that is remotely chubby is his cheeks. As boys get older, they eat. Be prepared!

3. He stops clinging to you in new situations. Of course, this one is, to a large extent, personality driven. Some boys are completely fearless from day one. Some remain a little hesitant or clingy for a long time. For a lot of boys, though, getting older means gaining confidence, and gaining confidence means they need Mom a little less.

4. He starts seeking out privacy. Since they were potty trained, both of my boys have felt free to use the bathroom without closing the door. Whether they were showering or not, the door would be open. Recently, though, they started closing the door. Part of me is a little sad, and part of me is a little relieved!

5. He loses his "baby" look. Some boys hang on to this look longer than others. Eventually, though, the majority of them lose everything that you have taken for granted since they were babies. No more chubby cheeks, soft hair, or sweet necks to kiss. All of a sudden you are looking at leaner bodies, leaner faces, and non-baby hair. The neck that used to smell like baby powder and milk now smells like boy. Big boy.

The only thing worse than seeing our sons grow up would be not seeing them grow up at all. Cherish all the time you have with them. They are little for such a short time!



Related Articles
Editor's Picks Articles
Top Ten Articles
Previous Features
Site Map





Content copyright © 2022 by Laura Delgado, Ph.D.. All rights reserved.
This content was written by Laura Delgado, Ph.D.. If you wish to use this content in any manner, you need written permission. Contact Laura Delgado, Ph.D. for details.