Guest Author - Isabel Hood
Loretta Scott Miller left California and her job as a food editor to retire to the Yucatán Peninsula. Fascinated by the very distinctive, regional nature of the food and ingredients, she began researching its history and development across the millennia, both before and after the Spanish Conquest. In this task she enrolled the help of a Yucatecan cook, Adelida Kantun, who guided her through the complex gastronomic culture, larder and cuisine of the Yucatán states. A Yucatán Kitchen – Regional Recipes from Mexico's Mundo Maya was the end result of this adventure. It was also the first book I ever bought about Yucatecan cooking and therefore my personal introduction to a new and captivating culinary world.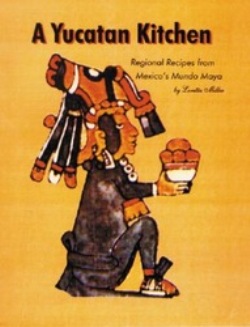 The book is clearly laid out, starting off with a very concise history of the region, followed by a quick tour of typical and native ingredients, as well as utensils and cooking techniques. On to Recados & Salsas which to my mind is perhaps the most important chapter in any account of the cooking of the Yucatán, as the recados in particular are a main building block and contribute some of the most emblematic flavours of the whole area – if you want to understand Yucatecan food, get to know the recados and salsas!
The sections then work their way from Beans, Rice & Pasta, those pre- and post-Columbian pillars of Mexican cooking, through fish and meat, covering very local recipes like Pollo Ticuleño as prepared in the city of Ticul and Pork Loin from Valladolid as well as the great Yucatecan specialities like Cochinita Pibil, Fish Tikin Xic and Stuffed Edam Cheese; a true oddity has made its way into this part of the book – Pork in Coca-Cola - and Beef Kibbehs, contributed by Christian Lebanese immigrants in the late 19th and early 20th centuries, were totally unexpected.
Corn and masa-based dishes are central to Mexican gastronomy in general and the Yucatán Peninsula has its very own antojitos which are covered in detail: specific tamales like the unpronounceable Dzotobichay, taco-like codzitos, papadzules, salbutes, polkanes and panuchos which are not found elsewhere in the country. The vegetable, soup and egg segments while shorter contain some interesting items, including a very Spanish tripe dish which I have not yet had the courage to try and delectable Sopa de Lima, Lime Soup, bursting with the freshness of the local limes. The Desserts & Beverages are fairly predictable with some old friends like lemon- and orangeade, horchata, sorbet and flan or Queso Napolitano, as well as a surprise here and there like Caballeros Pobres, Poor Gentlemen, whose roots are obviously European, and a typically North American Refrigerator Cake.
This is a functional book, with neither pictures nor illustrations, and some of the ingredients can be confusing, not because they are unknown, but because of the way they are described: Marinated Chicken Cutlets are in fact boneless chicken breasts (so why not call them that?) and Marinated Pork Cutlets turn out to be very thin slices of pork leg or loin and not the small pork chop which the description brought to mind. One recipe may call for a large chicken, another one for a small chicken, and a third one for a 2 1/2 lb chicken..... I am also invariably irritated by any recipe which calls for "a tomato" or "1 small tomato" or "4 Roma tomatoes" and this book is no exception: tomatoes, onions and bell peppers for instance can vary very considerably in size and therefore result in very differing volumes, which in turn affects the end result and success of the recipe.
All in all, I have thoroughly enjoyed cooking from A Yucatán Kitchen and am looking forward to exploring it further. It is a sound, well-rounded introduction to the very distinctive food of the area and my knowledge and understanding of Mexican gastronomy is the richer and deeper for having studied it and cooked from it.
I purchased A Yucatán Kitchen – Regional Recipes from Mexico's Mundo Maya with my own funds for my own use.