Guest Author - Isabel Hood
Un peso, one peso; un tostón, fifty centavos. I do not believe that the tostón of my childhood still exists, but it was a lovely coin, with an Aztec head engraved on one side, and the very Mexican eagle and snake on the reverse. My only experience of a tostón nowadays is not monetary but gastronomic, as the name is given to a very southern or coastal Mexican and Caribbean snack: slices of plantain flattened and fried until crisp, eaten on their own as a nibble or botana with drinks. I suppose their size and colour is vaguely reminiscent of a 50 centavos coin which led to the name.
Whatever the origin of the term, the plantain or plátano macho itself arrived in Mexico from Africa after the Spanish Conquest aboard the slave ships and quickly became a delicious staple of the Mexican kitchen. Its use is invariably cooked and savoury, and plantains turn up in countless dishes, with rice, in guisos or stews, mashed into soups and corn doughs, flavouring Mexico's iconic sauces and moles. Its subtle sweetness works incredibly well with the heat, however mild or bold, of fresh and dried chillies, and is a hallmark of the cuisines of the southern states in particular.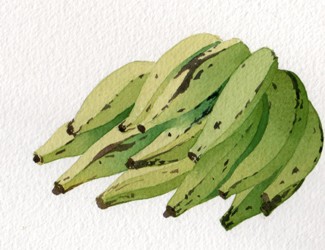 Plátanos machos © Philip Hood
Plantains are widely available in Caribbean and African shops and some supermarkets, but for many of us they can be difficult to source. In their absence, I never hesitate to use under-ripe bananas, and when I can actually lay my hands on plátanos machos, I buy plenty of them as they freeze well: ripen until the skin is golden with black patches, peel, roll tightly in clingfilm/plastic wrap and freeze until needed.
Although tostones are often served straight up and unadorned, either hot or at room temperature, they love having a dancing partner, particularly something sharp like a tomato sauce or guacamole to dip them into, and a tangy fresh cheese, to balance the sweetness.
Plantain Crisps with Guacamole and Goat's Cheese – Tostones con Guacamole y Queso de Cabra
Serves 2 as a first course
2 plantains, about 275 g/10 oz each or 3 bananas, about 150 g/5 oz each
Vegetable oil
Chipotle chilli powder, to taste
40 g/1 1/2 oz fresh goat's cheese, crumbled
Fine sea salt
Baking parchment
For the guacamole:-
1 large, ripe avocado
25 g/1 oz red onions, peeled and finely chopped
1 garlic clove, peeled and crushed
Fresh lime juice, to taste
30 ml/2 tbsp olive oil
15 ml/1 tbsp fresh coriander/cilantro, coarsely chopped
Sea salt and freshly ground black pepper
Have ready a plate lined with kitchen paper and 2 sheets of baking parchment about 30 cm/12 in x 25 cm/10 in.
Peel the plantains and cut them into rounds about 1 cm/1/2 in thick; if you are using bananas, halve them lengthways and then across into four quarters to get decent-sized pieces. Heat 30 ml/2 tbsp of oil in a non-stick frying pan and cook over medium heat for about 5 minutes on each side, until golden. With a slotted spoon, transfer to the lined plate and cool for 10 minutes. Place on one sheet of baking parchment, spacing about 3 cm/1 1/4 in apart.
Place the second sheet of baking parchment on top and with a rolling pin, gently flatten the plantain slices until they are no more than 2 mm/1/10 in thick.
Preheat the oven to its lowest setting.
Line the plate with fresh kitchen paper. Wipe out the frying pan and add enough oil to cover the bottom. Place over medium heat and when the oil barely starts to sizzle, carefully slide the plantain slices into it. Do not overcrowd the pan. Cook for about 3 minutes on each side, until deep gold and quite crisp but not hard. Scoop out onto the lined plate and sprinkle immediately with chipotle chilli powder and salt. Keep warm in the oven while you repeat the process with the remaining plantain slices. Add more oil to the pan if needed.
For the guacamole, peel and stone the avocadoes and, using a fork, mash the flesh with all the other ingredients.
Serve the tostones warm with the guacamole and the goat's cheese.
Buén provecho!
| | |
| --- | --- |
| Chilli and Chocolate Stars of the Mexican Cocina by Isabel Hood is available from Amazon.co.uk | Just The Two of Us Entertaining Each Other by Isabel Hood is available from Amazon.com and Amazon.co.uk |