Guest Author - Isabel Hood
Garlic heaven and not for shy gastronomic violets, let alone faint-hearted, timid palates !
The Spanish word mojo comes from the verb mojar, to wet or more specifically in this case to provide moisture, as in a sauce. The origin can probably be traced back to the Canary Islands' famous red and green mojos, mojo verde and mojo rojo, which accompany the typical salt water-boiled wrinkled potatoes and are served with pretty much everything else. There are versions of mojo throughout Latin America, all of which contain garlic and some of which are flavoured with different herbs and chillies. In Mexico, Mojo de Ajo or simply Garlic Sauce is very heavy indeed on the odorous bulb, brightened with plenty of lemon or lime juice and enriched with butter – and all along the coast, both Pacific and Gulf, it is a regular and oh so delicious partner to fresh prawns and shrimp.
Green or red chillies and parsley always find their way into my Mexican mojo de ajo. It is a quick and easy recipe and the mixture can in fact be used as a marinade and a baste if you want to thread the prawns onto skewers and barbecue them. Resist any temptation to cut back on the amount of garlic, any less and the dish will be a shadow of its real self; it melts down into the butter and the flavour becomes incredibly mellow and smooth.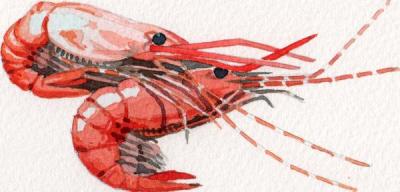 Camarones © Philip Hood
There is no reason to restrict Mojo de Ajo to prawns – it is wonderful with any kind of fish, roast chicken or lamb, a steak, a potato salad, over broccoli or roasted bell peppers - the possibilities are truly endless, so long as you are addicted to garlic.
Prawns in garlic sauce – Camarones al Mojo de Ajo
Serves 2
10 large garlic cloves, peeled
30 ml/2 tbsp olive oil
50 g/2 oz butter
15 g/1/2 oz red or green chillies, as mild or as hot as you like, deseeded and finely sliced
350 g/12 oz raw king or tiger prawns/shrimp, peeled and deveined, defrosted if frozen
30 ml/2 tbsp fresh lime juice, about 1 large lime, or to taste
10 g/1/3 oz flat leaf parsley, coarsely chopped
Warm corn tortillas or cooked rice, to serve (optional)
Sea salt and freshly ground black pepper
Crush the garlic cloves. Heat the oil and butter in a large frying pan over low heat and when it starts to sizzle, add the garlic and chilli. Cook, stirring often, until the garlic barely starts to turn golden – do not overcook it or it will be bitter.
Turn the heat up and toss in the prawns. Stir fry briskly until they just turn pink. Remove from the heat, add the lime juice, parsley and some salt and pepper and give it all a good stir. Check the seasoning.
Divide the prawns between two warm deep plates and serve immediately with warm tortillas or rice.
The camarones are also terribly good on top of spaghetti.
Buén provecho!
| | |
| --- | --- |
| Chilli and Chocolate Stars of the Mexican Cocina by Isabel Hood is available from Amazon.co.uk | Just The Two of Us Entertaining Each Other by Isabel Hood is available from Amazon.com and Amazon.co.uk |