Guest Author - Isabel Hood
The blue-grey maguey cactus, with its wavy, fleshy arms spiked with sharp thorns, is an indelible feature of the Mexican landscape and the source of a mildly alcoholic, pre-Hispanic drink known as pulque. The sweet sap of the plant has been fermented for millennia to produce something akin to beer, served in pulquerías throughout the country, particularly in rural areas. The flavour is a somewhat acquired taste, pungent, bitter, a bit musty, a good match for one of its colloquial names, wine of the earth.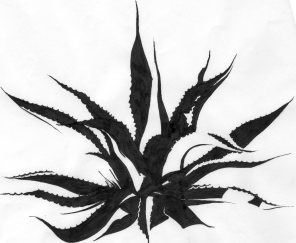 Maguey © Philip Hood
This wine makes its way into a classical Mexican sauce, Salsa Borracha or Drunken Sauce, a traditional accompaniment to the famed Barbacoa and its tacos of meltingly tender, slow-cooked meat. There are countless variations, some very regional and some very widespread, and the pasilla chilli, mild, earthy, slightly sweet and raisiny, is a stalwart member of the list of ingredients (the Salsa Borracha of Guanajuato being an exception as this state seems to prefer the guajillo chilli). I have to say that in my opinion, the rather simple and light Salsa Borracha is one of the least interesting of Mexico's glorious sauces, lacking the depth and complexity of some of its cousins – but then it is perhaps its uncomplicated nature which makes it an enjoyable partner to many antojitos and dishes. Some cooks like to serve the salsa sprinkled with cheese and diced avocado.
Pulque is virtually impossible to source outside Mexico and a blonde beer is often substituted. I like to use tequila, another agave product, in my Salsa Borracha, giving it a hint of exoticism and a tang which is difficult to pin down. It goes particularly well with poultry and makes a good marinade.
Quail in Drunken Sauce – Codorniz en Salsa Borracha
Serves 2
25 g/1 oz pasilla chillies
1 large garlic clove, peeled
50 g/2 oz onions, peeled and coarsely chopped
120 ml/4 fl oz/1/2 cup tequila or light beer
120 ml/4 fl oz/1/2 cup fresh orange juice
2 oven ready quail
30 ml/2 tbsp olive oil
Sweetener – sugar, agave nectar, honey – as needed
Sea salt and freshly ground black pepper
Heat a heavy frying over medium heat and toast the chillies, pressing down on them with a spatula, until they start to smell aromatic, about 3 minutes. Flip them over and do the same on the other side. Place them in a bowl, cover with boiling water, put a small saucepan lid or plate on top to keep them submerged, and set them aside to soak for 30 minutes. Drain and discard the stem, ribs and seeds.
Place the chillies in the bowl of a food processor and add the garlic, onions, tequila, orange juice and 120 ml/1/2 cup of water. Process to a very smooth purée, stopping to scrape down the sides of the bowl every so often. Transfer the mixture to a small saucepan, add some seasoning and bring to the boil. Turn the heat right down and simmer for ten minutes. Set aside to cool. The sauce can be prepared well ahead of time and refrigerated - in fact it improves with keeping.
Place the quail in a freezer bag, add two tablespoons of the salsa, tie securely and toss around to distribute the sauce evenly over the birds. Leave to marinate for at least an hour, preferably two or three, shaking the bag every now and then.
Preheat the oven to 200oC/400oF/gas 6/fan oven 18oC. Place the quail in a small roasting tin, squeeze over any marinade remaining in the bag and drizzle with the olive oil. Cook for 15 minutes for pink, 20 to 25 minutes if you like your meat well done. Remove from the oven, cover loosely with kitchen foil and set aside to rest for ten minutes.
While the quail are cooking, bring the sauce back to a simmer and cook for ten minutes. Check the seasoning and sweeten slightly if the flavour is at all sharp – it all depends on the fragrance of the orange and the sauce should have a roundness to it.
Place the quail on two warm plates and spoon over the sauce.
Serve immediately.
Buén provecho!
| | |
| --- | --- |
| Chilli and Chocolate Stars of the Mexican Cocina by Isabel Hood is available from Amazon.co.uk | Just The Two of Us Entertaining Each Other by Isabel Hood is available from Amazon.com and Amazon.co.uk |