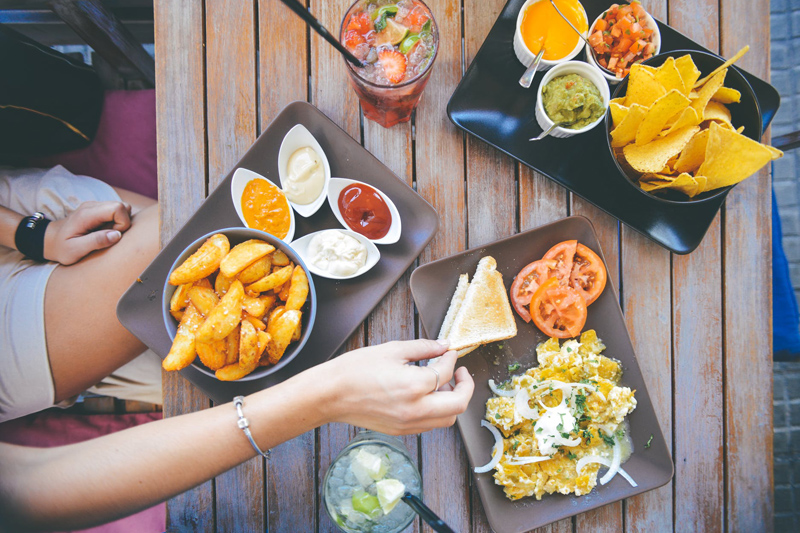 Day of the Dead, October 31st through November 2nd, marks a major holiday throughout Mexico. Festivities abound in homes and at gravesides as families unite to celebrate and remember the departed. Food is front and center for this holiday and "Pan de muerto", a sweet bread, is always there. The bread is an emblem of two cultures merged. Made of wheat, the grain introduced by the Conquistadors, and adorned with bones, tears, and a knob on top, the symbols of a pre-hispanic culture, where death was among its most potent deities.

This recipe is a stand out from most pan de muerto sold for the holiday, it's simple, but more flavorful. It uses more orange blossom water than is typical. The result is a bread with a hauntingly beautiful perfume, yet delicate in its flavor. Its texture is airy and moist, but with enough chew to support a slather of butter or a delicious dunk into a cup of hot chocolate.

The decoration of bones, tears, and knob is finished with sprinkles of pink sugar, or sesame seeds.

Note this recipe is not without its tricks. If you are not accustomed to making bread, a few words on measuring the flour should be helpful. You'll want first, in its bag or bin, to fluff-up your flour with a large spoon or flour scoop. Then using the large spoon or flour scoop sprinkle the flour into your measuring cup. Level off your measuring cup with the back of a knife, dough or bowl scraper, do not shake or tap the cup. What you are doing is ensuring flour with lots of air, a good step toward the desired light loaf we are looking for in this recipe. Do this for each measurement of flour.

Another detail: to protect the yeast in the bread, do not add salt until after you've added at least 1 cup of sifted flour.

Lastly, be aware of your weather and humidity, if you are in a dry environment you may find working the dough requires less flour. If you are in a humid environment, your dough may absorb more flour. Dough should be smooth and elastic. Adjust your flour to your climate's needs.

Ingredients:
Bread:
4 1/2 Cups (500g/1 lb. 2 oz.) all-purpose (unbleached) flour, plus extra for kneading
1 Package active dry yeast (7 grams/1/4 oz.)
6 Eggs
6 Egg yolks
3/4 Cup (170g/6 oz.) sugar
1/4 Cup (59ml/2 oz) orange blossom water
1 Scant cup (200g/7 oz.) unsalted butter at room temperature (divided in half, cut into cubes)
1/2 Teaspoon (2.84g) salt

Glaze:
Beat together:
1 Egg
1 Teaspoon confectioners sugar
1 Teaspoon water
sesame seeds (or pink sugar) for sprinkling

Steps:

1. Dissolve the yeast in 1/2 cup of lukewarm water.
2. Add 1 cup of flour to yeast, knead until dough is elastic. Form a ball with dough and place in a bowl and cover with a cloth . Set aside in a warm, draft-less place until dough doubles or nearly doubles in volume.
3. Sift the remaining dry ingredients together in a bowl.
4. Add the eggs, orange blossom water and half the butter.
5. Mix into a dough, and add risen dough from bowl.
6. Knead into a smooth, satiny dough (for better results break your kneading into 3 minute increments, rest a minute and resume) .
7. Place dough in greased bowl, cover and return to warm, draft-less place to rise for about 6 hours.
8. When the dough is ready, lightly pound the dough with your fist. Add the remaining butter.
9. Divide the dough into 3 equal parts.
10. Place 2 rounds on greased baking sheet(s).
11. Work the third part into bones, teardrops and knobs. Attach bones and teardrops to rounds. Bones are placed in the form of a cross with tear drops in between. Knobs are placed last on top, but only after they have risen in bulk. at the center on top.
12. When the knobs are attached apply a light glaze on the loaves' bones, tears and knob. Save half the glaze.
13. Place in 350 F (180 C) oven for 10 minutes.
14. Remove the loaves from oven and add next layer of glaze and seeds or sugar.
15. Return the loaves to oven and continue cooking for about 15 minutes or until loaves are nicely browned.


Related Articles
Editor's Picks Articles
Top Ten Articles
Previous Features
Site Map





Content copyright © 2023 by Mickey Marquez. All rights reserved.
This content was written by Mickey Marquez. If you wish to use this content in any manner, you need written permission. Contact Mickey Marquez for details.