Guest Author - Isabel Hood
Coriander, also known as cilantro, seems to be a love it or hate it herb, but throughout Mexico, and in my own home for that matter, it is adored and finds its way into countless dishes, particularly the countless salsas. It is such a stalwart feature of Mexican cooking that I always find it difficult to accept that it is not native to the Americas, but probably reached Mexican shores aboard the Spanish treasure ships, having travelled from its homelands of the Mediterranean and Asia Minor.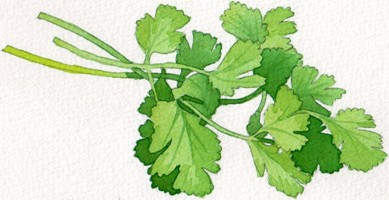 Coriander © Philip Hood
In the Yucatán Peninsula, cilantro is made into a wonderfully bright green soup, Crema de Cilantro or Cream of Coriander Soup. Bearing in mind the huge quantities of the herb which are used to make it, the flavour is surprisingly delicate, although it does get stronger if it is allowed to sit in the refrigerator for a couple of days. Many cooks use only milk and stock in the Crema, but plenty of thick heavy cream raise it to a totally new level, cutting down on the faintly grassy taste and enriching it to the point of velvety luxury.
The texture is vastly improved by pushing the soup through a food mill as no amount of blending and processing seems to be able to smooth out the raw leaves – but if you cannot be bothered, don't worry, it will still be incredibly good. A sieve does not work particularly well as too much of the solids are left behind.
Cream of Coriander Soup – Crema de Cilantro
Serves 4
25 g/1 oz butter
125 g/4 1/2 oz celery stalks, about 2 large, washed and coarsely chopped
100 g/4 oz onions, peeled and chopped
100 g/4 oz carrots, about 2 medium, peeled and diced
150 g/5 oz leeks, white part only, well washed and sliced
2 garlic cloves, peeled and crushed
30 g/1 oz green chillies, deseeded and sliced
2 fresh bay leaves
5 ml/1 tsp ground cumin
450 ml/3/4 pint/2 cups full fat milk or as needed
200 g/7 oz fresh coriander/cilantro, coarsely chopped, stalks and all
350 ml/12 fl oz/1 1/3 cups cold chicken or vegetable stock, or water mixed with 15 ml/1 tbsp bouillon powder
350 ml/12 fl oz/1 1/3 cups double/heavy cream
Fresh lemon juice – as needed
Sea salt and freshly ground black pepper
Melt the butter in a saucepan, add all the vegetables and the bay leaves, cover and leave to stew gently, stirring every so often, until everything is soft and translucent, about 30 minutes. Sprinkle in the cumin and some seasoning and cook for a further five minutes. Pour in the milk, bring to the boil and simmer for ten minutes longer. Discard the bay leaves and set aside to cool. The soup can be prepared up to this point well in advance and refrigerated.
In a blender or food processor, purée the coriander with the stock – get it as smooth as possible, stopping every now and then to scrape down the sides of the bowl and rest the motor. Add the vegetable mixture and blend once more, trying yet again to get it all smooth and velvety. Push the soup through a vegetable mill/mouli-légumes and return it to the saucepan. Stir in the cream and bring to a bare simmer – try not to boil it or you will lose the bright green colour. If the soup is very thick, add a bit more milk. Squeeze in about half a teaspoon of fresh lemon juice and check and adjust the seasoning. Taste again and add more lemon juice if necessary to brighten the flavour and give it some sparkle – it should not be sharp in any way, just bright.
Ladle the soup into warm soup bowls and serve immediately.
Buén provecho!
| | |
| --- | --- |
| Chilli and Chocolate Stars of the Mexican Cocina by Isabel Hood is available from Amazon.co.uk | Just The Two of Us Entertaining Each Other by Isabel Hood is available from Amazon.com and Amazon.co.uk |