Guest Author - Isabel Hood
Noche Buena, meaning good night, is the name given to Christmas Eve in Mexico, as well as the poinsettia flower, which is native to the country - the Aztecs called it "Cuetlaxochitl", the flower with leather petals - and graces many a home at the same time of the year, not only in Mexico but worldwide. It is an occasion for a family dinner, served before everybody goes off to Midnight Mass, known as "Misa de Gallo", cockerel's mass. The meal starts off with a special Christmas Eve salad, Ensalada de Noche Buena. It is a peculiar, and not particularly well balanced, concoction, a mixture of fruit and vegetables, which vary with the region and household to household, although beetroot and lettuce seem to be very traditional. It can include tropical fruit like bananas and pineapple, sharp or sweet citrus fruits, pomegranates and crisp, sweet "jícama", and a variety of nuts or seeds. Chillies are not always featured, but I like to sprinkle the salad with finely sliced red chilli, to balance the sweetness of the fruit and the blandness of the beetroot.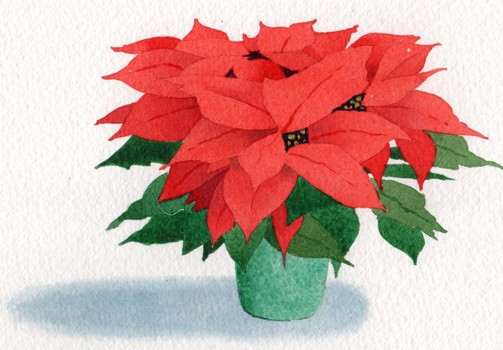 Noche Buena © Philip Hood
The best way to serve the Ensalada de Noche Buena is to spread all the ingredients out on a large serving dish, so that the colours and textures stand out, drizzle the dressing over everything, take it to the table and then toss it once everybody has admired your artistry – as although it may be a strange combination of ingredients, it does look stunning, flamboyant and very colourful.
Christmas Eve Salad – Ensalada de Noche Buena
Serves 6
1 Cos or Romaine lettuce, separated into leaves, washed and dried
500 g/18 oz beetroot, cooked, peeled and sliced
2 ripe bananas, peeled and sliced into discs
4 seedless oranges, peeled and sliced
200 g/7 oz pineapple, net peeled weight, cubed
2 tart green apples, cored and sliced
Seeds from 1 small pomegranate
100 g/4 oz roasted salted peanuts
1 hottish red chilli, deseeded and finely sliced
3 limes, 2 quartered and 1 juiced
125 ml/1/2 cup sesame oil
30 ml/2 tbsp red wine vinegar
Sea salt and freshly ground black pepper
Arrange the lettuce leaves in a circular pattern, like the spokes of a wheel, on a large serving dish. Place the beetroot, bananas, oranges, pineapple and apples in individual mounds on top of the lettuce, and sprinkle with the pomegranate seeds, peanuts and chilli. Garnish with lime quarters.
Mix the oil, vinegar and lime juice with some seasoning in a cup and whisk with a fork. Pour the dressing over the salad and take it to the table. Once the applause has died down, give the fruit and vegetables a light tossing, so that they are all coated with the dressing, and serve immediately.
Feliz Navidad, and Merry Christmas.