Tai Chi Helps ADD Symptoms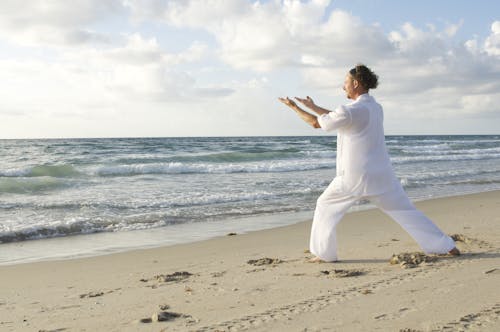 The stately, slow motion Tai Chi, with practitioners' arms that seem to float up and precisely placed feet, can help improve the symptoms of Attention Deficit Disorder. Tai Chi is a great way to use a lot of energy. It has been called a moving meditation. The attention to detail in body placement has application for reducing symptoms of Attention Deficit Disorder (ADD) by training the mind to attend.
People who are new to Tai Chi are often surprised when they finish a session covered in sweat. The next day, they're tired and those sore muscles tell the rest of the story. Tai Chi can be rigorous exercise.
At the heart of learning Tai Chi is repetition and correction of the postures. A teacher can repeat a sequence many times as the students are learning one sequence and hooking it to the previously learned pose. As students practice, the teacher may ask them to stop and hold a posture while he comes around and corrects each student's form. In a large class this can mean balancing with your weight on one leg for five minutes. Eyes are to the front. Arms are held just-so. The student is still as she holds the pose. The teacher finally gets to her and gently molds her body into the correctly formed posture. By this time, her legs are trembling with effort.
This effort to hold the posture forces the mind into a meditative state. The focus is on holding the body correctly and working through the discomfort that standing in one position for a prolonged time can bring. Tai Chi helps clear the mind. Your focus must be on the moving meditation. Your foot is placed just so. You move from the waist. Holding your hand in the "beautiful lady's hand" position, your arm moves gracefully into the next posture.
I crave the way my body feels when I am going through the Tai Chi form. This did not happen overnight. Grace comes with practice. Focus comes with paying attention to what my body is doing. I love feeling my body flow from posture to posture. Learning to concentrate on the Tai Chi postures helps my mind learn to focus on tasks that are difficult for me. Tai Chi helps me learn to center myself in the now. It stills the racing of my mind and lets me move "like a river."
Tai Chi, with its emphasis on slow movement, can be practiced by both old and young. I know. I am a very round woman and have plowed my way through my feisty fifties. Knocking on the door of my saucy sixties, Tai Chi helps me feel in control of my thoughts and body. My mind and body are more in balance. For days after the practice session, I am more focused. This is why I can give you my whole-hearted recommendation. Try Tai Chi, and see if it helps you and your symptoms of ADD.
Here is a gentle introduction to Tai Chi to help you feel the joy of Tai Chi without stressing your body.
Tai Chi for Older Adults


Related Articles
Editor's Picks Articles
Top Ten Articles
Previous Features
Site Map





Content copyright © 2022 by Connie Mistler Davidson. All rights reserved.
This content was written by Connie Mistler Davidson. If you wish to use this content in any manner, you need written permission. Contact Connie Mistler Davidson for details.