Creating Healthy Family Relationships in Adulthood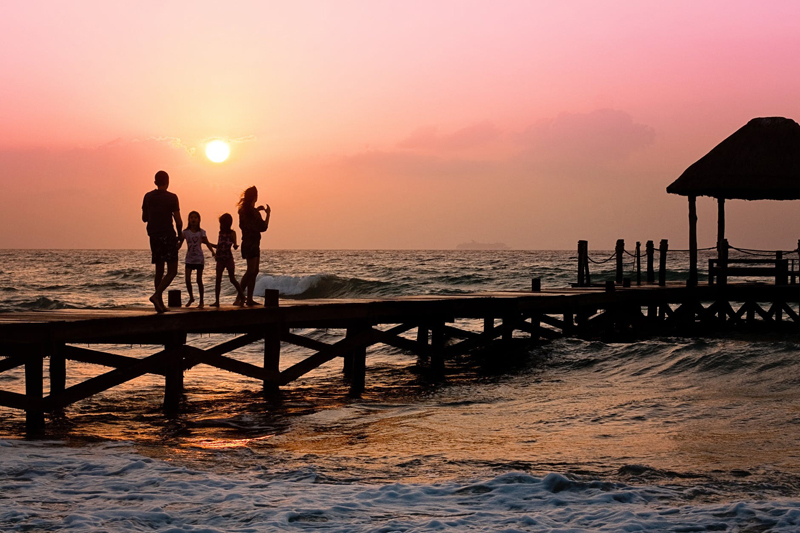 Unrealistic Expectations:
(Relating to Relations)
1. Disappointment over THEIR failure to live up to YOUR ideal
2. Asking for something the other person doesn't have to give, or is unwilling to part with,
i.e.
acceptance of a child's choices or an acknowledgment of his/her own wrongdoing.
3. The belief that adequate planning and the "right" appearance or activities will equal spontaneous healing of all old wounds.
"I don't understand!" My friend nearly wailed, "all I want is for my siblings and parents and I to be able to spend time together and enjoy each other like a
normal
family!" She had worked for a good two months planning this get-together that would involve siblings, divorced parents, and in-laws, not to mention the newer generation comprising the children of each sibling and his or her spouse, the grandchildren of the two divorced parents. Predictably, in spite of her having envisioned cozy sing-alongs, weenie roasts, and a charade tournament, the atmosphere had quickly devolved into sullen resentments from childhood, criticism of each others' current parenting, and a fight or ten over which adult child was favored, who was slighted by whom and why, and, of course, who had actually been at fault that one time 20 years ago when you-know-what happened. But, hey, my friend did get what she wanted—a long weekend with adult siblings, parents, everyone's in-laws and children, all behaving like every other "normal" family!
The basic unit of society and the gospel, family is
supposed
to strengthen and protect us. We are
supposed
to delight in each other, spending time together whenever possible, right? Well, yes. But families are made up of imperfect mortals, each with her own history and experience, each with his own personality and expectations. Speaking of those expectations, there are many more variations than the examples at the top. What they all have in common is that they form a nice big stumbling block to our happiness with our extended families. As much as we love each other, and even if we all want basically the same thing, that entirely functional, drama-free, mutually strengthening dynamic may never be realized in this lifetime. Practicing forgiveness and adjusting our expectations will allow us to honor our Father in Heaven and participate in our childhood families as healthily and often as possible.
Prior to diving in to my list of suggestions, let me make clear that I am not addressing situations where real abuse or danger is present or likely. Yes, we are required to "judge not unrighteously" and to forgive all men, but this does not supersede the requirement to protect ourselves and others, in particular our children, from harm. Nor does forgiveness mean that a person who has committed a crime should avoid the legal or moral consequences of his or her actions. It may be that abuse from the past ought to be reported and investigated, even if it occurred long ago. Or it may be that a person's behavior is erratic or emotionally dangerous enough that even though she is not likely to physically harm someone, too much unsupervised contact with her would be emotionally or spiritually harmful to your children. In this and in all things seek the Lord's guidance, and follow the inspiration and promptings of the Holy Ghost, asking your Bishop's counsel when needed, as well.
For the remainder of those sticky familial situations, keep these suggestions in mind:
Let go of the idealized image of family.
Cleavers, Waltons, Huxtables, whatever your perfect picture is, drop it; it isn't real! Sometimes it's an idealized version of what family time is "supposed" to be, and other times it is simply a fantasy of a parent or sibling suddenly becoming aware of her past wrongs against us and setting them right all at once, healing years of hurt in one insightful moment. In any case, the daydream is almost guaranteed to cause more angst and heartache than anything else.

We are who we are. The fact that a group of family members makes the effort to gather together in the first place is by itself an indication of love and desire for a relationship. Each person is out of his or her comfort zone, has given up a certain measure of control, and each one has a different idea of what is appropriate, necessary and desirable in an extended family setting. As long as a person is not demeaning or actively hurting another, have patience and express gratitude for the efforts she is making. It's never going to be the Keatons or the Seavers; you have no screenwriters, no make-up artists, and not one thing is going to be solved in 22 minutes.


Give up trying to get a family member to fix the past.
Maybe she really was an awful, bratty little sister growing up; maybe he did favor your brother over you. Either of these things would cause hurt during childhood, and neither is likely to be resolved in adulthood. Whatever else is debatable, one thing we can't deny is that each of us has a different recollection and experience of past events. It may well be that the younger sibling recalls your being high-handed and mean toward her, prompting her "awful, bratty" behavior. Perhaps a father who appeared to favor another child over you believes that you, in fact, pushed him away. You may be completely correct in your memory of events, but correct or not, the chances of getting the injurious party to recognize, admit to, and make reparations for the injury are roughly that of him sprouting wings and taking you on a flying tour of New York Harbor.

It may be possible for two family members to come to an understanding and reconciliation about the past. I have never yet experienced this with my own family, but I would imagine it is a soul-cleansing relief. In the meantime, demanding it would be futile, expecting it would be nuts. I continue to carry on each relationship on its own terms, turning to my Heavenly Father first, my husband second for the unconditional love and understanding I wish I could receive from others, and working every day to provide it to my own children. (Realizing, of course that you, me, and everybody else between us will wind up hurting and disappointing those children we so fervently wish to avoid causing any discomfort to. Hopefully we'll succeed in instilling in them the tools that will allow them to forgive us someday and overcome our foibles!)

Remember that right or wrong, we likely have family members that hold very similar feelings and desires toward us. Maybe we will suddenly wake up one day understanding that we have wronged them and eagerly make things right. Probably we won't, any more than they have.



Respect each family member on his own terms.
This does not mean we should accommodate or make allowance for sin, nor does it mean we should allow a loved one to disrespect or harm us or our own children. It does mean we should acknowledge that our family members have their agency, as we have ours. It is a stretch for them to take the time to visit family; they are not here to be supporting characters in the play My Life and its Perfect Family Reunion, and they have no obligation to grant our wishes or fulfill our expectations. It is God's job to judge them; it is our job to love them. In so doing we cannot forget our obligation to protect the spirituality of our nuclear families and homes, nor should we forget the obligation to share the joy of gospel living with our extended family.

Perhaps the bratty younger sister from earlier finishes off her cigarette In the car on the way to your house, then sits in your living room for two hours, holding hands with her live-in boyfriend, refraining from profanity, playing with your children, laughing with your husband, catching up with you about what you've each been up to since you last spoke six months earlier. No, this is not ideal, not perfect. What it is, though, may well be the most either of you is able to give in that particular moment.

Or perhaps that father you felt favored your brother growing up is willing to talk through email. Perhaps he regrets the strain between the two of, though he does not agree with you as to what the cause of it is, and if pressed would explain that you are entirely at fault. But maybe you can speak about neutral subjects for a while through email, texts, facebook. Maybe after a few months you'll even graduate to phone conversations. Uh-uh. It's not the same as having him know and adore your children the way you imagine you will know and adore their children someday. But maybe it is all that is possible just now. Either of these scenarios provides more than many relationships entail, and does leave the door open for the possibility of greater joy and involvement down the road.
Of course, each of these strategies involves forgiveness and the exercise of mercy. It is impossible to accept what each family member is able to offer if we are holding on to our hurt over her failings in the past. Family is a gift from our loving Father, an opportunity to for an unbreakable, eternal team, a unit that will sustain us through everything we face in this life, and rejoice with us in the hereafter. Unfortunately it does not always work that way, and too often seems to resemble almost the opposite. How blessed we are, then, that in this, as in all other aspects of life, that same Father stands ready to fill in the holes that are made or left by imperfect human beings. If we are willing to cast the burden of pain and disappointment onto our Savior, forgiving those we love, seeking to interact with them in wisdom and compassion, He can and will make up for what those relationships lack, healing every hurt and helping us to become more like Him. Continued repentance, forgiveness and endurance will deliver us into the arms of an eternal family yet.
You Should Also Read:
Parenting : See the Joy Instead of the Chaos
FHE : Family Unity and Teamwork
Respecting Children's Agency


Related Articles
Editor's Picks Articles
Top Ten Articles
Previous Features
Site Map





Content copyright © 2022 by Jamie Rose. All rights reserved.
This content was written by Jamie Rose. If you wish to use this content in any manner, you need written permission. Contact Jamie Rose for details.