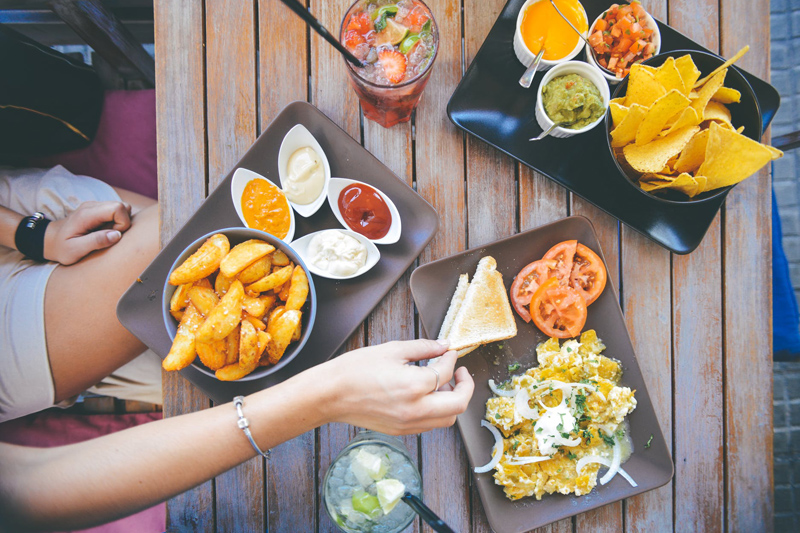 In every corner of Mexico small children and adults of all ranks get delicious comfort from "fideo", a favorite pasta dish. As is the case with most comfort foods, there are family variations, some fideo preparations end in the oven, others are "aguada" or soupy versions. Here is a basic recipe that can be easily adapted to any comfort level.

Fideo owes part of its satisfying flavor to the frying of the uncooked vermicelli. Mexicans got this dish from the Spaniards, but food historians speculate that the frying of the noodles, may reflect the Arab influence in Spanish cooking. When browning the pasta be careful not to overdo it — if your oil smokes or the fideo gets too brown, start again, it'll be wroth it.

Ingredients:
1/4 cup vegetable oil or lard for browning - more if needed.
8 ounces vermicelli pasta
1 pound tomatos coarsely chopped
3 tablespoons chopped tomato
4 garlic cloves
2 tablespoons coarsely chopped white onion
1 cup chicken broth
salt to taste

Tools:
9 inch skillet
4 quart saucepan

Steps:
1. Pasta - Start with thin vermicelli, the type that is round like a nest,, rather than the straight or pre-broken varieties. Vermicelli can sometimes be thick, if you are presented with a choice in packages, the one that says "angel hair" is the right thinness.

2. Making sauce - Blend coarsely chopped tomato, garlic and onion until smooth. (Note: I recommend a quick roast of the garlic cloves on a griddle or "comal", before use.)

3. Browning the pasta - Heat oil in a medium skillet. The oil is hot enough when a small piece of vermicelli sizzles when dropped into the oil. It is too hot if the oil smokes or the pasta piece browns quickly. The goal is a gentle browning. Brown all the vermicelli nests in the pan (about 3 minutes), breaking it up as you do. Drain off the majority of excess oil; retain a tablespoon or two.

4. The sauce - Into a sauce pan heat the tomato mixture and broth, add remaining chopped tomato. Cover and allow to simmer briskly (about 5 minutes) and thicken to a rich soupiness. Add salt to taste.

5. Finishing the fideo - Add the pasta to the liquid. Cover the pan and cook at medium-high heat until the liquid is absorbed (8-10 minutes).








Related Articles
Editor's Picks Articles
Top Ten Articles
Previous Features
Site Map





Content copyright © 2023 by Mickey Marquez. All rights reserved.
This content was written by Mickey Marquez. If you wish to use this content in any manner, you need written permission. Contact Mickey Marquez for details.