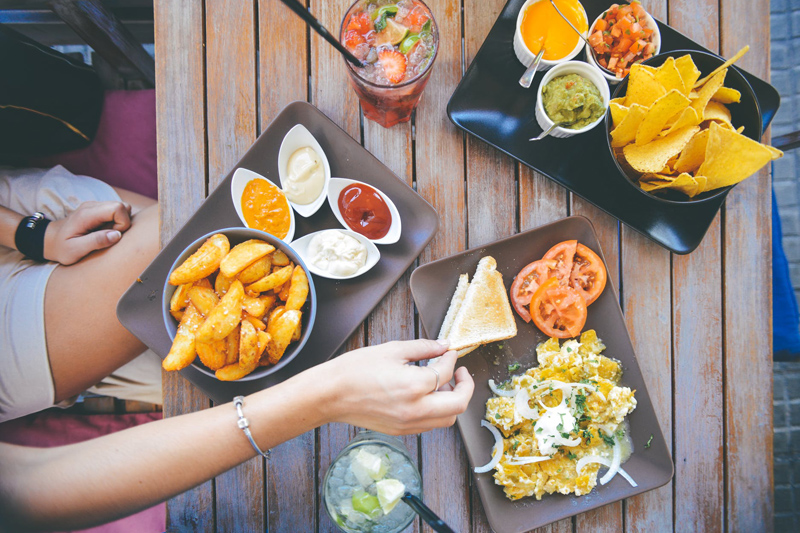 Throughout Mexico zucchini, tomatoes and corn are combined to make tasty side dishes. There may be as many versions of "calabacitas" (zucchini) as there are cooks. This recipe is unique for its use of hominy in place of fresh corn. This hominy substitution allows cooks to take advantage of the availability of early season zucchini, when fresh corn is not yet available. Avoid using canned hominy, but instead use hominy that has been rehydrated and cooked.

Calabacitas makes a tasty side dish, or with cream added it converts to a more substantial meatless alternative. Resist the temptation to skip the epazote. Epazote grows wild all over North America, including the United States; often considered a weed. In its dry form (whole leaf, or crushed) it is readily available in Mexican food stores. If you are able to get fresh epazote, use the younger leaves over the older ones, as the younger leaves have more subtle flavor. Epazote possesses a unique flavor, a blend suggesting the high notes of cilantro, lemon and Mexican oregano. This recipe provides 4-6 servings.

Ingredients:
1 lb. zucchini trimmed and cut into half-round chunks
2 cups hominy
1/3 medium size white onion, thinly sliced
4 small tomatoes chopped
3 tablespoons vegetable oil
1/4 cup chicken stock
4 young epazote leaves chopped or one 2 dried leaves, or 2 teaspoons crushed
Salt to taste
Optional: 1/2 cup Mexican crema or creme fraiche

Tools:
12" skillet with lid
Wooden spoon

Steps:
1. Over medium-high flame heat oil in skillet.
2. Add onion, cook to soften but do not let it brown.
3. Add zucchini, cook to soften.
4. Add tomato, allow to cook until tomato begins to breakdown.
5. Stir in hominy and add salt to taste.
6. Add chicken stock and epazote
7. Cover and reduce flame to simmer for about 15 minutes, stirring occasionally, until tender.
(Optional: uncover, increase flam to medium-high, stir in Mexican crema or creme fraiche. Stir occasionally for about 5 minutes, scrape the bottom of the pan to keep a smooth sauce and prevent burning cream.)
8. Taste and adjust salt if necessary.



Related Articles
Editor's Picks Articles
Top Ten Articles
Previous Features
Site Map





Content copyright © 2023 by Mickey Marquez. All rights reserved.
This content was written by Mickey Marquez. If you wish to use this content in any manner, you need written permission. Contact Mickey Marquez for details.