Caesar Salad - Lime and Hominy Style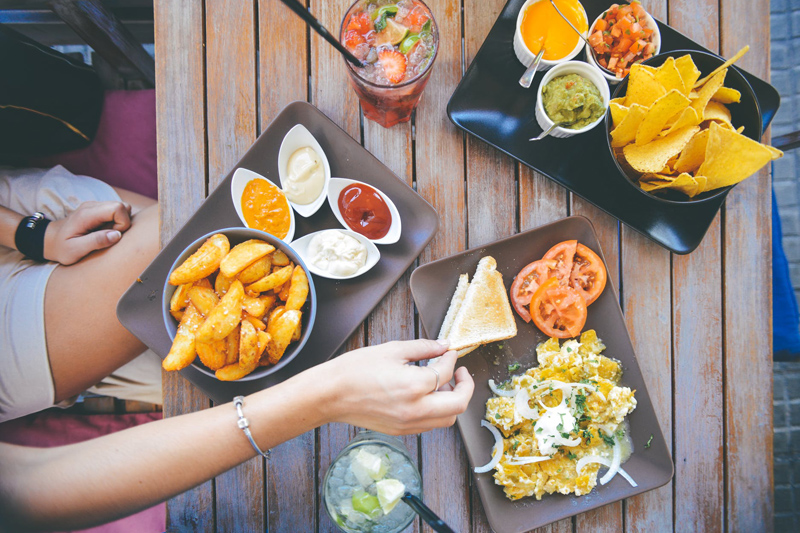 Currently the Caesar salad is "de rigueur " on the menus of the hippest eateries. Its resurgence reveals a few new twists, most commonly, the addition of kale or parsley. For purists however, nothing hits the spot like an old-school tableside Caesar. This Caesar salad recipe is inspired by and pays homage to the Tijuana, Mexico restaurant that first served the salad in 1924 and to the "ensaladeros", the servers who travelled from table to table making the salad fresh for each diner at Caesar's Place. There is no proving if restaurant owner Caesar Cardini or his chef Livio Santini actually made the first salad, but since the mid-1920's Caesar's restaurant has owned bragging rights as the spot where the first Caesar salad was served.

The cool, crisp of romaine against the rich flavors of citrus, anchovy and garlic make this classic salad and dressing a perfect starter to a plate of red chile enchiladas, or a spicy seafood dish from Tabasco. Two details in this recipe pay homage to its roots in Mexico. First, lime is used instead of the more standard lemon, second the bread crouton is replaced with a tasty, cheesy roasted hominy treat.

To make this recipe a complete success follow these tips: Make sure your Romaine is absolutely dry, cold and crisp for dressing the salad. Use high quality pure olive oil. Dress the salad just before serving. Use only Romaine hearts to avoid overly tough or ragged leaves. Serve the salad on plates, leaves in tact. Do taste your dressing and tweak ingredients according to your palate.

Rumor has it that Caesar Cardini, at the salad's first serving, carefully arranged the salad on a plate and told guests to "have fun and eat it with their fingers". Feel free to use a fork and even a knife. Yields 2-4 servings.

Ingredients:
One head Romaine, hearts only
2-4 Anchovy filets (optional)
1 Tablespoon Dijon mustard
1 Teaspoon Worcestershire sauce (optional)
1 Lime, juice only
1/2 Cup olive oil
1 Tablespoon high smoke point, neutral tasting oil such as, grapeseed or avocado oil
2 Garlic gloves
1/2 Cup Pecorino Romano cheese, grated
1 Cup cooked hominy, drained
1 Egg (coddled, 1-minute egg)
1/4 Teaspoon salt - or to taste for hominy
Fresh ground pepper to taste
Salt to taste

Tools:
Large salad mixing bowl - minimum 12"
Electric or immersion blender
Grater
Quarter size baking sheet
Parchment paper
Long handled salad utensils for tossing and serving

Steps:
1. In cold water wash separated Romaine leaves. Allow to drain on a clean dish town, gently pat dry and return to refrigerator until use.
2. Preheat oven to 375˚.
3. Line the quarter size baking sheet with parchment paper.
4. In a mixing bowl, place hominy, 1 tablespoon oil, 1/4 cup grated Pecorino Romano, salt, and toss.
Spread hominy mixture in a single layer onto the baking sheet and place in oven. Check the hominy after ten minutes and toss to ensure even roasting. Remove from heat when there is some golden color, but before the hominy is hard (about 20-25 minutes). Hominy should not be hard, rather firm and chewy.
5. Using an electric or immersion blender, blend half cup of olive oil, two garlic gloves chopped into large chunks, mustard, anchovy filets, Worcestershire sauce, and lime juice until smooth.
6. Add coddled egg to the mixture and blend until smooth.
7. Taste dressing, add salt if desired and blend again.
8. In a large bowl, spread approximately 1/3 cup of dressing across the surface. Beginning introducing Romaine by rolling into the bowl coating with the dressing until all leaves are coated. More dressing may be added for heavier dressed versions, or start with less for lighter versions. When all lettuce is dressed sprinkle with remaining grated cheese and begin to plate.
9.When Romaine is plated, add freshly ground pepper and about a tablespoon of warm hominy to each salad.



Related Articles
Editor's Picks Articles
Top Ten Articles
Previous Features
Site Map





Content copyright © 2022 by Mickey Marquez. All rights reserved.
This content was written by Mickey Marquez. If you wish to use this content in any manner, you need written permission. Contact Mickey Marquez for details.