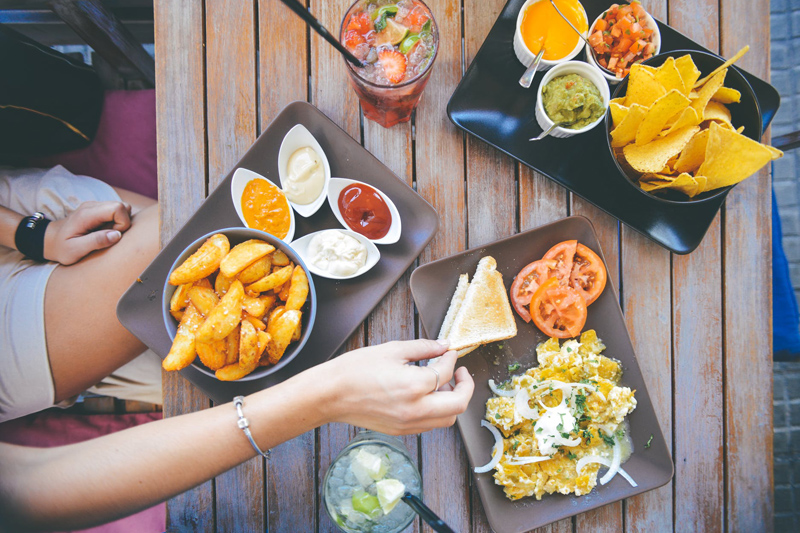 Nopales, or prickly pear cacti, may be to Mexico, what manna was to the Israelites in the wilderness. Legend has it that the Aztec priest-king Tenoch, leading his people and searching for a place to settle, prophesied that the correct location would reveal itself with an eagle, consuming a serpent on a "nopal" plant. Such is the imagery on modern Mexico's flag. As for the nopal, it endures on Mexican dining tables and is increasingly popular globally as a delicious food.

After Mexico, Italy is the world's largest producer and consumer of Opuntia, or prickly pear cactus. Consumption of prickly pear fruit is popular throughout the mediterranean, but dining on the green, oval shaped cactus paddles is now catching on as well. The cactus paddle is a foodie's delight; it can be pickled, candied, steamed, boiled, grilled, or fried. It's the raw material for an excellent side dish or a main course, one that pairs well with fish and meat, or stands-alone for a vegetarian delight.

Fresh cactus paddles are increasingly available in grocery stores throughout the western US. In the eastern US, fresh paddles are occasionally available, but the lack of turnover is such that frequently they are not in good condition. Shop for fresh paddles that are firm, brightly colored, with smooth skin, avoid paddles with puckered skin, dull color, and that are limp.

The taste of the paddle is not unlike a tangy green bean. The smaller the paddle the more mild the taste, but large paddles are tasty and should not be shunned. I recommend that prior to cooking, cleaned and cut nopales should be soaked in vinegar for thirty minutes, then rinsed, drained and cooked. This trick helps eliminate the thick liquid ooze that the paddles release and that is not a desirable texture. There are several methods for preparing nopales that eliminate distracting thick liquid ooze. If the vinegar method does not appeal to you, prepped nopales can be boiled or steamed. Start by adding cut nopales into a pot of cold water. When boiling or steaming, season the pot with a clove or two of garlic and a quarter to a half of white onion. Cooking time is 20 to 30 minutes.

If you cannot find fresh paddles, canned nopales are commonly found at Latin food grocers. Sometimes they are sold pickled, pickled or canned nopales are not as inspiring as fresh, but they can work well in some recipes, such as salads or egg dishes. Avoid using cactus directly out of the can, they should always be rinsed rigorously to remove any canned taste.

To begin exploring cooking with cactus, one must overcome the prickers or needles. What follows are the basic steps to cleaning and preparing cactus paddles. With practice it can become a very fast process. Cleaned, uncooked nopales can be wrapped tightly in plastic wrap and kept in the fridge for 3-4 days until ready for use. Cooked cactus can be stored in the fridge loosely wrapped in plastic for about ten days. Once your paddles are prepped, you can try them sauteed with onion, fresh tomato, salt and a dash of red flake pepper, there are no rules, let your palate be your guide.

Basic cleaning and preparing of nopales:

Tools:
A favorite sharp knife
A chopping board large enough to support a paddle

Ingredients:
3-6 Small cactus paddles
or
2-4 Large cactus paddles

Steps:
1. Place a chopping board at slant against the inside of your kitchen sink.
2. With one hand, hold the cactus paddle by the blunt stem end and position on the chopping board.
3. Run your knife toward the tip of the paddle, always scraping downward. If any needles remain, remove them individually with your knife. All the skin does not need to be removed, only the needles.
4. Cut and remove the outer edge of the paddle.
5. Cut off the thick blunt stem section.
6. Cut paddle as desired for bite-sized pieces.
7. Follow article instructions for eliminating thick liquid by either soaking in vinegar, boiling, or steaming.



Related Articles
Editor's Picks Articles
Top Ten Articles
Previous Features
Site Map





Content copyright © 2023 by Mickey Marquez. All rights reserved.
This content was written by Mickey Marquez. If you wish to use this content in any manner, you need written permission. Contact Mickey Marquez for details.