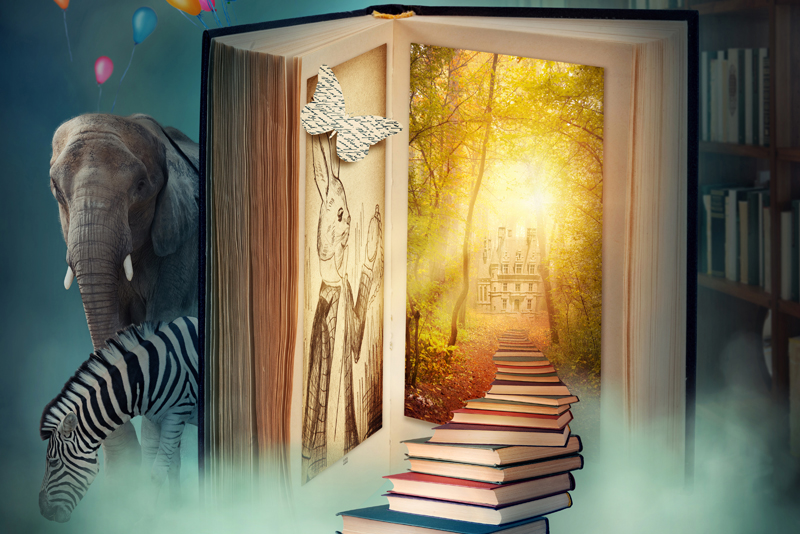 Imagine living your whole life as a zoo specimen. Imagine never being allowed to speak on penalty of death. Imagine suddenly being repatriated by Earthers who discovered your people were the lost colony of a wealthy and religious fanatic group. Did I say extremely wealthy and extremely fanatical?

Hunter Rogue is a delightful young woman whose life changes seemingly overnight. She needs to lead her clan of Laughing Humans into this new life, even if it kills her.

Add to this scenario a really handsome older man who falls for Hunter on one of her secret reconnaissance exploits through the ship – the ship he captains.
If you like dry wit, hot sex, and a strong female protagonist, you will love Laughing Humans by Evelyn Rainey.

This book is available through its publisher Portals Publishing, an imprint of Denouement Literary Agency, LLC. The DenLit Books store is on both websites and offers ten percent off the retail price listed on Amazon. It is also available through other fine book stores online, including eBay in new and used copies.

Laughing Humans was first published the summer of 2015 and republished February of 2016 with a new cover by Susan Krupp. A discussion guide for book clubs was also added at that time.

Laughing Humans comes in three versions: trade paperback, e-book, and audio. The Audible was narrated by Gary Roelof and is available for FREE through Amazon.

• Paperback: 144 pages
• Publisher: Portals Publishing
• Language: English
• ISBN-10: 0692518908
• ISBN-13: 978-0692518908
• Product Dimensions: 6 x 0.3 x 9 inches
• Shipping Weight: 9.6 ounces

The bumpff states:
Laughing Humans are the descendants of a colonizing ship that crashed on the planet Bicanthra III 500 years earlier, and have been raised as animals in a zoo by the indigenous sentient beings of that planet. Their speech has atrophied because of their severe religious belief (one only speaks to praise god), but they laugh, giving rise to their name. They are a strongly female-dominated clan.

Hunter Rogue has lived her entire life providing food for her troupe of two dozen Laughing Humans and trying to escape from the zoo where she and her troupe are exhibits. She hates being confined by taboos or walls. She loves to explore and try new things. She longs to be allowed to speak like the Bicanthran gods, to be mated despite her troupe's strict laws on monogamy, and to teach her troupe that they are no longer zoo specimens.

Captain Angus McFarlan is one year away from retiring from a military career which confined him with its rules and regulations. In order to keep him from ruining his career in its twilight hours, he is given the dubious honor of rescuing and repatriating the troupe of Laughing Humans. Angus is fierce, dominant, and always in control, until he meets Hunter.

Hunter and Angus must lead the Laughing Humans into an existence delightfully different from their previous life. Speech, sex, and equality are all new concepts to which they must adapt.

The author would appreciate reviews to be posted on Amazon for any or all of the versions.


You Should Also Read:
Ruth Karas an Interview
Question Woman & Howling Sky REVIEW
DISCUSSION GUIDE Question Woman & Howling Sky


Related Articles
Editor's Picks Articles
Top Ten Articles
Previous Features
Site Map





Content copyright © 2023 by Evelyn Rainey. All rights reserved.
This content was written by Evelyn Rainey. If you wish to use this content in any manner, you need written permission. Contact Evelyn Rainey for details.