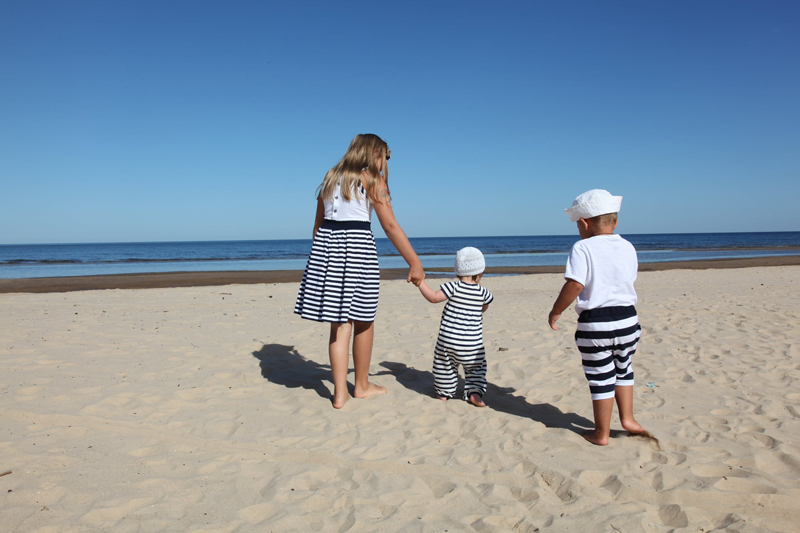 Over a dozen snack ideas for when you're traveling with the kids.

1. Fruit. Most kids love it, plus it's healthy. If you need something new try orange slices, frozen grapes or bananas, sliced kiwi, melon balls ( a good job for the kids to do with an inexpensive melon baller), or sliced pineapple rings. For quick preparation, you can purchase small containers of water packed fruit, though it typically has fewer nutrients than fresh.

2. Dried fruit. If fresh fruit proves too messy, try dried fruit. Small boxes of raisins, dried cranberries, dried mango spears, or packages of dried mixed fruit are especially kid pleasing. Just be sure to do an extra thorough tooth brushing at night.

3. Trail mix. Buy it ready-made (check natural food stores for healthier versions) or customize your own. Just grab a bag and add dried cereal, goldfish crackers, mini pretzels, chocolate chips, dried fruit, coconut flakes, nuts, or yogurt covered raisins.

4. String cheese and wheat crackers. String cheese can safely stay out of the fridge for a few hours, if it'll be more than that (or in hot weather) put it in an insulated lunch bag with an ice pack.

5. A bag of vegetables. Try cucumber and bell pepper spears, carrot and celery sticks, broccoli and cauliflower florets, peapods, sliced radishes, or cherry tomatoes.

6. Mini bagels. Spread them thinly with peanut butter and all-fruit jelly, cream cheese, or apple butter.

7. Pretzel sticks. Pair them with a small container of cheese dip or peanut butter, or cubes of cheddar cheese to spear.

8. Juice boxes. Look for 100% juice varieties. Also try bottled vegetable or tomato juice (watch the sodium content though).

9. Whole wheat bread. Spread it with peanut or cashew butter.

10. Protein bars or shakes. These are good to keep on hand for teenagers who don't have time to prepare a snack before rushing out the door.

11. Air popped popcorn. Toss it with seasoned salt, Parmesan cheese, garlic powder, or cinnamon sugar.

12. Rice cakes. Buy the flavored kinds for variety, or top them with peanut butter and sliced bananas or cream cheese and jelly.

13. Ants on a log. Just spread peanut butter into sliced celery and top with raisins. For a neat variation try "snow on a log"; top celery with low fat cream cheese and raisins.

14. Nuts. They're high in fat but it is heart healthy fat. The healthiest nut varieties include almond, walnut, pecan, and macadamia nuts.

15. Seeds. These are great alternatives to potato chips. Pumpkin and sunflower seeds are widely available and can satisfy that craving for something salty and crunchy.



You Should Also Read:
Preparing Healthy Meals on Vacation
Road Trip Diversions for Kids


Related Articles
Editor's Picks Articles
Top Ten Articles
Previous Features
Site Map





Content copyright © 2021 by Kimberly Misra. All rights reserved.
This content was written by Kimberly Misra. If you wish to use this content in any manner, you need written permission. Contact Tiffiny Spire for details.