Italian Style Stuffed Pork or Beef Rolls Recipe
Italian cooks, I have to say, know what they are doing when it comes down to using inexpensive cuts of meat and turning them into a delicious feast. This recipe takes a slight twist on the Italian pork or beef braciole, which is usually pronounced totally differently as to the way it's spelled.
Traditionally, this recipe uses thin sliced pork or beef wrapped around a savory filling, usually consisting of parsley, garlic, cheese and pine nuts, then braised in a juicy, delicious tomato sauce until tender. Whatever you decide to put into this recipe, it will be absolutely fantastic. The juices from the meat ooze into the sauce to make it even more delicious!
I usually make the sauce first so that it's all ready to put together after searing the meat rolls - and you're good to go!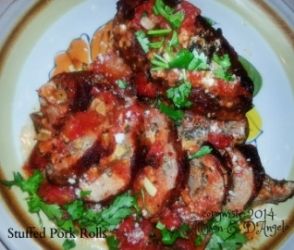 The Sauce
Ingredients
2 tbsp. olive oil
1 large yellow onion, diced
1 tsp. red pepper flakes, optional
1 tbsp. dried Italian seasoning
1 tbsp. dried crushed basil
1 tbsp. dried parsley flakes
1 28 oz. can tomato sauce
1 14 oz. can diced tomatoes
Method
1. Heat 2 tbsp. olive oil in a skillet over a medium heat and cook the onions for 5 minutes. Add the next 4 ingredients and cook 2-3 minutes more. Add the tomato sauce and diced tomatoes. Bring to a slow boil and then reduce the heat to very low. Cook uncovered for at least 30-40 minutes stirring occasionally. If the sauce looks too thick add a little water. It shouldn't be a bubbling, splattering pool of tomatoes that dresses your kitchen walls!
The Meat
Ingredients
2 lbs.thin pork shoulder steaks (or beef flank/skirt steak)
4 tbsp. olive oil, divided
2 cups fresh spinach, chopped
1 cup fresh arugula, chopped
1 cup fresh Italian parsley, chopped
6 cloves fresh garlic, chopped
1 cup Parmesan cheese, grated
1 tsp. red pepper flakes
1/4 cup grated Parmesan or Romano cheese, grated
1 tsp. kosher salt
1 tsp. ground black pepper
extra grated Parmesan cheese for garnish
twine or toothpicks
Method
Preheat the oven to 350 degrees F.
1. Pound out the pork shoulder/flank or skirt steak between 2 pieces of plastic wrap to approximately 1/4" thick. Rub the meat all over with 2 tablespoons of the olive oil and set aside.
2. Combine the next 9 ingredients in a bowl along with the remaining olive oil and mix well. Sit this on the counter to blend for at least 30 minutes or more.
3. Place the meat in front of you lengthways and add the spinach mixture piled onto a third of the meat, closest to you. Roll tightly and secure with twine in three places or use toothpicks to secure. This is the messiest part of this recipe.
Don't worry if the filling falls out from the sides. Either, stuff it back into the meat rolls or just add it to the sauce you already made - it will only make it tastier. Brown the roll-ups on all sides in 2 tbsp. of the olive oil over a medium high heat. Drain on paper towels.
Assembling the Dish
1. In an ovenproof casserole dish ladle approximately 2 cups of the sauce in the bottom. Important Note:- the sauce in the bottom of the dish needs to be of a thinner consistency - almost watery-like, so just add a little water to thin it out. This procedure will prevent the sauce from burning while the roll-ups braise.
Then, place the meat rolls on top of the sauce, add more sauce on top of each roll-up (be generous with this, just pile it on.)
2. Cover with foil and braise for 50 minutes or more until tender. Uncover and cook a further 20 minutes to condense the flavors. Remove from the oven and let the meat rest for at least 15 minutes before slicing into 1/2"-1" rounds.
Plate your Italian-style stuffed pork or beef rolls with sauce on the bottom of the plate, the sliced meat on top and finish with a sprinkle of grated Parmesan cheese and chopped parsley as a garnish. Serve with a little pasta tossed in the remaining sauce if desired or a crisp, green salad with a balsamic vinaigrette.
You Should Also Read:
Visit my Home Cooking Site for hundreds of delicious recipes!
Visit Cinzia for more awesome Italian Cuisine


Related Articles
Editor's Picks Articles
Top Ten Articles
Previous Features
Site Map



Follow @CateringMom
Tweet



Content copyright © 2022 by Allyson Elizabeth D´Angelo. All rights reserved.
This content was written by Allyson Elizabeth D´Angelo. If you wish to use this content in any manner, you need written permission. Contact Allyson Elizabeth D´Angelo for details.