Guest Author - Chidori Phillips
In the BellaOnline.com Japanese food site article, How to Make Light and Lacy Tempura,I shared all of the secrets that I learned as I experimented with making this divine Japanese favorite. Before you proceed with this recipe, please take the time to read that article. The trick is in the technique of scattering the batter into the oil. It takes practice but it is worth it!
If you don't know this already, I was had the most light and lacy tempura at a restaurant many years ago. It was not just a battered shrimp but had the laciest aura of crispness around it. Never since have I found this same ethereal quality in tempura again and have been on a lifelong quest to find or replicate it. This recipe is the latest in my experimentation. Alas, it still is not the ideal and so my journey continues...
Light and Lacy Tempura Batter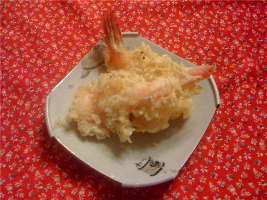 1/4 cup rice or wheat flour
1 cup cornstarch
1 tsp. salt
1 tsp. ajinomoto
1/2 tsp. baking powder
1 whole egg
2/3 cup ice water (you will need more if you use wheat flour instead of rice flour to obtain a thin pancake batter-like consistency)
In a bowl, mix dry ingredients. Add egg and then add ice water. Mix. Remove 1/4 cup of the batter and pour it into another bowl. Add an additional 1 Tbsp. of ice water to this and stir. Keep these batters ice cold by placing them in a larger platter of crushed ice.
Heat the oil to 375 degrees F. or until a bit of the batter dropped into the hot oil sizzles right away. Dip a shrimp into the thicker batter and place it into the hot oil. Dip your fingers into the thinner batter and let drips of batter scatter around the shrimp, making a lacy network of batter. Cook for a few minutes and then flip to cook the other side. Do not overcook. The shrimp should not be brown. Drain on paper towels.
Tentsuyu Dipping Sauce
1 cup dashi
1 Tbsp. soy sauce
3 Tbsp. mirin
grated daikon radish
In a small pot, blend together all ingredients except for daikon radish, and bring this to a simmer over low heat. Cool slightly and serve with tempura. Add grated daikon to taste.
Vegetable Tempura
Some vegetables make better tempura than others. Choose sturdier types such as carrot, pumpkin, sweet potato or onion and slice thin so the inside will cook. If you have not tried making asparagus tempura, I highly recommend it. Fiddlehead fern also makes wonderful tempura. But my favorite tempura vegetable is the green bean.
Tenkasu Crunchy Fried Batter Bits
Using a small mesh strainer, scoop out the crispy bits of cooked batter that gets left behind and drain on a paper towel. Store these in an air-tight container in the freezer. Toast in a 375 degree oven, on a cookie sheet, before using. These are called tenkasu which is saved to be used as a delicious crunchy topping on noodles, sushi, okonomiyaki or chazuke (rice and tea dish). I absolutely love tenkasu on everything.