Guest Author - Chidori Phillips
Furai, or fried, foods are enjoyed both hot and crispy from the fryer or at room temperature in a bento box. Here is a recipe for frying shrimp but you can substitute any sturdy fish filet or other shellfish.
Ebi Furai (Fried Shrimp)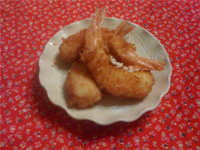 12 large fresh shrimp, peeled and deveined
3 large eggs, beaten
1 cup flour
1 tsp. salt
½ tsp. garlic powder
1 tsp. ajinomoto
2 cups panko bread crumbs
oil for deep frying
Wash, peel and devein the shrimp, leaving the tails intact. If you want the shrimp to have a straight form instead of curling, make several cuts along the underside of the shrimp perpendicular to its length. This cuts the tendons so the shrimp will not curl during cooking.
In a small bowl, beat the eggs well. In another bowl, mix together the flour, salt, garlic powder and ajinomoto. Place the panko bread crumbs in a third dish.
Heat the oil to 375 degrees F. Dip each shrimp into the seasoned flour then the beaten egg and then finally into the panko bread crumbs. Coat well. Carefully place the shrimp into the hot oil. Fry only about three shrimp at a time, depending on the size of your skillet or fryer. Do not overcrowd the oil or the temperature will drop and result in soggy shrimp.
Cook until golden brown. Drain on paper towel.
Wasabi Shrimp Cocktail Sauce
1 cup catsup
1 tsp. Worcestershire sauce
1 tsp. wasabi horseradish, grated
1 Tbsp fresh lemon juice
Blend all ingredients together and serve with fried shrimp. This is not a traditional recipe but a Japanese twist on an American condiment.
Panko Bread Crumbs Recipe
white bread slices
Preheat oven to 200 degrees. Using a sharp knife, cut off the crusts of the white bread slices. Place the slices on a cookie sheet and toast in the slow oven until the bread is dried but not browned. Be sure the bread does not brown!
Using a box grater, grate the bread slices until they break into coarse crumbs. If you choose to use a food processor for this step, be sure to pulse only a few times. You want to achieve a coarse crumbs, like small glass shards NOT fine sand. Spray on honey water with a spritz bottle and dry the crumbs again.
Store your panko in an airtight container and place in the freezer until ready to use. Keep it dry. You can season your panko but do so only just as you use it a recipe. Panko is used mostly as a crunchy coating for fried foods, but you can use it anyway you would use bread crumbs such as blended with butter and seasonings to give casseroles a nice crunchy topping.