Politically Incorrect Beer Titles - Black Sheep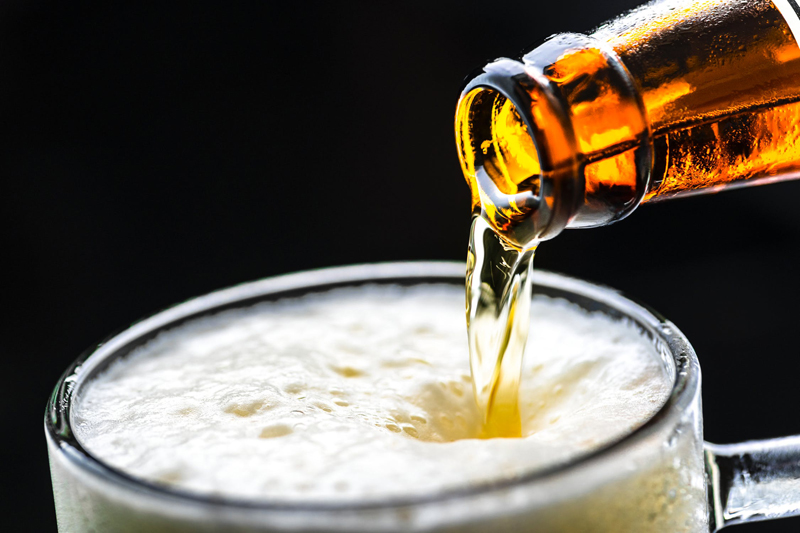 Feeling grumpy lately?

British psychologist Cliff Arnall created a formula in 2005 that calculated the most depressing day of the year among people in England and the Northeast section of the United States, two areas with similar winter climates. His formula determined the date based on post-holiday debt, cold climate, short days of sunlight, broken New Years' resolutions, and the realization that spring is not breaking any speed records to arrive, despite the predictions of Punxatawney Phil. The Monday closest to January 24th was chosen as Stay-in-Bed Day to commemorate this momentous black cloud over the spirit.

That day has come and gone, and the winter doldrums continue to gnaw at your stomach like a raw poker. Perhaps the winter doldrums are to blame! Maybe your stomach is simply whining for attention.

Methinks it is a conspiracy by Mother Nature to awaken the dormant spirit. Annoyed, you look for a beer that will match your mood, echo your temperament, and lift you from the muck of winter. One that is scathingly eloquent! Monstrously minimalist! Wrestling esoteric cogitations out of your muddled brain!

A desire that can only be satisfied with politically incorrect beer!

For your pleasure –
Politically Incorrect Beer Titles – Black Sheep

Please meet a few from the black-sheep side of the family - the bastards:

Arrogant Bastard – Stone Brewing Company, Escondido, California, USA – American Strong Ale – Stone Brewing says, "You're not worthy!" but you know better. This impudent gargoyle pours rich crimson-copper with a deep beige head. Complexity slams the olfactory senses with aromas of dark fruit, caramel malts, resiny pine, earth and grapefruit. The rich and voluptuous malt base slashes at the luxuriant, fresh Pacific Northwest hop profile, creating a beer that balances on a tightrope like the Great Wallendas.

Old Crippled Bastard – Mad Anthony Brewing Company, Fort Wayne, Indiana, USA – American Barleywine – Dream-like smog drifts through the body of rusty walnut, while a thin head dissipates quickly on the surface. Light alcohol drifts across the tongue, touched by the dark fruity taste of raisins and plums.

Fat Bastard – Silver City Brewing Company, Silverdale, Washington, USA – Scotch Ale / Wee Heavy – Clear copper elixir is infused with mahogany hues, while a tight head of almond plays host to light carbonation. An earthy peat profile mingles with toffee, plums and feathers of smokiness. Chewy malt merges with alcohol, like a fine, old scotch whiskey.

…and the politically incorrect, whacky women and uncontrollable men and children:

Nutty Brewnette – BJ's Chicago Pizza & Brewery, Chicago, Illinois, USA – English Brown Ale – This hazy, pecan-brown baby lays slathered with a thin layer of creamy head and lacing that lingers, clinging to the glass in tatted webs. A nose of mixed nuts and caramel is echoed on the tongue, with a touch of roastiness and hops in the finish.

Black Widow – Barley Creek Brewing Company, Tannersville, Pennsylvania, USA - Schwarzbier – The lady pours a clear chestnut brown, almost opaque, with a head that lightly dresses the surface. Aromas of richly toasted grain lock onto the espresso roller-coaster, taking you into licorice-root caverns and tunnels of caramel-cocoa, finishing clean and dry.

Fat Woody - Silver City Brewing Company, Silverdale, Washington, USA – Scotch Ale / Wee Heavy – Oak, vanilla and bourbon reach out from a coppery brown body, topped with a thin, off-white head - coaxing you into its sweet seduction. Rich malts, embedded with fruit and peat, titillate your senses as they wash across the tongue. A warming sensation blends with oak, and gently bites at the back of the palate.

Witch Doctor – Oggi's Pizza & Brewing Company, Vista, California, USA – American Double Stout – The shaman of the netherworld greets you with its ebony curtain, capping the magical liquid with a tawny head. The olfactory nerves are awakened with the stimulating notes of bittersweet chocolate, caramel and yeast, while velvety waves of latte and cocoa slide with abandon across the inner recesses of your mouth.

Wild Child – The Alchemist Pub & Brewery – Waterbury, Vermont, USA – American Wild Ale – A sour little devil glows hazy and amber with red highlights and minimal head. The sour, lactic funk of brettanomyces begs for your attention, while flavors of granny smiths, wild cherries, pomegranate and sour grapes rock on a see-saw of flavor.

Staggering Monk – Walking Man Brewing Company, Stevenson, Washington, USA – Belgian Strong Dark Ale – The orange glow of a semi-precious gem radiates beneath the tight, creamy egg-shell head. Complex aromas of cherries, plums, dates and raisins mirror the path with candy sugar, malt and peppery spices. The 9.4% ABV hides like an invisible super-hero and springs into action during the grand finale.

Peg Leg – Clipper City Brewing, Baltimore, Maryland, USA –Russian Imperial Stout – This crippled pirate glows mahogany with a head of tan cream. Aromas are heavy on the sweet side, with flavors of caramel and mocha, tinged with pine, spruce and grass.

Nit Wit – Manayunk Brewery & Restaurant, Philadelphia, Pennsylvania, USA – Witbier – The glow of hazy amber shines under a thick, off white head, while spicy aromas of citrus and tropical fruits merge with cloves and nutmeg in the background. Flavors are painted with citrus and orange in lingering spiciness and a refreshing finish.

The Grim Reaper - General Lafayette Inn and Brewery, Lafayette Hill, PA, USA – Russian Imperial Stout – Deathly dark body lurks in black shadows as a motionless tan head lays with creamy elegance atop the still form. Burnt currants and imported espresso mix with almonds and roasted barley, giving life to that which the grim reaper would keep for himself. Smooth malt slathers across the tongue, awakened with dark berries, coffee beans, bittersweet truffles and a layer of alcohol.

Embalmer – North Country Brewing, Slippery Rock, Pennsylvania, USA – American Barleywine – A minimal head tops the amber body, malty and bitter with a subtle alcohol layer. Flavors of citric grapefruit rock-on, drenched in clean caramel. Enters quietly on the palate with an ethereal finish.

It gets better, Grumpy! Stay tuned for the next Beer Fox Guide – The Saga Continues, with politically incorrect titles of over-consumption and the consequences thereof.

Cheers!
 
You Should Also Read:
Politically Incorrect Beer Titles - Beer Fox Guide
Politically Incorrect Beer Titles - Over-Doing It
Cigars & Beer - Beer Fox Pairings


Related Articles
Editor's Picks Articles
Top Ten Articles
Previous Features
Site Map





Content copyright © 2023 by Carolyn Smagalski. All rights reserved.
This content was written by Carolyn Smagalski. If you wish to use this content in any manner, you need written permission. Contact Carolyn Smagalski for details.