Mizpah - Ease Children's Separation Anxiety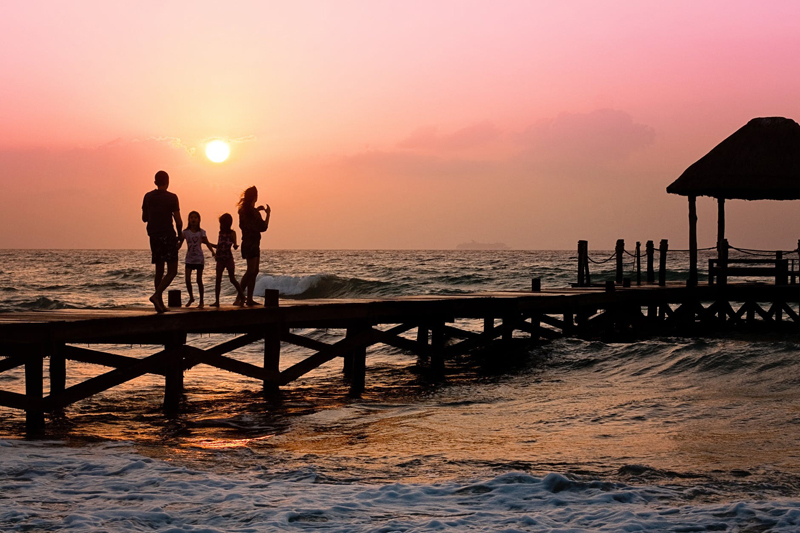 There is so much in childhood that is big and scary. So much in all of life actually, but for a few blessed years, nearness to Mommy and Daddy seems to offer an impenetrable force-field of safety, a guarantee that if we just close our eyes and cling to Mom's leg, she will navigate us through the minefield, or that Dad's hands, lifting us out of the path of whatever monstrous behemoth is fast approaching can hold us high above the fray forever. Is it any wonder that some of our little ones develop separation anxiety? Unfortunately, if they do not become accustomed to new people and surroundings after a few introductions, this fear of leaving parents' sight may become disruptive to family life and the child's development. For children age three-and-a-half-ish on, the concept of 'Mizpah' may ease this scary time.
I came up with the idea of a 'Mizpah car' when my oldest was four and still sobbing every Sunday when it was time for Primary. For the fiftieth time that month, I asked the Lord,
what on earth can I do to help this child?
I spoke the words in my head, as I was walking out the door, headed to the drug store, and the answer finally came to my heart and mind,
Mizpah.
I recalled a pink 'Mizpah Heart' from my Young Women days. Our leaders made these heart-halves carefully, giving half of each one to two different girls. The word was written across them, and the scripture, "The Lord watch between me and thee, when we are absent one from another." (Genesis 31:49) The idea was that even when we grew up and moved apart, we would be connected to one another, though we may never meet again in this life, and that Father would keep us in His care when we couldn't look out for each other. I still have my sweet pink heart in my hope chest, and remember the partner who has the other half.
Headed to
Walgreens
, the idea formed. I wanted something--a little figurine or animal--that had a face, or other anthropomorphic qualities. I didn't find one, but there were small cars, matchbox-type. I chose a pink one, his favorite color. (Don't you laugh, or his four brothers just might getcha!) At home I found a marker with a fine tip and drew a heart on the top of the car. I wrote the word Mizpah on the hood, and put my initials, his fathers, and his own on various other spots. Later that evening, my husband and I sat down with our little guy for a talk. We explained to him that the word means watchtower, and that we say it to remind ourselves that Heavenly Father is watching over us while we are apart, holding us safe, until we are together again. Daddy told him that he could carry this special Mizpah Car in his pocket, and touch it whenever he began to miss us. We emphasized that he must not take it out of his pocket at church or preschool, or it might get lost or distract the class. We worked on memorizing the scripture as a family, always stressing the meaning.
It worked wonderfully. My hope was that eventually he wouldn't need the car, but would be able to recall the scripture and have the same comfort. Apparently we were successful, because by the time he started Kindergarten this Fall he no longer needed it. This may not work for everyone. I am sure some children couldn't keep a car in their pockets for all the candy at the North Pole. It was the ideal solution for this particular child and this particular family. We still all tell each other
Mizpah
more often than
goodbye.
If you'd like to try this technique, here are a few tips:


Choose a toy that is small enough to fit in a pocket. If possible, it should be something that may be written on with permanent marker.


Emphasize the specialness of the object. Don't play with it at home or use any old thing as a substitute if it happens to get lost. Assign it its own special spot in the house.


Explain to your child's teachers what its purpose is. They will probably already be aware of his difficulty with separation and will be happy to help with a solution. Ask that they remind her to put it back in her pocket, rather than confiscating it if she forgets.


Reinforce the scripture as often as possible. Remember, the object represents Heavenly Father's care and the bond between parent and child. The goal is to reach a point where the object is retired as a piece of fond memorabilia, like any security blanket, and only the gospel teaching and faith in God is needed to ease anxiety.


This is one of countless ways we can help our children learn to understand and apply the gospel. Good luck,
may the cries from the nursery be few, and the
Sunbeam row
peaceful!
You Should Also Read:
Teaching Young Children the Scriptures
Parenting : Consequences v Punishment
Respecting Children's Free Agency


Related Articles
Editor's Picks Articles
Top Ten Articles
Previous Features
Site Map





Content copyright © 2022 by Jamie Rose. All rights reserved.
This content was written by Jamie Rose. If you wish to use this content in any manner, you need written permission. Contact Jamie Rose for details.