Elegant Beer for the Thanksgiving Table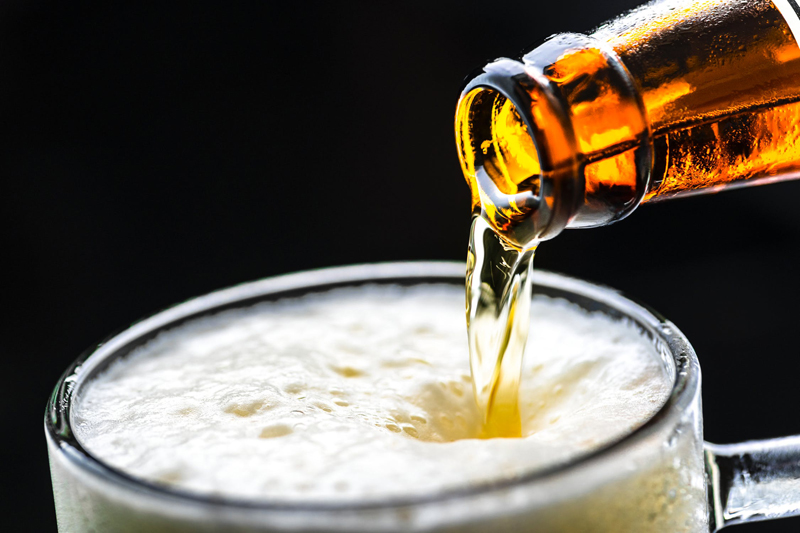 No feast in America is quite like Thanksgiving. Linen tablecloths embroidered in white and gold form a perfect backdrop for glittering silverware as it reflects the colors of holiday china and goblets waiting in readiness. Aromas of turkey and chestnut dressing waft through the air, mingling with brown sugared yams, skillet cranberries, and pumpkin pie. This year is special – a change of tradition for many in my family. We will match our holiday with festive beers of the world, awakening the feisty spirit of those who have grown bored with annual traditions. A rebel is born…

An aperitif whets the appetite and blends with light hors d'oeuvres of baked brie, crab dip and crudités. The champagne-like character of Deus Brut des Flandres from Brouwerij Bosteels, Buggenhout, Belgium is my first selection. Served in champagne flutes, the light, effervescent body of pale gold shares equal billing with the dense, white head of cream. Vanilla, flowers, and earth play games in your head, while delicate apples and sweet malt add a layer of seductiveness to the quiet 11.5% ABV.

We advance to the dinner table, where salad greens, cucumbers, mandarin oranges and onion curls assert their flavors beneath a dressing of olive oil blended with spices, Dijon mustard, and the sweet, tart flavors of Frambosen Raspberry Brown Ale from New Belgium Brewing, Fort Collins, Colorado, USA. Sprinkle with goat cheese for added complexity. Cantillon Gueuze 100% Lambic-Bio (Organic Gueuze) of Brasserie Cantillon in Brussels, Belgium is the perfect accompaniment beer, served in a tulip to enhance its orgasmic, organic puckering acidity.

The main course of turkey with sausage and chestnut dressing calls for a delicate, hoppy Pilsner Urquell, the original Bohemian pleasure of Pizeòský Prazdroj in the Czech Republic. A flowery aroma, locked-in by the luxurious, velvety head, echoes in the dry, juicy flavor. Delicate white breast meat and caramelized drumsticks become aroused in the essence of Saaz hops.

A side relish of Cranberry Crisp in Barley Wine highlights the tenderness of turkey with sinful zest. Spread one pound of cranberries evenly in an oven-proof dish, sprinkle with 2 cups of sugar, cover, and bake for 1 hour in a 250° oven. Uncover. Pour 18 ounces of Fuller's Golden Pride English Barley Wine of Fuller Smith & Turner in Chiswick, London, England over the baked cranberries, and return to the oven until the liquid is absorbed, about ½ hour. Serve with turkey and brown sugared yams.

A light, lemon sorbet cleanses the palate before dessert.

Spicy pies of Pumpkin, Apple, or Pecan call for the stronger flavors of a Belgian Dubbel. Westmalle Trappist Dubbel from Abdij der Trappisten van Westmalle, Malle, Belgium is spicy and dense, with complex flavors of dates, figs, cherries, and grapes, drenched in earth - temptations that lure you into unending delights of the palate.

As the final stroke of relaxation, enjoy a Quelque Chose from Unibroue, Chambly, Quebec, Canada or Utopias MMIII from Samuel Adams, Boston Beer Company, Boston, Massachusetts, USA. Warm the elixir in a brandy snifter. Allow the alcohols and sweetness to hypnotize you, caress your fingertips, and lull you into submission.

Give thanks, Beer Lover!

Cheers!
 

You may wish to add a bit of class when serving beer. This classic set is a great starting point. You may also wish to seek out Stemmed Pilsners or Wheat Beer Glasses before expanding to Champagne Flutes or Digestive Glasses.
Spiegelau Barrel Beer Classics Lager Glass, Set of 6 in Barrel Gift Tube

Spiegelau Beer Classics Ultimate Beer Glass Set 6-pc.
You Should Also Read:
Tapas & Beer - Tasty Food Pairings
The Grand Embellishment of Food with Beer
Delicate Pairings of Beer and Cheese


Related Articles
Editor's Picks Articles
Top Ten Articles
Previous Features
Site Map





Content copyright © 2022 by Carolyn Smagalski. All rights reserved.
This content was written by Carolyn Smagalski. If you wish to use this content in any manner, you need written permission. Contact Carolyn Smagalski for details.