Carotenoid Complex™ – Is It Hot or Is It Not?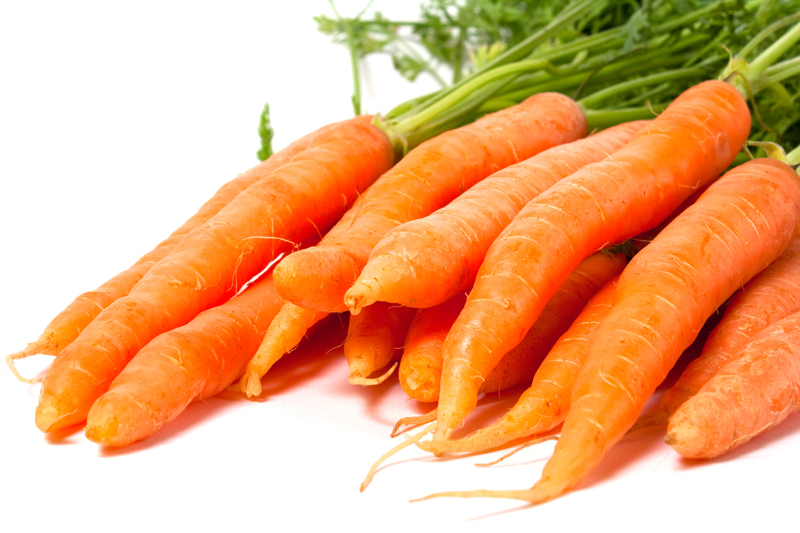 Do you know your antioxidant ABC's? You've probably heard that you need antioxidants and that they're good for you, but do you know why? Sometimes it all just seems to get too complicated, doesn't it?
So let's go back to Mother Nature for clarification. Antioxidants are nature's protector nutrients. They're like good friends. Some of the most powerful antioxidants are called carotenoids. Carotenoids are your best friends – always available, always there to stand up for you, always fighting for your health, your safety and even your life. Carotenoids are your knights in shining armor.
Their shining armor is the beautiful red, yellow and green coloring of fresh fruits and vegetables. Carotenoids are the major reason why everybody, who's anybody, says you should eat five to nine brightly colored fruits and vegetables a day. Who's everybody? Well, your mother for one. Plus the National Academy of Science, the U.S. Department of Agriculture, the Department of Human Services and the National Cancer Institute.
So do you think you're eating your five to nine a day? It's not likely - most people aren't. Studies show that only 3% of the population eat as much as three servings a day. And if those three servings consist of our favorite fruits and vegetables – an apple, a banana, iceberg lettuce and potatoes – your score is zero. Because none of those fruits and vegetables have any carotenoids.
Well, OK then, are we sure you really need carotenoids? Absolutely! For a start, carotenoids have been found to prevent, slow down and even reverse both cancer and heart disease. They can protect you from and also reverse degenerative diseases of the eyes and nervous system. Plus carotenoids pump up your immune system to help defend you against just about every illness and disease imaginable. You definitely want to invite these knights in shining armor to dinner at your round table.
How can you be certain you're getting the maximum strength of carotenoid power? With Carotenoid Complex™, the world's first and only proven full spectrum antioxidant supplement. You've had a full-spectrum antioxidant if you've ever eaten strawberries, tomatoes, apricots, carrots, peaches or red bell peppers.
Sounds like a salad bar, doesn't it? That's actually the ingredients in Carotenoid Complex™. In the early nineties, after seven years of intense research, Carotenoid Complex™ was presented and proclaimed to be a pioneer breakthrough by the New York Academy of Sciences. Before then, you had never even heard the word "carotenoid."
When the USDA Human Nutrition Research Center got wind of Carotenoid Complex™, they asked to do some more studies working hand in hand with the CDC (Center For Disease Control and Prevention). The USDA and CDC discovered amazing results in just 20 days. People in the study had a 37% increase in immune power in less than 3 weeks. They also showed a dramatic level of protection from both cancer and heart disease. After only 20 days on the product, the indication was that Carotenoid Complex™ actually slowed down the aging process. Just imagine the results you'd get from taking it for 20 years?
Are there other full-spectrum carotenoid products on the market now? So they say. But only Carotenoid Complex™ has been proven to work. The company's unique and exclusive extraction process stands alone – head and shoulders above the crowd. Plus, the outstanding bioavailability research was published in the prestigious
American Journal of Clinical Nutrition
, because it's a major breakthrough in helping you to get the full-spectrum benefits of carotenoids in your diet.
Maybe you're wondering, about the benefits of full-spectrum carotenoids? This gets back to Mother Nature's ABC's. You've probably heard of beta-carotene. That's a carotenoid. In it's natural form, beta-carotene comes from carrots. But, and it's actually a big BUT, you've never seen a carrot with just one carotenoid. You've never seen a tomato with just lycopene or watermelon with just lutein. Mother Nature always packages a full-spectrum of natural carotenoids together. Taking them as individuals can do damage by increasing your need for the missing ones. That's why Carotenoid Complex™ has the full-spectrum in a natural balance - Mother Nature's whole alphabet of carotenoids from Alpha-carotene to Zeaxanthin.
It makes good sense to invite these knights in shining armor to your round table. One bottle gives you the antioxidant power of over 250 pounds of fresh raw red, yellow and green fruits and vegetables. And, since this product has an unconditional 100% money back guarantee, you have nothing to lose.
For more information or to purchase Carotenoid Complex™ for yourself and your family, go to
www.carotenoids.net
. You'll never have to wonder again if you're getting your five to nine a day, because you'll have the most powerful proven natural antioxidant protection available anywhere. Carotenoid Complex™ is definitely a HOT fruit and vegetable medley.
Be sure to check out my
Natural Health Newsletter
.
Click here for the
site map
.
Articles you might also enjoy
Is It Hot or Is It Not?
Valid Research vs. Hype Marketing
To subscribe to the Natural Health Newsletter, just enter your email address in the subscribe box at the bottom of this page.
© Copyright Moss Greene. All Rights Reserved.
Note: The information contained on this website is not intended to be prescriptive. Any attempt to diagnose or treat an illness should come under the direction of a physician who is familiar with nutritional therapy.
You Should Also Read:
Site Map
Nutrition News You Can Use
Carotenoid Complex™


Related Articles
Editor's Picks Articles
Top Ten Articles
Previous Features
Site Map





Content copyright © 2022 by Moss Greene. All rights reserved.
This content was written by Moss Greene. If you wish to use this content in any manner, you need written permission. Contact Moss Greene for details.