Guest Author - Chidori Phillips
Guava is a tropical fruit with many cultivated types. Depending on the variety, the rind may be bitter or sweet while the flesh color may be any variation between white and red. Birds love to eat guava and spread guava seeds widely throughout warm climes. In India, guavas are sold on the street to be sliced, sprinkled with salt and cayenne pepper and eaten out of the hand.
In Hawaii, the juice of the guava is sweetened and enjoyed as a beverage. The pulp is made into breads, jellies, candies, syrups, cakes and pies. The inventive Japanese worked the guava flavor into mochi. No doubt I am not the first to make Guava Kanten, but I have not seen a similar recipe so far.
Because my family does not like the intensely sugary flavor of traditional kanten, I decided to make fruit flavor kanten. Since fruit juice contains natural sweetness, I cut the regular kanten recipe sugar measurement by a fourth. The result is a pleasing light fruit flavor with just enough sweetness. After I polled some of my tasters, they agreed that I should stick with the fruit juice instead of concentrate or pulp as they liked the lighter flavor of the guava.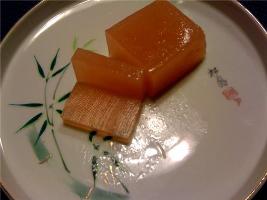 The natural color of the guava is a pale pink. Some party guests initially thought the kanten was sliced sashimi, and they were delighted by this guava kanten. Use a pan or mold that will result in a thickness of about one and a half inches. Kanten is sliced as shown in the photo (although it is only a small portion of the recipe yield.) This is not as heavy as yokan or as sugary sweet as traditional kanten.
Guava Kanten
2 sticks shiro (white) agar-agar sticks
5-1/4 cups guava nectar or other fruit juice
½ cup granulated sugar
Pour juice into a small pot. Break apart the agar-agar sticks and soak them in the juice for about 30 minutes. Bring the juice and agar-agar to a boil over medium heat, stirring to dissolve the sticks. Add sugar and cook mixture for about 10 minutes, stirring continuously. Remove from heat. Spray a 9x9 inch baking pan with non-stick cooking spray. You can use another size pan as long as the mixture will be at least 1-1/2 inches thick. Pour the hot mixture into the prepared pan and allow to cool until the kanten hardens. Agar-agar does not require refrigeration to gel but do cover this mixture with plastic wrap and refrigerate until serving for food safety.
To serve, unmold and slice into long rows about two inches wide. Then, slice each row into one inch-thick pieces. Arrange attractively on a platter. Serve with green tea.
You can make this recipe using other fruit juices, but be forewarned that fresh citrus juice (orange, pineapple, lemon) can prevent the agar-agar from gelling properly. Cook the juice first or use pasteurized canned fruit juice. You also may need to increase the amount of agar-agar.