Pork Shanks in Adobo Sauce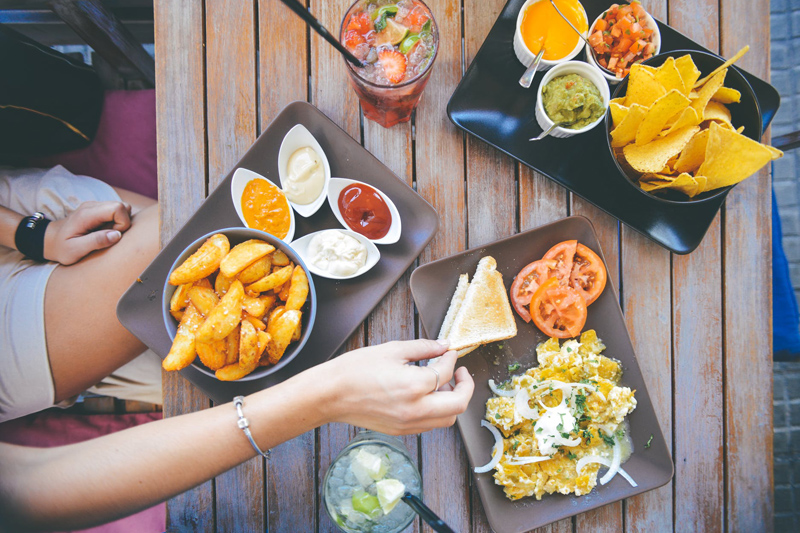 What makes this recipe celebratory is the decadence of meat falling off the bone, bathed in a velvety red adobo sauce. It makes a memorable presentation; to get it use the meatier and more luscious hind shanks rather than the more traditional and smaller front shanks. The marinade imparts the first layer of flavor that gets more complex and delicious with the second use of the adobo. The moist braised shanks are made rich with a velvety, piquant -- not fiery-- sauce that oozes love and Happy Valentine's Day!

Try and resist the temptation to marinate the meat overnight in the refrigerator. Two to three hours at room temperature is ideal. Room temperature is in the 70˚-72˚ F. range. Keep in mind, the acidic marinade is not conducive to bacteria growth and although the food danger zone is between 40˚-140˚ F., the relatively short length of marinating time, the presence of oil, and the acidic environment make for a bacteria hostile environment. Still, to demonstrate an abundance of caution you can marinate the meat for 4-6 hours in the refrigerator, but bring the meat back to room temperature for cooking.

The shanks should be skinless. If you can, ask the butcher for some of the skin. Some well-seasoned crackling ("chicharron") make a perfect, crunchy addition to the plate.

This adobo is used in two different ways. First, in its paste form as the marinade. The paste is rubbed into the shanks for a light coating, dropped into a zipper-lock plastic bag and pineapple juice and oil are added. Second, as a serving sauce after the tomatoes and some of the chile soaking liquid become part of the sauce.

Tools:
Dutch oven
Shallow roasting pan
Blender
9"-12" Skillet for toasting spices and tomatoes
Strainer
Bowl sized to support the strainer
Cooking utensils, long handled spoon, knife, turner, tongs
Measuring spoons
Pot to boil water
Jumbo size zipper-lock bag

Ingredients:
2 Pork hind shanks, skin removed, 2 to 2½ lbs. each
4 Chile pasilla pods, mostly deveined and seeded
4 Chile mulato pods, mostly deveined and seeded
8 Chile guajillo pods, mostly deveined and seeded
4" Mexican cinnamon stick - unrolled for toasting
1 Teaspoon cumin seeds
3 cloves
3 Cloves garlic, roasted
12 Black peppercorns
¼ White onion, roasted
3 Roma tomatoes, roasted with skins removed
½ Teaspoon salt for sauce
1 Tablespoon coarse salt to rub on the shanks before the marinade.
3 Tablespoons apple cider vinegar
⅛ cup pineapple juice for marinade
3 Tablespoons grapeseed or avocado oil for marinade

Steps:
1. Wash, dry and salt the shanks, leave uncovered in the refrigerator until ready to marinate.
2. Heat skillet to roast spices. Plan to roast more spices than the recipe requires, I suggest a tablespoon of each (cumin, cloves, peppercorns).
3. Break cinnamon stick into shards, roast and set aside.
4. Roast cumin seeds, stir continuously and be careful not to singe. Set aside.
5. Roast peppercorns and set aside.
6. Roast cloves and set aside.
7. Take the white onion and pull apart layers to expose to heat, it is desirable to have a small amount of charring. Roast the garlic at the same time, but remove the garlic when it lightly browns, but not charred.
8. Bring a pot of water to boil. It should have just enough water to cover the chiles. When water comes to a boil, remove from heat. Add chiles and let sit for approximately 15-20 minutes.
9. Begin roasting tomatoes.
10. Blend chiles, onion, vinegar, salt, cumin, cloves, peppercorns, cinnamon, and garlic into a thick paste. You will need to pulse the blender initially until the chile and onion release enough liquid to blend to a smooth consistency.
11. With a long-handled spoon remove enough paste to coat the shanks.
12. Drop shanks into the zipper-lock bag and add pineapple juice and oil. Shake the bag to distribute juice and oil over shanks and allow them to marinate for two to three hours.
13. Add tomatoes to blender and blend to a thick liquid. If the liquid is not pourable, add some of the chile soaking water. The sauce should not pour chunkily but smoothly.
14. Pour blender contents through a fine mesh strainer, using the spoon to push it through into the bowl. Reserve the bowl until the shanks are placed in the roasting pan.
Cooking the shanks:
1. Preheat oven to 325˚ F.
2. Place shanks and marinade liquid in a Dutch oven with the lid and bake for 30 minutes. After 30 minutes turn the shanks, place the lid back on the pot and let cook for another 30 minutes. After 30 minutes remove the lid, if necessary add a small amount of water. Monitor the shanks for doneness. Shanks are done when the meat nearly falls off the bone.
3. When pork is cooked, remove from the oven. Increase oven to 425˚ F.
4. Carefully transfer shanks from the Dutch oven to the roasting pan. Cover with remaining adobo sauce and roast for 15 additional minutes.
5. Remove the roasting pan from oven and let shanks rest for 10 minutes before plating.



Related Articles
Editor's Picks Articles
Top Ten Articles
Previous Features
Site Map





Content copyright © 2023 by Mickey Marquez. All rights reserved.
This content was written by Mickey Marquez. If you wish to use this content in any manner, you need written permission. Contact Mickey Marquez for details.