Alternatives for Non-Athletic Sons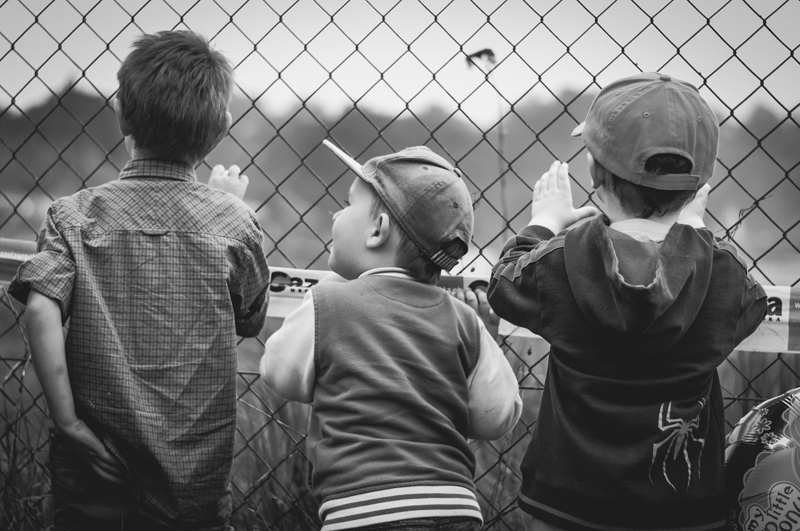 Spring is the traditional time to think about baseball, but where I live "fall ball" is a venerable tradition as well. In fact, a baseball lover can play the game almost all year round. Summer is out only because running around in a heat index of 110 degrees is not a great idea, even for the most intrepid boys! For many parents, though, the advent of baseball season (or football, or hockey, or whatever sport rules your neck of the woods) can bring with it a host of anxieties. If you don't happen to have an athletically gifted son, your friends' talk of uniforms, fundraisers, and endless weekends at the park or stadium is only so much noise. Perhaps you've transcended the stereotypes, and you truly don't care that your son is not going to be getting an athletic scholarship to college. Hopefully he has already found his own particular talent, and, in the best case scenario, it doesn't require you to sit outside in all weather!

Perhaps your son is still searching, though. Whether he is five or 15, he may have realized on his own that sports just aren't his thing. Such a realization can be hard for a boy because in our society, sports are still a rite of passage and a bonding experience for guys of all ages. If your son is seeking an alternative to athletics as a means of satisfying his desire to succeed, consider some of these alternatives.

Music. Music is always a wonderful option for any boy. There are few boys who don't thrill to the idea of playing the guitar or playing the drums. The best part about taking on music as a serious hobby is that learning music theory has been demonstrably tied to an increased understanding of math. Further, music is such an easy hobby for a boy to immerse himself in. For boys who are not as great at verbalizing their feelings as girls are, being able to go into their rooms and express themselves through writing and playing songs on a guitar can be a tremendously valuable outlet. For our younger sons who may not be ready for "big boy" instruments, try guitars made especially for younger hands. They are just as real as bigger guitars, but are small enough for young boys. Also, consider piano lessons. They are one of the easiest ways for a boy to learn to read music, to learn basic music theory and, hopefully, to learn a skill that will stay with him his whole life. A boy who can play the piano will always have a social skill. As has been the case for centuries, people flock to the piano when someone plays it.

Non-traditional sports. When we think of boys playing sports, it is natural to think first of the big three: baseball, basketball, and football. Of course, our northern friends think first of hockey! There are a host of other sports, though, that require completely different skill sets. Golf, track and field, and the martial arts are all wonderful alternatives to traditional team sports. If your son really does want to play a sport, but doesn't seem to be cut out for traditional team sports, try thinking outside the box and give some other sports a try. Think of them as the "ESPN2" sports!

Crafts. Fear not. I'm not necessarily suggesting that you put a pair of knitting needles in your son's hands (although, why not?). There are many crafts that can consume a boy's time and energy, and can become a beloved and absorbing hobby. Some of the most obvious are model building and painting miniature figurines (a la role-playing games), but there are a host of other crafty hobbies that seem naturally to attract boys. Wood burning and other wood crafting hobbies seem tailor made to interest a boy looking for a hobby. In this category you truly are limited only by your imagination!

Games. Can games really be a hobby, akin to an alternative to sports, you may ask? Absolutely. Think chess. The great chess masters spend hours every day honing their craft. Strategy games like Risk can easily absorb hours, days, and then, if you're not careful, weeks. More traditional role-playing games have been known to eat into a boy's social life (note: I don't advocate sacrificing a social life for one's hobby!). The key with games, as with any hobby, is to find what one loves, and then to work to master it. Isn't that what our sports-playing sons are doing, at least on some level?

Some of us have naturally athletic sons. Some of us have naturally brilliant sons (okay, all of us have naturally brilliant sons!). Some of us, though, have sons who are just trying to find something to do. What seems like a trivial "I'm bored" problem can become so much more significant as your son gets older. All of a sudden "I'm bored" turns into the problem of not having an anchor, of not having anything in common with anyone else, and of not having something to fall back on and relax with when the going gets really rough. That's why finding a hobby or a passion is not really a trivial matter: it's essential. If our sons can't do it for themselves, then helping them is our job. Sports can be a wonderful outlet for boys, but so can so many other activities. I'm going to suggest something new to my sons this week. Care to join me?



Related Articles
Editor's Picks Articles
Top Ten Articles
Previous Features
Site Map





Content copyright © 2022 by Laura Delgado, Ph.D.. All rights reserved.
This content was written by Laura Delgado, Ph.D.. If you wish to use this content in any manner, you need written permission. Contact Laura Delgado, Ph.D. for details.