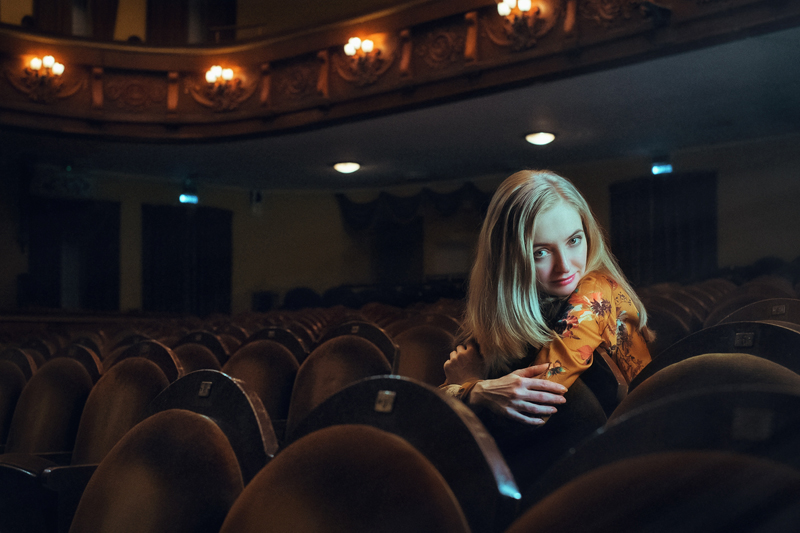 Orson Welles and John Cassavetes are considered pioneers of independent filmmaking in America; directors who either by choice or necessity financed and distributed their films without the support of a major studio. Ida Lupino was also a trailblazer, but as Martin Scorsese noted "her considerable accomplishments as a filmmaker are largely forgotten and they shouldn't be."

In 1947, Lupino bravely rejected an extension of her acting contract with the Warner Bros. studio. She formed an independent production company, The Filmakers, with husband Collier Young and directed six feature films between 1949 and 1953. Lupino wanted her films to examine contemporary issues, especially those that affected women's lives. Skirting the censorship code then in place, Lupino tackled the subjects of unwed mothers and teen pregnancy in "Not Wanted" (1949) and rape in "Outrage" (1950).

Her two releases from 1953, "The Hitch-Hiker" and "The Bigamist", have been the focus of recent conservation efforts. The United States National Film Registry selected "The Hitch-Hiker" for preservation in 1998 and Scorsese's Film Foundation co-sponsored the preservation of "The Bigamist". Both films exhibit aspects of the film noir style, not surprising since Lupino starred in two noir classics for Warner Brothers: "They Drive By Night" (1940) and "High Sierra" (1941).

"The Bigamist", due to its title and the efficient way Lupino sets up the conflict in the opening scene, is not a suspense film. Harry Graham (Edmond O'Brien), a traveling salesman, and his wife Eve (Joan Fontaine) are subjected to a background check by an adoption agency. The assiduous head of the agency discovers that Harry maintains a second household with Phyllis (Ida Lupino) and their infant son. Harry unburdens himself to the adoption agent, knowing that he will inevitably land in court.

"The Bigamist" is notable for refusing to provide the viewer with a concrete resolution. The film ends without disclosing the legal consequences for Harry, and there is no clichéd, dramatic confrontation between the two women in his life. "The Bigamist" is also the lone example of Lupino directing herself. She not only gives an outstanding performance as the jaded and vulnerable Phyllis; she elicits convincing performances from her fellow cast members. The film does suffer, however, from an excessive soundtrack. There is a constant, and unnecessary, use of music underscoring the mood of each scene.

That defect is absent in the taut and stark thriller "The Hitch-Hiker". Based on the true life case of murderer Billy Cook, "The Hitch-Hiker" is the story of a weekend getaway gone wrong. Two friends, played by Edmond O'Brien and Frank Lovejoy, pick up a hitchhiker on their way to Mexico. Their passenger is Emmett Myers (William Talman), a serial killer who is the subject of an intense manhunt. Myers forces the men on a trip through desolate territory, telling them "You're gonna die – it's just a question of when."

Photographed with consummate skill by RKO's resident cinematographer Nicholas Musuraca, "The Hitch-Hiker" is full of evocative shots of wind and dust, tree branches and shadows, all contributing to the tense emotion of the story. Another significant aspect of the film is Lupino's refusal to present her Mexican characters in a stereotypical fashion. Lupino, who valued realism, has her Mexican characters speaking Spanish and does not translate the dialogue. She respects her audience enough not to do all the work for us.

When her company, "The Filmakers", went bankrupt (in part, due to Collier Young's poor financial management), Lupino turned to television. She directed nearly 100 episodes for television series such as "Have Gun Will Travel", "The Fugitive", "The Big Valley", and "Gunsmoke". While Lupino continued to act, her favorite place was behind the camera.

"The Bigamist" and "The Hitch-Hiker", as well as "Hard, Fast and Beautiful" (1951) and "The Trouble with Angels", which Ida Lupino directed for Columbia Pictures in 1966, are all available on Amazon Video. I watched the two films discussed in the review at my own expense. Review posted on 8/20/2016.
You Should Also Read:
Mikey and Nicky Film Review


Related Articles
Editor's Picks Articles
Top Ten Articles
Previous Features
Site Map





Content copyright © 2019 by Angela K. Peterson. All rights reserved.
This content was written by Angela K. Peterson. If you wish to use this content in any manner, you need written permission. Contact Angela K. Peterson for details.