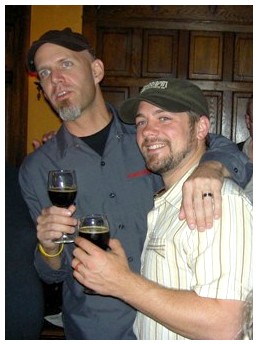 As I step onto the train platform at Suburban Station in Philadelphia, an infinite ocean of people, shops, sounds and smells fly at me in a continuous stream of consciousness. I feel like James Joyce or J.P. Donleavy. "What would it be like to write about everything that flowed through my brain?" The bloke in front of me, swaggering like a hybrid unicorn in a duck-and-monkey parade. Another, seeming to step through an invisible bed of sidewalk daisies without muddying his cordovan loafers…or is he really stepping through an imagined maze of dog-muffins? or land mines? A street vendor with flowers – brilliantly yellow and pink, filling my nose with pollen and perfume. As I pass a doorway, the hidden beggar-man insists that god should bless me. "How many times does he say that each day?" I wonder. I observe a sexagenarian swaying with his flute, crushed between a harsh backdrop of brick and the fluid movements of the self-absorbed … no tipping-can applauds his talents."Could he be playing for his own pleasure, or is this a survival tactic in a life of uncertainty?" Phillies shirts for 18 dollars underground, but only 10 bucks here on the street. "The world is alive," I mutter to myself.

In a few blocks, Monk's Café comes into view, softly lit with neon lights. It calls to me, and I feel the warmth long before I enter for tonight's special dinner. This evening, October 29, 2009, Left Hand Brewing Company and Terrapin Beer merge talents to present the palate-pleasing sensations of liquid bread with the sumptuous cuisine that emerges from Chef Adam Glickman's kitchen.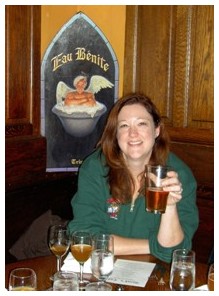 Beer Wench Kerri Allen and Owen Ogletree, fellow GABF beer judges, have accompanied the Terrapin/Left Hand crew on the trip from Georgia, stopping at other renowned beer bars along the way, including the hospitality of An Mekong at his Vietnamese restaurant in Richmond, Virginia. In their adrenalistic chatter, they speak of An's lazy-Susan buffet, a non-traditional highlight on the road for this traveling band of beer rogues. Also in the crowd are Beer Historian Rich Wagner and beer-writing owner of Home Sweet Homebrew George Hummel.

Chris Lennert, VP of Operations at Left Hand Brewing, Longmont, Colorado, shares the spotlight with Dustin Watts, VP of Sales and Marketing at Terrapin Beer Company of Athens, Georgia. Amidst courses of baby octopus, shrimp with orange gastrique, pork loin with juniper, and maple glazed acorn squash, they are here to talk of beer and collaboration, major buzz-words in the craft brewing world. Rather than consolidation or confrontation, we taste the benefits that arise when two Brewmasters decide on cooperative association. The story unfolds with an agreement to launch  Midnight Project,  a series of collaborative beers that are being released – one each year - at beer events that will include an annual Beer Dinner at Monk's Café. Both brewers designed a recipe and emailed it to their counterpart. Strangely, the recipes were remarkably similar, and Brew One was born.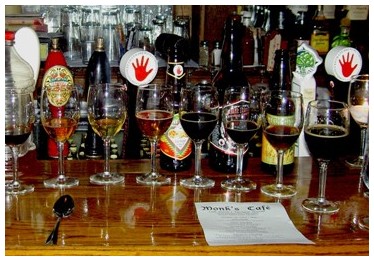 This first Midnight Project 2008 beer, Terra-Rye'Zd, is a 6.6% Roggen-Schwarzbier. Its body glows deep ebony, with blood red highlights gleaming along the edges. My mind approves with, "This bad boy presents itself as the perfect Halloween Beer." Its saddle-sand head stands in tight, tiny pearls, emitting the characteristic spiciness of malted rye and darkly toasted bread. A light nuttiness emerges in the secondary bouquet. On the palate, rye comes forth, spicy, smoky and roasty, scrubbed clean by hoppy bitterness. Mouthfeel is creamy, yet dry at the finish. Being a big fan of rye beers, I comment that the Schwarzbier side of Terra-Rye'Zd adds an extra layer of complexity to this style of beer, one that gives it an experimental edge.

Depth Charge, Midnight Project Brew Two 2009, came about as a collaboration between Left Hand Head Brewer Ro Guenzil and Terrapin Brewmaster Spike Buckowski. This creamy espresso Milk Stout emerges from a blend of Jittery Joe's Sumatran and Brazilian coffee, expressing rich exotic flavors, chocolate malts, and a creamy vanilla sweetness. The Cappuccino Crème Caramel dessert literally melted in my mouth, tempered by the delicious well-bittered Depth Charge chaser. At 7% ABV, the beer's heat was imperceptible, making this an easy finisher for any meal.

Watts and Lennert exchanged beer stories between each course, adding gems of wisdom like icing on top of brownies. They invited dinner guests to stand up and offer a toast between each course, as well. "A German Brewmaster taught me to always look into the eyes of the one you are toasting," said Lennert. "Otherwise, you'll have seven years of bad sex." The crowd laughs, but suddenly becomes consciously aware of making eye contact with each subsequent toast.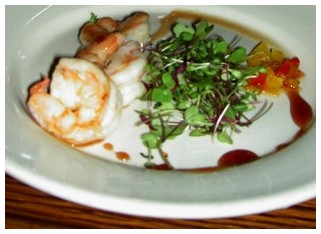 Tom Peters, Owner of Monk's Café, noted that most of the beers served at this dinner are "big beers," demanding a creative hand in pairing with food. Terrapin Substance Abuse, with 8.5% ABV, was created from the same recipe as Terrapin Wake-n-Bake Oatmeal Coffee Imperial Stout - one that uses a special blend of Jittery Joe's coffee from Guatemala, Zimbabwe and Costa Rica. It is then aged for 14 months in Jack Daniels barrels, producing a black-as-night elixir of coffee, unsweetened chocolate, whisky, roast and nut character.

Paired with the sweet dark fruit and cappuccino-and-liqueur flavors of Left Hand Imperial Stout, these dynamic flavors merged in perfect harmony with the Smoked Seafood and Bleu Cheese Savory Tart. Remembering that oysters and stout are combination-classics in the beer world, it follows that a natural progression into more assertive stouts would include smoked foods from the sea and the sharp, salty pungency of bleu cheese.

Other points to ponder:

The label on the bottle of Left Hand St. Vrain Triple boasts, "brewed on the banks of the mighty St. Vrain." "The mighty St. Vrain is really just a tiny babbling brook behind the brewery," says Chris Lennert. Left Hand has no problem poking fun at itself. St. Vrain Triple is no joke, however, crafted with Belgian pale malt, Belgian candi sugar, Strissel Spalt hops and an authentic Chimay yeast strain. It has a delicate fruity profile of autumn pear and apple, bubblegum and exotic spices. Alcohol presence is subdued, although ABV tops-off at 9%.

Left Hand JuJu Ginger, made with a variety of organic ginger root derived from Ethiopia and Jamaica, added an international zestiness to the acorn squash with wild rice, walnuts and dried cranberries.

Terrapin Big Sloppy Monster hangs on as an Imperial Red Ale, aged for 14 months in Heaven Hill brandy barrels and yielding 10.2% ABV. This monster is released each fall and highlights flavors of caramel malt, citrusy hops, vanilla and wood.

Cheers!

Photos are (from top): Chris Lennert of Left Hand Brewing and Dustin Watts of Terrapin Beer Company; Beer Wench Kerri Allen; Showcased Beers (from left) are Collaboration Terra-Rye'Zd, Terrapin Rye Pale Ale, Left Hand St. Vrain Triple, Left Hand JuJu Ginger, Terrapin Substance Abuse, Left Hand Imperial Stout, Terrapin Big Sloppy Monster, and Collaboration Depth Charge; Shrimp with Orange Gastrique