Don's Coaching Rule No. 4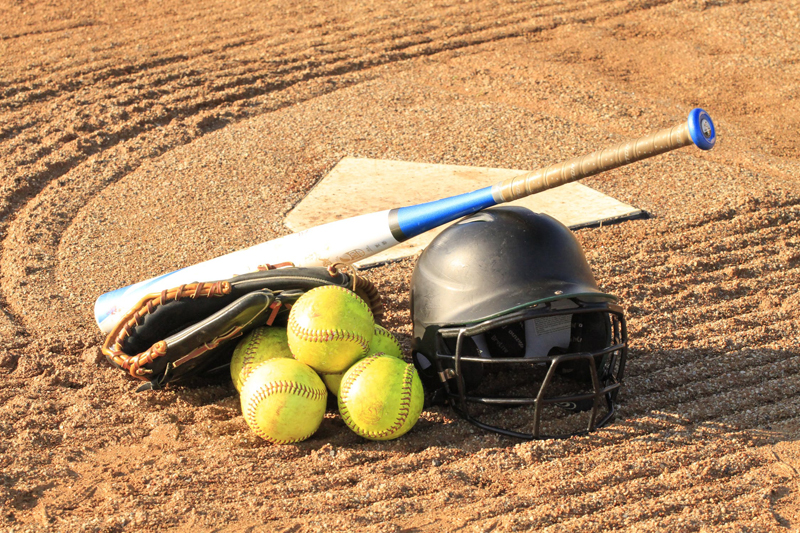 I do something that almost no coach that I have seen does. It is a fundamental reason why my teams are successful, and so beneficial on so many levels that I am surprised other coaches do not do it. The secret: everyone on my team plays an equal amount. That's right; everyone from my weakest player to my superstar All-Star sits an inning or two a game.
Before I touch on the benefits, here are a couple of caveats. First, players play an equal amount when we have open lineups and free defensive substitutions, which for me means all our regular season games and most pool games at All-Star tournaments. When my All-Star team is in a game that only allows formal ASA substitutions, I play my best 9 (or 10 if I use the DP/Flex) players and substitute as the game situation dictates. The second caveat is that in most cases, my pitcher and catcher will play the entire game. It is hard for a pitcher to get into a rhythm if she takes an inning off or has to adjust to a new catcher.
The benefits to this approach FAR outweigh any negatives. First and foremost, it makes every girl feel like she has contributed. This is a huge deal for girls and young women. If a player or a group of players feel that they are not as valuable as their teammates, they will disassociate themselves from the success of the team. In short, they will not care enough to try their hardest, no matter how much you beg, yell at, or bribe them.
Another benefit is that it brings the team much closer together, as every girl (aside from pitcher and catcher) is treated equally. I have not had any cliques on our teams, as all the girls spend time on the bench together cheering on their teammates on the field. The players care much more for their team and their teammates, and makes them fight that much harder through adversity.
There is also the advantage that most girls have to play two positions in a game situation. This a great experience for the player as they have to learn to play multiple positions, and it provides tremendous flexibility for me as manager. Sickness, injury, and other absences are a nuisance for our team instead of a catastrophe. If my star shortstop misses a game for whatever reason, it is not a big deal because the team has at least one other player who has played shortstop during a game on a regular basis. Players can take absences in stride and know that a teammate can fill in for any position if necessary.
A final big benefit is that it keeps the parents happy and involved. Parents of star players do not mind if their daughters sit for an inning once in a while – their daughter is still playing most of the game. Parents of poor players…well, they are thrilled. Not only is their daughter playing most of the innings (for a 5 inning game, all players play at least 3 innings, and for a 6 inning game all players play at least 4 innings), but typically their daughters try a lot harder and become much better ball players by the end of the season. For the first time, their cannot-catch-throw-or-hit daughter is excited about Softball.
I have developed these guidelines when making out my position lineups:
1)Pencil in the pitcher and catcher each inning.
2)Look at the previous game. If it went 5 innings, then put the 6th inning of that rotation as the 1st inning of the next game. Over the season, this gives every girl a chance to start over half the games.
3)No girl sits a second inning before every girl (minus the pitcher and catcher) sits first.
4)Try to have players stay at the same position for two innings in a row.
5)Try to have players play no more than 2 positions.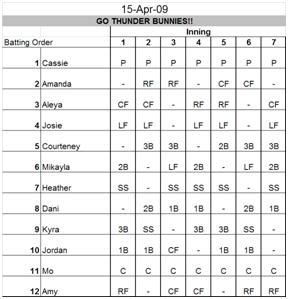 To the right is an actual lineup for one of my teams. We won this game 9-4. There were a couple of times I had to break rule #4, but not many. Some girls only played one position (SS and LF).
Heather was my "first string" shortstop that season, but she missed two games with a hurt wrist. No problem – I just had Kyra play SS for those two games (with Mikayla playing SS when Kyra was on the bench). We won both games.
It does take some time and thought to put together positions intelligently before getting to the field, but believe me, it is well worth the effort. I am convinced that this approach is a primary reason my teams "overachieve" each season.
Therefore, rule #4 is
Play everybody (except for the pitcher and catcher) an equal amount.
Don's Coaching Rules:
1) Set high expectations. Chances are, your team is more than able to reach them.
2) Question everything. Keep what makes sense, throw out the rest. Develop drills and techniques yourself if you have to. Conventional Wisdom is often wrong.
3) Don't change who you are. There is no one "winning" coach personality, so find a way to practice and to win that suits your personality.
4) Play everybody (except for the pitcher and catcher) an equal amount.
BellaOnline Softball Subject List:
Coach´s Box
,
Health & Medical
,
History of Softball
,
International Softball
,
Organizations
,
Parents
,
Professional Softball
,
Reviews
,
Rules & Regulations
,
Scorekeeping
,
Stats & Analysis
,
Travel Ball
This site needs an editor - click to learn more!

You Should Also Read:
Don's Coaching Rule No. 1
Don's Coaching Rule No. 2
Don's Coaching Rule No. 3




Related Articles
Editor's Picks Articles
Top Ten Articles
Previous Features
Site Map





Content copyright © 2019 by Don McKay. All rights reserved.
This content was written by Don McKay. If you wish to use this content in any manner, you need written permission. Contact BellaOnline Administration for details.