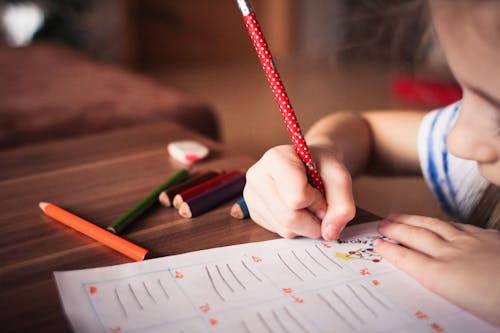 How would you feel if you were a student who was trying his hardest in class, and your best was seldom good enough? What would you do if your teachers and peers saw you as a failure?
Students who have Attention Deficit Disorder often have had long-term negative school experiences. If your best work is never what the teacher wants, why would you do it? When a paper is shredded in front of your face, would you want to turn the next paper in? Many times these negative experiences happen in the classroom. Poor self-image comes from a lack of success in school. It flows from getting grades that are lower than would be expected for a student with better than average intelligence and creativity.
I have found that there is a group of students with Attention Deficit Disorder who will not do work or turn work in. It is far less painful to fail the class. They are more comfortable with failing several years in a row than they are doing work and turning it in, which opens these students up to criticism. Students who have multiple years of school failure are at risk for dropping out. People who have experienced the pain of repeated failures need to be directly taught how to succeed. Here are ways to help these students learn:
*Use your adult skills to analyze where the student's process is breaking down. Does he need more structure in the instructions? Would a timeline help him work to completion? Does he really not understand what you want? Would a scribe help him with the writing load? Should he have a peer to brainstorm with?
*After your analysis, when you assign work, don't overwhelm the student. Assign small amounts. The goal is to have the student complete work and turn it in. If the student has not turned work in for years, a small amount is progress! The student will feel that small assignments might be possible to complete, so starting small pays large dividends! When you assign larger projects, break the assignment into smaller chunks.
*Let the student know that mistakes are just learning tools. The only people who don't make mistakes are those people who do nothing that challenges them. Challenging work means that you will make mistakes. Learn from them.
*Show samples of acceptable and unacceptable work. Have the student analyze these. Explicitly discuss what makes the work either acceptable or not acceptable.
*Guide the struggling student through those academic processes that you want him to learn. Use positive self talk. Think aloud. Let him hear the thoughts that are running through your mind as you work your way through the task.
*Use successive approximation; continuously move the student closer to your expected quality of work. Do not expect or demand perfection. Look for improvement. Give positive feedback. With each successive time that the student does the work, expect improvement in some area. Praise for the improvement. The praise to criticism ratio should be at least five to one. Praise helps people have hope. Criticism shuts down the struggling self-critical student who has Attention Deficit Disorder.
*A struggling student can often use some one-to-one instruction by the teacher to help build understanding of the subject matter. In large classrooms, this may not be possible. Instead, use a peer tutor when an appropriate one is available. A good peer tutor asks questions to help guide the struggling student. They are positive and patient. Guiding questions are a good thing, but giving answers is not. A good peer tutor does not have to be the smartest student in the class. They need to have a level of competence that helps them succeed. They also need the temperament to guide patiently.
*Criticism, when given constructively, will provide a guide for what was unacceptable, why it was unacceptable, and what can be done correctly. Constructive criticism is not just getting a red-penned note saying "Do this over."
*Be sensitive to the student's body language. Know when he is feeling overwhelmed.
*After the student develops the habit of working, his self-image shows improvement, and he has started feeling confidence in his academic skills, begin fading the supports. You want to help the student become a strong and independent learner. At first, the student will need a lot of support just to feel comfortable turning work in. Turning work in is not the final step. Independence comes when the teacher gently and gradually fades the supports. It's a bit like taking the training wheels off of the bike and letting the child ride free!
These instructions come with a caveat. Be prepared for criticism. People will tell you that you are coddling the student. This is not true. You are using techniques that help these students learn to be successful.
Using these strategies to learn success is a long process. These strategies can make a positive change in the life of a child with Attention Deficit Disorder. You can be the difference for that child when you teach that student how to succeed.
How To Reach And Teach Children with ADD/ADHD: Practical Techniques, Strategies, and Interventions (J-B Ed: Reach and Teach)
For years, Rick Lavoie has been helping people understand children with learning differences. His observations and tips for working with reluctant learners are an important tool for parents and teachers.
The Motivation Breakthrough: 6 Secrets to Turning On the Tuned-Out Child
You Should Also Read:
Handwriting Struggles and ADD
ADD and the IEP
Building School Success with ADD EBook


Related Articles
Editor's Picks Articles
Top Ten Articles
Previous Features
Site Map





Content copyright © 2022 by Connie Mistler Davidson. All rights reserved.
This content was written by Connie Mistler Davidson. If you wish to use this content in any manner, you need written permission. Contact Connie Mistler Davidson for details.