Saddle Up for a Cowboy-Inspired Party Idea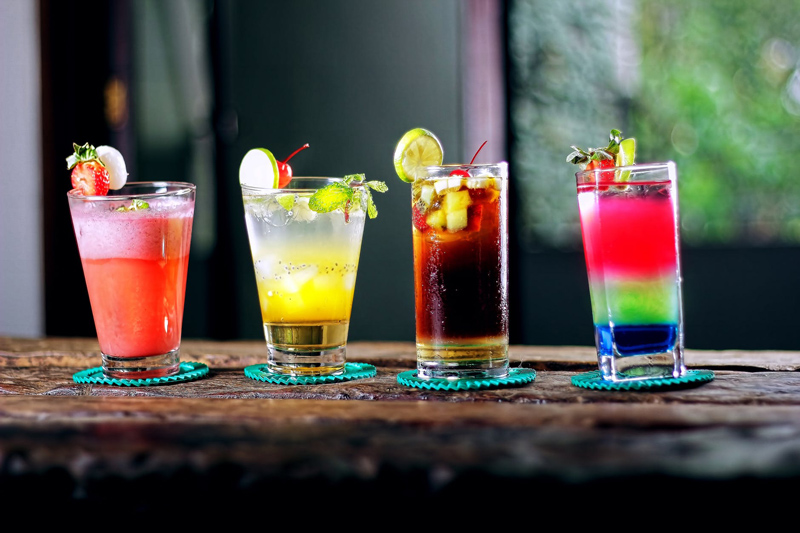 In yesterday's newsletter, I mentioned I thought I'd be doing some very traditional Texas things this weekend - BBQ, live music, dancing, and all that jazz. I promised a few recipes inspired by cowboys. Here are four really good ones to put your party guests in a Old West state of mind.

Buckaroo Recipe

Fill a tall glass with cracked ice and pour over it:

1 jigger your favorite bourbon or whiskey
1/2 teaspoon Angostura bitters

Top glass with your favorite cola.

----------------------------------------------------


Cowcatcher Recipe

Fill a brandy snifter about 2/3 full with cracked ice and add:

1 jigger cognac or brandy
1 jigger amaretto liqueur

----------------------------------------------------


Rattlesnake Shooters Recipe

Make this one in batches ahead of time. Keep chilled until party time and serve without ice in shot glasses.

1 cup vodka
1/2 cup blackberry brandy
1/4 cup pre-made bartender's sweet / sour mix

These shooters are meant to be downed in one big swallow. Bottoms up, y'all!

----------------------------------------------------


Prairie Oyster Recipe

This one is supposed to be an excellent remedy for those blasted hangovers. You decide.

Into a short tumbler, old-fashioned, or rocks glass, pour:
1 jigger cognac or brandy
1 teaspoon white wine vinegar
1 teaspoon Worcestershire sauce
Pinch ground cayenne pepper
Dash or two of your favorite Louisiana hot sauce, such as Tabasco

Mix these ingredients together to blend well, without ice, before adding:
1 raw egg yolk

Swallow this yellow polka-dotted elixir down in one big gulp, just like the Rattlesnake Shooters.



If you've got a cowboy-inspired party in the planning stage, incorporate the theme into the food menu and decorations, too. Almost everybody wants to be a cowboy -- or a cowgirl -- once in a while so why not have fun with it.

Use colorful bandanas for dinner napkins. Cut one bandana into quarters and use the smaller ones for cocktail napkins. Strew them about lavishly, in any spot that could use that home-on-the-range-y look. Bandanas can usually be found for less than a dollar each at discount warehouses and chains.

Use rope and raffia to tie napkins together, wrap around flower vases (filled with sunflowers, daisies, and wildflowers?), and lend a Western theme throughout the party area. Got a large dish of chips for dipping? Tie a lasso around that bowl and wind loose rope or raffia between and around other foods on the buffet table.

Play classic country music. Think Hank Williams, Tex Ritter, Ernest Tubb, and Patsy Cline. If possible, shove the furniture to the perimeter of the music room to create a dance floor. Teach your guests to do the Two-Step, the Schottische, and the Cotton-Eyed Joe.

For menu planning, remember cowboys are all about cows. Don't forget the beef. Serve lots of it, preferably grilled outdoors under the open sky. Beans, cornbread, and biscuits put smiles on real cowboys' faces and your guests will probably understand why after diving into a plate of these hearty vittles. Keep it simple, as it would be prepared on the open range, or put your own personal gourmet spin on the feast.

You Should Also Read:
Drinking at Home
Blood Alcohol Content
Bar Terms


Related Articles
Editor's Picks Articles
Top Ten Articles
Previous Features
Site Map



Follow @drinkandbemerry
Tweet



Content copyright © 2019 by Sandy Hemphill. All rights reserved.
This content was written by Sandy Hemphill. If you wish to use this content in any manner, you need written permission. Contact Sandy Hemphill for details.