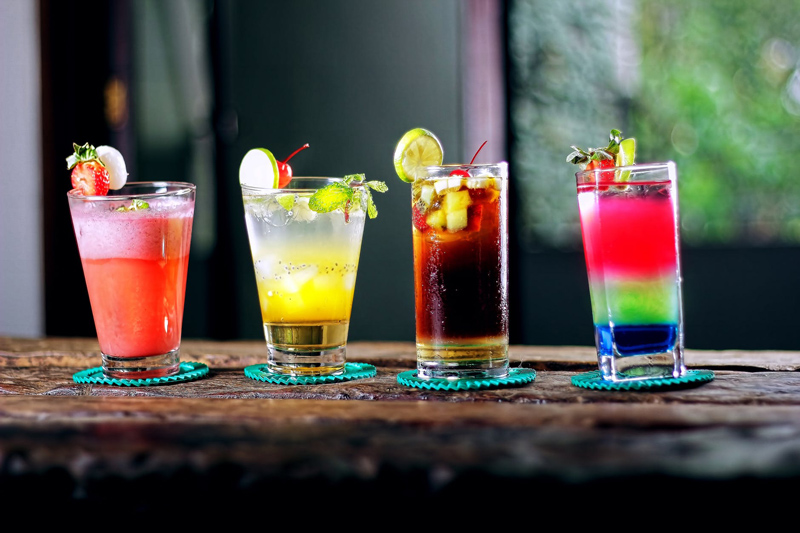 I love reading poll results but do take the results with a grain of salt. Demographic segments are often isolated and targeted to produce the desired results and questions frequently skewed to produce desired responses. Nevertheless, I think polls are fun.

Take a recent Gallup poll making headlines today, for example. Analysis of the poll's results supposedly suggest our slippery economy is making Americans drink more than ever, or at least since 1985, when Ronald Reagan held sway over America's discretionary spending dollar. Gallup says 67% of us are routinely tippling. What's more, more of us are drinking at home now, not at public establishments as we do when we have money enough for a night on the town.

Even as more of us are drinking, bars and restaurants are struggling through dismal liquor sales, which is quite unusual in a down economy. Liquor sales have historically remained stable or increased during previous recessions, leading economists to consider the adult beverage industry to be recession proof.

The poll says that, in 2009, sales of all alcoholic beverages - beer, wine, cocktails - in restaurants and bars, dropped an average of 4.6%. Offsetting this drop in sales, establishments that sell liquor to be consumed off premises, such as at home, enjoyed a 1.2% increase in sales.

How else have America's drinking trends changed lately? According to the Gallup poll, as of 2009, we:

---Drink an average of 10 drinks at home each month

---Consume only 5.7 drinks outside the home each month

---Spend less per bottle, foregoing premium brand names for more economical options

---Buy more wines in the $8-$15 price range than the $40-$60 range

Cash-hungry state governments are eyeing the trend for drinking at home, with new avenues of tax collection in mind. The shift to happy hour at home has padded the coffers of the 35 states that allow supermarkets to sell wine. Other states, including New York, are considering legislative changes to open up this and other sources of potential revenue from the liquor industry.

In states where it's legal to do so, retailers who've shunned sales of alcoholic beverages in the past are now crowding shelves with it. For example, Walgreens officially banned the sale of all adult beverages more than 15 years ago; no Walgreens store anywhere sold booze. Until lately, anyway. Now you can pick up your cocktail fixin's when you pick up your prescriptions.

I see myself in those poll results. I've been spending less per bottle and, over the last number of years, I am drinking at home more often. I hadn't thought of it so much as a matter of economics but as one of increasingly strict laws with harsh penalties for drinking and driving. What a hassle.

I enjoy cocktails for pleasure and relaxation and, when it comes to relaxation, there's just no place like home.

You Should Also Read:
Bar Terms
Cocktail Word Origin
September 15 - Creme de Menthe Day


Related Articles
Editor's Picks Articles
Top Ten Articles
Previous Features
Site Map



Follow @drinkandbemerry
Tweet



Content copyright © 2022 by Sandy Hemphill. All rights reserved.
This content was written by Sandy Hemphill. If you wish to use this content in any manner, you need written permission. Contact Sandy Hemphill for details.