Don's Coaching Rule No. 5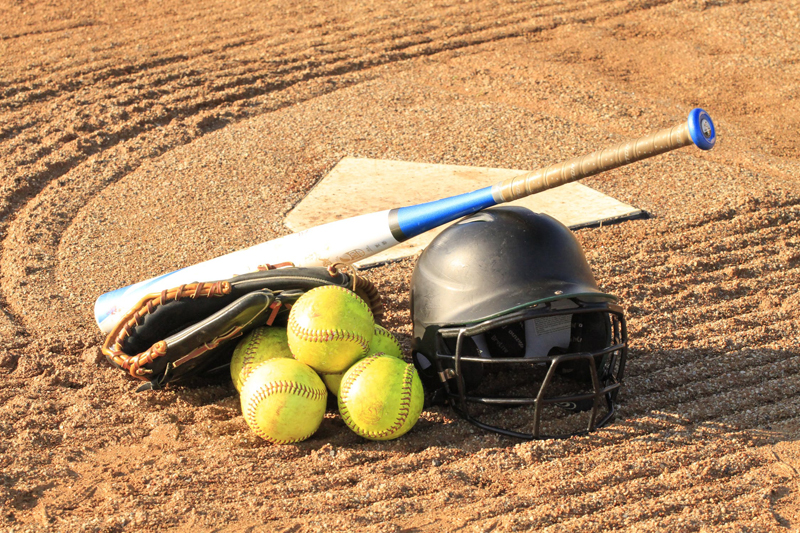 This last of my Coaching Rules may be the most important of them all. It is a lesson that I actually learned my last season of coaching 10U, where we had a very talented team but finished third in the league, and our so-so record included an impressive four ties! We emphasized winning all season long, and got exactly the opposite result.
We do not focus on wins and losses on my teams anymore. Oh, don't get me wrong – as I have mentioned before, inside I'm ultracompetitive and I hate to lose. To me, having fun in softball includes winning more than losing, and I firmly believe my players feel the same way. However, too much of a deal can be made regarding the win-loss record. If a team battles a tough opponent only to lose by one run in a well-played game by both teams, is that really something to get upset over, or is it something to celebrate?
What we instead focus on is "process" and doing things right on the softball field. Recognizing that a lot of things are out of our control, we only focus on doing well the things we can control. We hope for a good result, but we work for a good process. For example, I would rather my batter have a good at bat and put a good, hard swing on a pitch only to have the center fielder make a great diving catch than have my batter swing at the first pitch with her eyes closed and luckily hit a dribbler through the infield for a base hit. In the first case, the process was good – we just did not get the result we wanted. In the second case, the process was not good, but we got the result we wanted because we were lucky.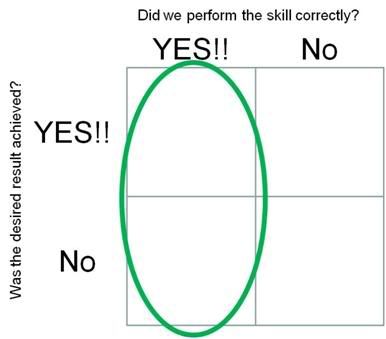 We use what we refer to as the "quad chart"(see the figure to the right) to judge everything we do on the softball field. Note that there is a right way and a wrong way to do a thing, with either a good result or bad result. We teach our players that we want most of our actions to be in the left hand column (right way) regardless of outcome. Typically, if we do things the right way, whether that is hitting, bunting, fielding, throwing, pitching, base running, being good sports, or whatever, we usually (but not always) get the desired result.
When players get into the mindset that they are striving to do well things that are completely in their control, they play more relaxed. This approach not only makes for good results from play to play, it allows the girls to play from behind very well. My teams have fallen behind big early a couple of times (down 7 or 8 runs after the first inning), yet we calmly pick away at the lead and ultimately end up winning. My players can do this because focusing on process instead of results keeps them in the game and each play, no matter what the score.
And therein may be the key. Girls will dissociate themselves from the game if they feel that there is no hope of winning. Basically, it is less painful for them to suffer the loss if they do not care about it, than to lose after trying their hardest. By focusing on process and on actions they can control, they are always motivated to stay in the game.
So, the final and most important of Don's Coaching Rules is
Have players and coaches focus on process instead of results.
Don's Coaching Rules:
1) Set high expectations. Chances are, your team is more than able to reach them.
2) Question everything. Keep what makes sense, throw out the rest. Develop drills and techniques yourself if you have to. Conventional Wisdom is often wrong.
3) Don't change who you are. There is no one "winning" coach personality, so find a way to practice and to win that suits your personality.
4) Play everybody (except for the pitcher and catcher) an equal amount.
5) Have players and coaches focus on process instead of results.
BellaOnline Softball Subject List:
Coach´s Box
,
Health & Medical
,
History of Softball
,
International Softball
,
Organizations
,
Parents
,
Professional Softball
,
Reviews
,
Rules & Regulations
,
Scorekeeping
,
Stats & Analysis
,
Travel Ball
This site needs an editor - click to learn more!

You Should Also Read:
Don's Coaching Rule No. 1
Don's Coaching Rule No. 3
Don's Coaching Rule No. 4




Related Articles
Editor's Picks Articles
Top Ten Articles
Previous Features
Site Map





Content copyright © 2019 by Don McKay. All rights reserved.
This content was written by Don McKay. If you wish to use this content in any manner, you need written permission. Contact BellaOnline Administration for details.