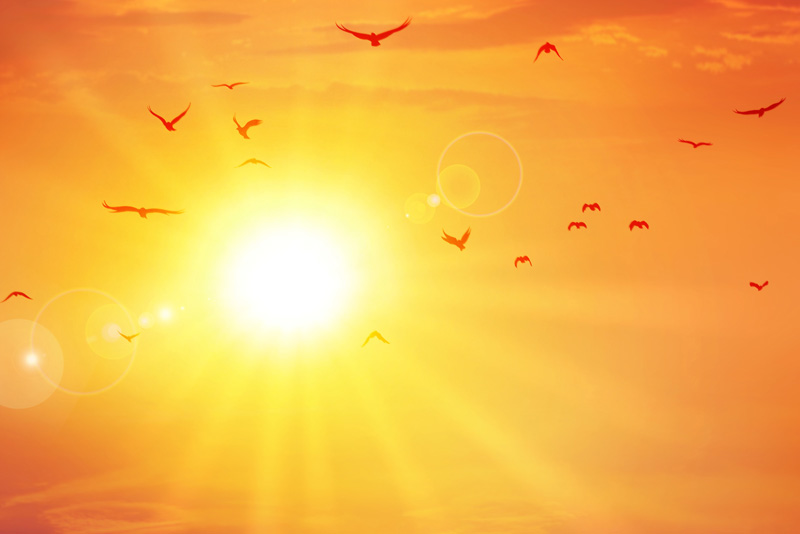 Have you noticed how everyone is fascinated with what happens when people die? Popular television programs and books are full of lost spirits haunting the earth and spirits stuck here after the death of their physical body. In many scenarios, the unhappy spirits of the recently departed need a living person to solve the puzzle and help them 'cross over' or to find peace. No one would want to look forward to a future as one of those homeless souls. Looking forward to an existence like that is no future at all. It is frightening and has many of us holding on as tightly as possible to this life. We don't want to think about our mortality or what might happen one day when our life here is over.
As Christians, we are told that our future is secure. We are told that when we die, we will be in heaven. For the Christian who reads and believes his bible, death is not a mystery and need not be frightening.
We know that Jesus Christ has power over life and death. What does that mean to us? He gave His followers a preview of it one day in Bethany. The story is told in the eleventh chapter of the book of John. The story begins when Jesus received a message that his friend Lazarus was very ill. Lazarus' sisters, Mary and Martha wanted Jesus to come immediately to heal their brother. They knew He could because they had seen Him heal many diseases. However, after receiving their message, Jesus deliberately waited until He knew that Lazarus had died before He went to his friends. Jesus told His disciples that Lazarus had fallen asleep and He was going to wake him up. The disciples didn't understand, thinking that Lazarus was really sleeping and would wake up feeling better. Jesus then had to tell them plainly that Lazarus was dead. When He arrived at Lazarus' home Jesus assured his sisters that the one who believes in Him would live. Much to Mary and Martha's surprise, Jesus asked to have the stone rolled away from the tomb, even though Lazarus had been buried there four days. Jesus called, "Lazarus, come out." And Lazarus did as he was told. This was a teaching moment for Jesus' friends and followers. It was the beginning of the realization that death was not such a frightening thing.
Jesus used the word 'sleep' for the state we call death because He knew then as He knows now that death has no power over the Christian. It is simply a natural step that we take on our way to our true home in heaven.
The apostle Paul wrote about death in 1 Thessalonians 4:13. He said that he wanted the believers to know the truth about their loved ones who had fallen asleep lest they experience sorrow. Believers had a hope.
Early Christians used words such a 'Koimao' and 'Kormeterion' for death. These are Greek words. Our word, cemetery, comes from the Greek word Koimterion which means sleeping room or hotel. The picture I get from this is one of checking in to a Hilton Hotel, expecting a comfortable night's sleep and waking in the morning fully rested and refreshed. This is exactly the rest that we can look forward to when our time on this earth is finished. We will sleep peacefully and wake up to an amazing future in heaven.
Whether our loved one dies peacefully after a long life or dies at a young age from an illness or accident, we can rejoice that death is a rest and a relief for them. It is an end of suffering in this world and the beginning of a glorious future in a home where there are no tears, no sickness, no darkness.
For a hint of that future click here.
What is Heaven?
and here
Will I be Happy in Heaven?
How do you feel about death? Vote in the Poll and comment in the
Christian Living Forum in this thread
.





You Should Also Read:
Eternal Security
Worry
Death and Eternal Life


Related Articles
Editor's Picks Articles
Top Ten Articles
Previous Features
Site Map



Follow @LynneChapman
Tweet





Content copyright © 2022 by Lynne Chapman. All rights reserved.
This content was written by Lynne Chapman. If you wish to use this content in any manner, you need written permission. Contact Lynne Chapman for details.