Meditation Outdoors Helps ADD Stress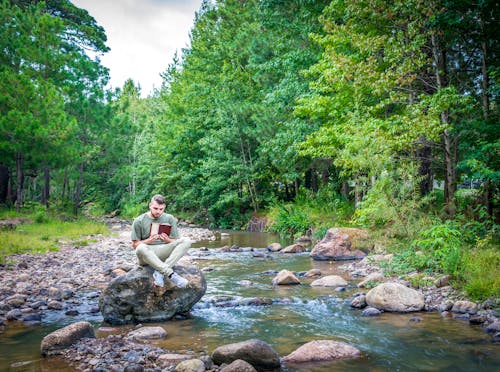 Every season brings its new stressors. When you have Attention Deficit Disorder, stress is not your friend. I don't mean the bit of stress that impels you to meet a deadline. That can be useful. Harmful stress is that unrelenting feeling of being pursued and hunted, while only being one step in front of a total disaster. We understand that it's not good for us, but what can we do? Look for unplanned opportunities to de-stress. Then, instead of going to do what you usually do when presented with a few un-filed moments, go outdoors. Meditate on nature.

The first rule of meditating while you are outside is to find a safe place. Make sure that there are no natural hazards. Look for dead overhanging limbs. Especially if there is wind, you don't want to be sitting under a limb that's ready to fall. You also don't want to be in an isolated place when you are in a meditative state. Don't put yourself in danger by meditating in a high crime area. Be aware of what's going on in the place that you choose.

Being in an area where there are people can bring irritations. Chatty people talking in their "I want everybody within twenty feet to hear me" voices can pull you abruptly out of a deep state of relaxation. Dogs giving you a good sniff can be disconcerting! A child's sudden screech might stall your entry into a meditative state. These are all acceptable hazards that allow you to meditate in a safer place. Let the irritations flow away from you. Don't concentrate on things that intrude upon your meditation.

Where are some good places to meditate outside? A well-patrolled park can be a delightful place. Remove yourself from as many distractions as possible. Limiting interruptions is especially important for people with ADD to be able to focus their attention. Sitting beside a fountain is another great place. The rushing water can mask many distractions. In our area, I love going to the Arboretum. The scents of the flowers and the wind in the trees bring me closer to a calm state. Their tiny waterfalls burble with a great deal of charm. If you are fortunate enough to be near a large body of water, go listen to the wave action!

Wherever you go, find a comfortable place to sit or stand. You need to be relaxed. Some flexible people sit on the ground with their legs crossed. Others want a chair or bench. People who have practiced Tai Chi might want to stand rooted in place. Whatever you do, make sure that you will be comfortable for about thirty minutes.

In the relaxed position, look around you without moving your body. Use only your eyes. Take note of the beauty of the surroundings. Do this until your mind tires of it. Start to focus on a natural and rhythmic sound. Water works well. The wind rushing through grass or trees is a comforting sound. Insects, like cicadas, are a pleasant way to bring focus. As you focus more of your attention to the sound, let your eyes start to close. Other sounds fade into the background. Sometimes, you hear a startling sound. Just let it go. Gradually shift all of your attention into that soothing sound. Then, let that sound fade as you ease into a state of deep relaxation. After about thirty minutes, start rousing yourself. Attend to the sounds that are around you. Gradually open your eyes. See your surroundings. Little by little, begin to move.

Meditation can relieve stress. The clarity of mind that comes with meditation can allow you to resolve issues that might have been causing your stress. When you meditate outside, you have the benefit of the gorgeous natural world around you. An unexpected thirty-minute respite from your day to day life can certainly help you to control the symptoms of your Attention Deficit Disorder. May your special time of meditation bring you relief from stress and a renewed feeling of joy with your life.

You Should Also Read:
Meditation Can Help ADD
Tai Chi Helps ADD Symptoms
Meditation Garden for Every Season


Related Articles
Editor's Picks Articles
Top Ten Articles
Previous Features
Site Map





Content copyright © 2022 by Connie Mistler Davidson. All rights reserved.
This content was written by Connie Mistler Davidson. If you wish to use this content in any manner, you need written permission. Contact Connie Mistler Davidson for details.