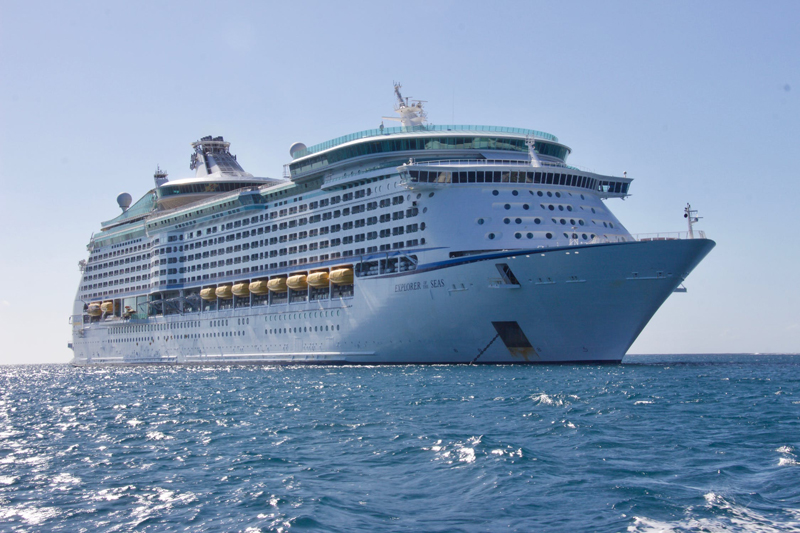 Are you ready for a family cruise adventure?
10 Tips For Cruising With Teens


Cruises can be one of the best vacation choices for families with teens. Today's cruise holidays are filled with teen clubs, high-energy activities and exciting shore excursions. If you're taking a cruise with teens, here are a few tips to make your vacation easier and a lot more fun.
12 Tips for Cruising With Kids


Cruises are a popular vacation choice for families. Today's cruise ships are filled with great kids and teens clubs, thrilling family-friendly attractions and high-energy activities. If you're planning on cruising with kids, here are twelve tips to make your family cruise vacation the best ever.
5 Awesome Multigenerational Vacation Destinations


Vacationing with multiple generations is a top leisure travel trend. Choosing the right destination for these types of trips is particularly important for success. If you are looking for a great destination for your next multigenerational vacation, here are five outstanding options to consider.
5 Reasons To Take a Canada Family Cruise


Cruises from New England to Canada have been often been thought of as just for seniors or fall leaf-peeping aficionados, but that's definitely not the case. These cruises can offer tons of fun for families as well.
5 Tips for Seeing Anna and Elsa at Disney


Many family cruise vacationers are adding another "must do" activity to their list: meeting the princesses from Disney's blockbuster film "Frozen." If you're trying to arrange for your kids to meet Disney's Anna and Elsa, here are five tips to make the process as smooth as possible.
9 Top Land Vacations For Cruise Loving Families


One of the aspects families enjoy most about cruising is the wide variety of activities and amenities onboard today's cruise ships, with something for every age group. If you're seeking a land-based North American vacation that's similar to a cruise, check out these nine family-friendly resorts.
Carnival Offers New Late-Night Kids' Programs


Both kids and parents can enjoy late-night parties on their next cruise vacation. Carnival Cruise Lines is rolling out Camp Carnival Night Owls on all Carnival Cruise Line ships. These evening children's programs are offered for three different age groups and are supervised by Carnival's staff.
Cruise Lines Make Family Reunions Easy


If you're planning to get the whole family together for a vacation, consider a family reunion at sea. Family reunion cruises offer tremendous values with accommodations to fit any budget. In addition, cruise lines offer special reunion packages and activities for every interest and age group.
Cruising With a Two Year Old


Some parents believe that cruises aren't designed for families with two-year olds, but that's not the case. While most cruise line drop-off children's programs start at three years of age, one cruise line begins theirs at two years of age and others offer nurseries and fun activities as well.
European Family Cruises Offer Great Vacation Value


Cruising is one of the best ways for families to see Europe, eliminating many of the hassles associated with international travel. If you're considering a European family cruise vacation, make sure to seek out options that deliver the best vacation value. Some lines offer special family perks.
Family Fun In Puerto Vallarta


Puerto Vallarta is an appealing destination for families. Located along Mexico's Pacific Coast, Puerto Vallarta offers a wide array of family-friendly excursions. Parents and kids will be enchanted by all there is to see and do. Here are five great options for family fun in Puerto Vallarta.
Finding Family Fun In Key West


Families enjoy visiting Key West, Florida. The southernmost city in the continental United States is filled with cool attractions, engaging museums, and exciting options for outdoor adventure. If you're planning to visit Key West with kids, check out these seven great options for family fun.
Five Bucket List Family Vacations


Many family vacationers spend their time searching for exceptional destinations and adventures to embark on with those they love. If you're in the market for an amazing family vacation filled with immersive experiences and memorable moments, put these five trips at the top of your bucket list.
Five For Families On A Carnival Cruise


Cruises deliver tons of fun for families with kids of all ages. Carnival Cruise Line understands the family market well. If you're looking for a great family cruise, here are five "only on Carnival" features and experiences that are sure to be a hit with families and multigenerational groups.
Five For Family Fun In Curaçao


Located just 40 miles off the coast of Venezuela, Curaçao welcomes an average of 400,000 cruise passengers each year. The island is renowned for its distinctive architecture, exceptional watersports, and superb weather year-round. Here are five of the island's top family friendly attractions.
Five Ways to Combine Disney With A Cruise


Cruising and Disney go hand-in-hand, especially for those who love the Disney parks. Disney Cruise Line offers many options for Disney-themed sailings, but it's important to remember that cruising aboard a Disney Cruise Line ship isn't the only way to make your Disney dreams come true.
Fun Activities Abound On Family Cruise Vacations


Cruising is a great choice for family vacations. Today's ships offer programs, amenities and entertainment designed to please all ages and interests. This is particularly true for the industry's newest cruise ships, which are loaded with attractions. Check out the fun things families can do.
Making A Family Cruise Backpack


If you're traveling to your next family cruise by car or plane, here's a great way to banish the "are we there yet?" travel blues. Properly prepared, a family travel backpack will keep kids busy and happy for hours. This is definitely one family cruising secret that should be let out of the bag.
Outdoor Experiences Make Great Vacation Memories


When vacationers think of visiting Walt Disney World, theme park rides and Disney characters immediately come to mind. Unexpected outdoor activities like fishing and boating at Walt Disney World can add to the fun and start new family traditions, both at Disney and closer to home.
Planning a Mediterranean Family Cruise


Mediterranean cruise vacations are generating lots of interest among family travelers. Careful planning is the key to enjoying a successful European family vacation of this type. Here are answers to five of the most common questions about planning a Mediterranean family cruise.
Taking The Kids On A Grandparents Getaway


Multigenerational cruises and vacations are an excellent opportunity for bonding and creating great family memories. If you are thinking about planning a vacation with your grandchildren, here are seven tips and vacation options that can help make your grandparents getaway an "awesome" success.
Tips For Cruising With Grandchildren


Thinking of taking the grandchildren on a cruise vacation? You're not alone. Vacationing with grandchildren is one of today's hottest travel trends. These 10 tips will help to make your cruise vacation "awesome."
Tips for Driving To Your Family Cruise


With so many cruises leaving from convenient homeports these days, many families are driving to their cruise departure point. Driving to your cruise is an excellent way to save money by eliminating expensive airline tickets. Here are seven great tips to make your ride go more smoothly.
Editor's Picks Articles
Top Ten Articles
Previous Features
Site Map
Content copyright © 2018 by . All rights reserved.
This content was written by . If you wish to use this content in any manner, you need written permission.
Contact Nancy Schretter for details.