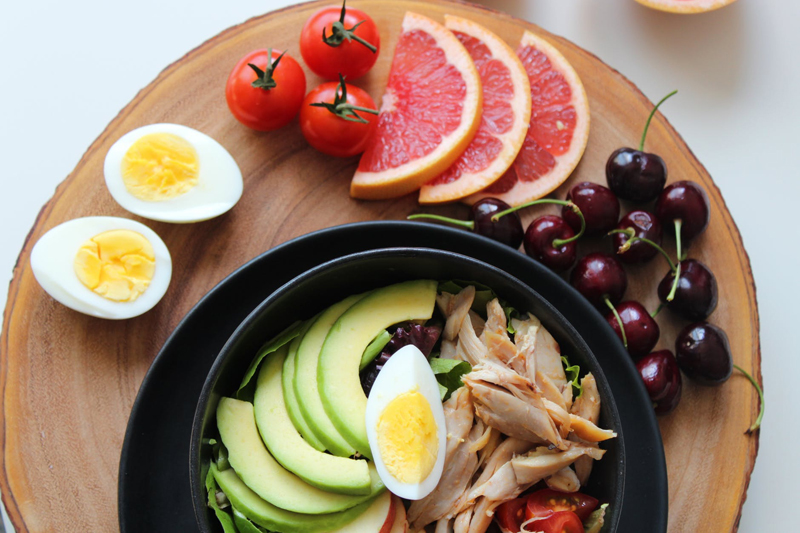 Salads are the cornerstone of any healthy eating plan.
Apple Cider Vinegar Salad Dressing


According to some people, taking apple cider vinegar helps to burn fat. Here´s a salad dressing that is easy to make and gets you a daily dose of apple cider vinegar.
Bean Sprouts Information


It´s amazing that while beans themselves are high calorie / high carb food for farmers and laborers, bean sprouts are considered to be delicious, nutritious healthy food. Learn more about this green treat.
Chipless Taco Salad Recipe


If you love taco salads, here is a way to make a healthy chipless version that is full of flavor!
Coriander / Cilantro


Coriander and cilantro are the same plant! In the US the leaves are called cilantro, which is the Spanish name for the planet. In most of the world, both leaves and seeds are called coriander in English.
Creating a Tastier Salad


Pretty much every healthy eating system emphasizes eating a salad before the main meal. There are many reasons for this. Veggies are good for you, it helps to fill you up, and the fiber helps your digestive system. Here are tips to make that salad as tasty as possible.
Cute Ladybug Tomato Caprese Salad Snacks


These delightfully cute snacks look like ladybugs - they are perfect for parties and social events! They are like mini caprese salads with tomato, mozzarella, and basil.
Easy Oriental Cucumber Salad Recipe


I love cucumber salads - they´re fresh and easy to make, and healthy too! Here´s a quick recipe for an oriental cucumber salad.
Egg Salad Rollup Recipe


I´m a big fan of quick, easy lunches. This egg salad rollup takes only moments to make and is really delicious and satisfying!
Egg Salad with Olives Recipe


A perfect lunch or appetizer for a low carb dieter is egg salad with olives. I find this incredibly tasty and a perfect quick filler-up. Enjoy!
Ginger Salad Dressing Recipe


Ginger Salad Dressing is a great way to liven up any salad. The ingredients are fresh and nutritious, and the taste is great! It blends in about 30 seconds.
How to Determine Carb Count of a Salad


A salad might seem like an intricate meal made up of all sorts of ingredients. How do you determine the carb count of the end result? Here's the step by step instructions!
Japanese Cucumber Salad


This has got to be one of my favorite salads of all time. You need to make it a few hours in advance, though, so plan ahead and enjoy!
Low Carb Mexican Cucumber Salad Recipe


This salad recipe is perfect for any Mexican themed meal, and is deliciously low carb.
Low Carb Salad Dressings


I have reviewed many low carb salad dressings - the stores are full of them! Just what makes a salad dressing low carb? The real question is - why do so many salad dressings have sugar in them??
Ranch Dressing Recipe


Eating a salad a day is great for your health! Here is a great ranch salad dressing recipe to help you get a delicious flavor boost to your salad.
Saffron Ginger Salad Dressing Recipe


The more ways you have to enjoy your salads, the better! Salads are a key part of every day. This saffron ginger salad dressing can be a perfect way to add flavor to your meal.
Salad with Cherry Tomatoes Recipe


Cherry tomatoes are SUPER easy to grow. Every year my garden bursts with them! Grow them in a container or on a porch, and enjoy delicious, nutritious, FREE salads.
Spicy Egg Salad Recipe


Are you looking for a low carb egg salad recipe with a bit of a spicy kick to it? It's time for you to try this egg salad made with wings hot sauce. The recipe will be a great to spice up your low carb lifestyle!
Spinach and Red Pepper Salad Recipe


Looking for a quick and easy recipe? Try this spinach and red pepper salad recipe, which has great nutrition and flavor too!
Spinach and Tomato Salad


A salad is a great midday lift that is fresh and refreshing. This salad features spinach, tomato, and a red wine dressing.
Tomato Mozzarella Basil Salad Recipe


If you've got five minutes, you've got plenty of time to create a delicious salad. This one features tomatoes and mozzarella, along with basil for fresh flavor!
Editor's Picks Articles
Top Ten Articles
Previous Features
Site Map
Follow @LisaLowCarb
Tweet
Content copyright © 2018 by . All rights reserved.
This content was written by . If you wish to use this content in any manner, you need written permission.
Contact Lisa Shea for details.