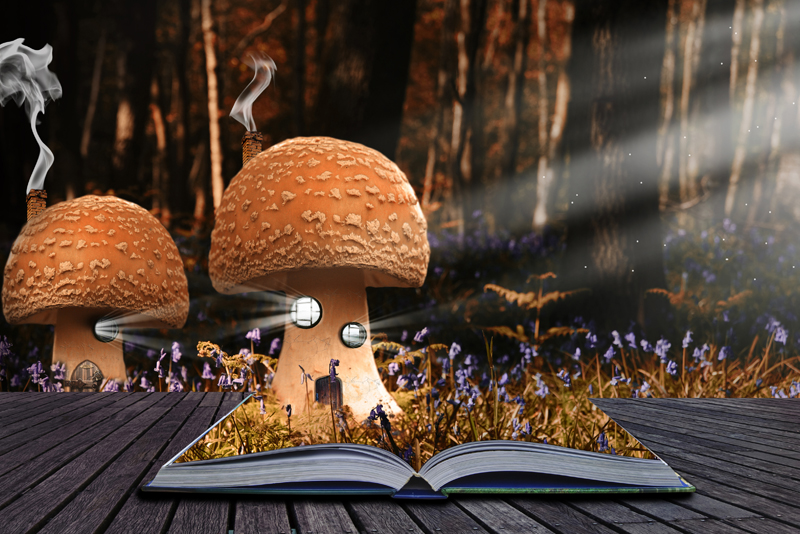 Magic Tree House #1,
Dinosaurs Before Dark
. Discover the mystery of the magic tree house and meet Jack and Annie. Travel back in time with them to the time of dinosaurs.
Dinosaurs Before Dark, Magic Tree House #1
by Mary Pope Osborne
Meet Jack and Annie: Jack is eight years old and Annie is seven years old and they are brother and sister. Annie likes pretend things and Jack likes real things. On a summer day in Frog Creek, Pennsylvania a mysterious tree house appears in the woods close to their home. They have never seen it before, but there at the top of a tall oak tree is a tree house and coming down from it is the longest rope ladder Jack had ever seen. Annie immediately climbs the ladder into the tree house, and Jack calls her back. Not only doesn't she return but she tells him it is full of books – Jack loves books so he follows after her.
Books are everywhere, old books with dusty covers and new books with shiny covers. Looking out the window they see their neighborhood and all the houses and even the neighbor's little black dog. Jack wonders who the books belong to and notices that they are bookmarks sticking out of many of them. There is a book about Pennsylvania, and when he turns to page with the bookmark it there is a picture of the Frog Creek woods.
Annie holds up a book about dinosaurs with a silk book mark sticking out. Jack sees a picture of an ancient flying reptile. A Pteranodon. He whispers "I wish I could see a Pternodon for real." Just then Annie screams when she sees a monster out the tree house window. Jack thinks Annie is pretending, and then the tree house starts to spin – faster and faster. Then, everything is all still. There is Annie, the books, his back pack. The tree house is still up high in an oak tree – but it is not the same oak tree.
They have landed in the time of the dinosaurs. How will things go for them as they see a real
Pteranodon
, a
Triceratops
, and a
Tyrannosaurus
?
What is the mystery of the medallion they find? Will they be able to return to Frog Creek?
Note: All Magic Tree House books are from my personal library.
Children's Books
List of Dr. Seuss Books
Don Freeman's Books
List of Magic Tree House Books
Chronicles of Narnia Books
A Series of Unfortunate Events Books


Related Articles
Editor's Picks Articles
Top Ten Articles
Previous Features
Site Map





Content copyright © 2022 by Launa Stout. All rights reserved.
This content was written by Launa Stout. If you wish to use this content in any manner, you need written permission. Contact Launa Stout for details.