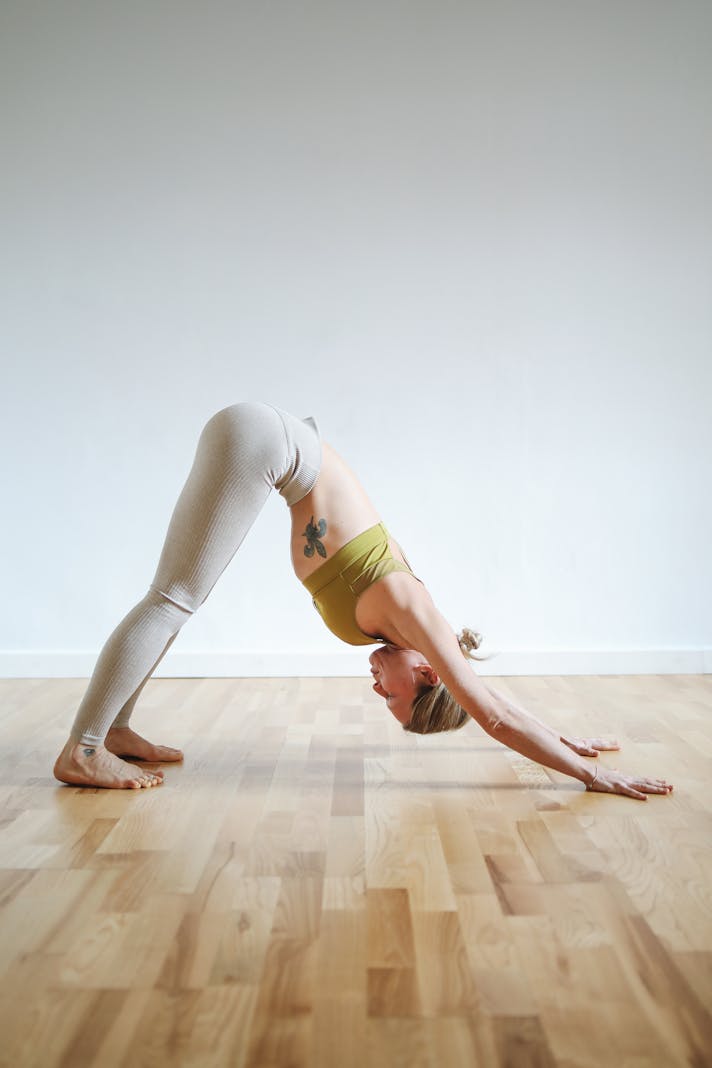 Adho Mukha Svanasana , or Down Dog, strengthens and stretches multiple muscle groups in the arms, legs, core, and back. It's the basis of most vinyasa classes, where a modified Surya Namaskar or Sun Salutation connects different asanas. In addition, Downward Dog is a simple inversion, bringing all the benefits of placing one's head lower than the extremities.

These are just a few of the reasons why it's considered fundamental. Does this mean, however, that a yogi/ni who can't do the standard form needs to abstain from yoga? Of course not! It's possible to practice Down Dog in a number of ways, making it possible to access a yoga class whether or not one is in "top physical form." Here are some ideas.

First of all, note the similarities between an active Balasana, or Child's Pose, and Down Dog. Both postures have the arms stretched out in front of the body. Both therefore work the shoulders; both can be taken in the middle of a Sun Salutation. If you need to take the pressure off your shoulders, it's possible to simply substitute Child's Pose within a vinyasa.

Another substitution that works well is Dolphin Pose, known variously in Sanskrit as Ardha Pincha Mayurasana or Catur Svanasana. The difference? In Dolphin, the forearms are on the mat surrounding the head. This relieves the pressure on the wrists while actively working the shoulders. Like Balasana, it allows a seamless transition in vinyasa.

Beyond these substitutions, there are ways to practice Down Dog by breaking the pose down and focusing on shoulder stretching and strengthening. Try taking the pose at the wall, for example Your arms are outstretched, with your hands against the hard surface; your feet step away from the wall, allowing the shoulder stretch without putting too much pressure on the arms. If a wall isn't handy, try any piece of furniture: desk, table, chair….. if you're at work and feeling tight, this is a great way to sneak some yoga in without having to change clothes!

Each yogi/ni walks a specific path. Some need to modify certain postures while recovering from injury; others need to strengthen specific areas after surgery. Still others need to back away from hardcore physical practice but still want to participate in yoga. By making poses such as Down Dog accessible, teachers bring yoga out into the world. If more people were able to practice, wouldn't the world be a better place?

You Should Also Read:
Beyond the Basics for Newcomers
Maty Ezraty
Three Shoulder Openers Using a Strap


Related Articles
Editor's Picks Articles
Top Ten Articles
Previous Features
Site Map





Content copyright © 2022 by Korie Beth Brown. All rights reserved.
This content was written by Korie Beth Brown. If you wish to use this content in any manner, you need written permission. Contact Korie Beth Brown for details.