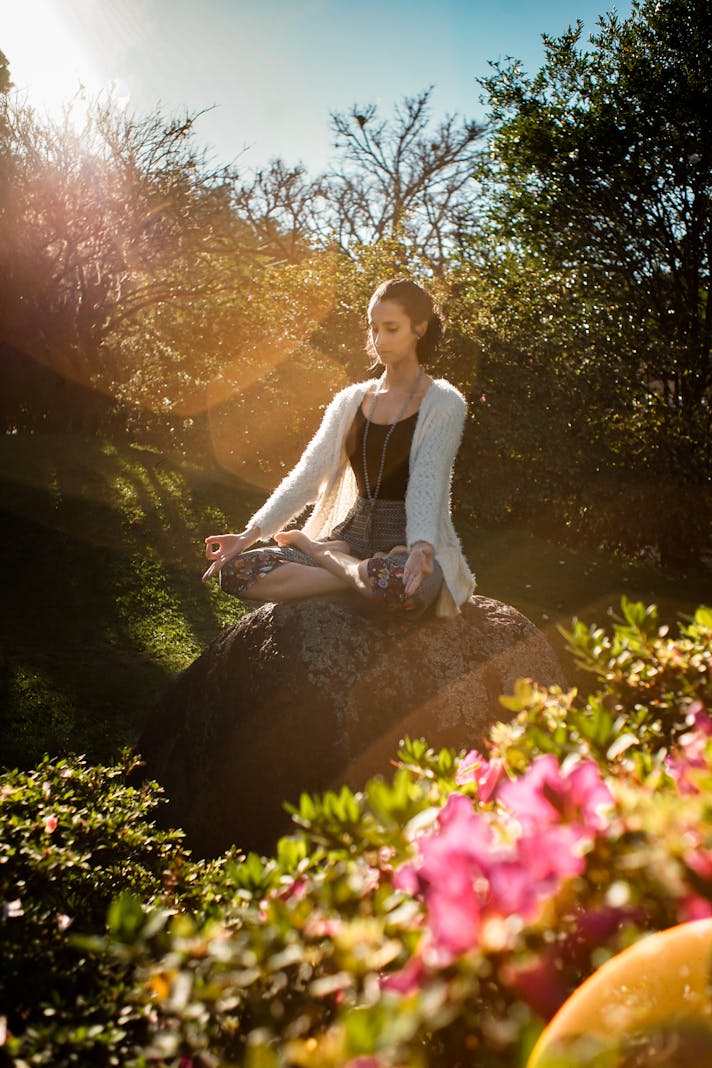 Life in the twenty-first century rewards consumerism, addiction, and other escape mechanisms, while distractions multiply with every passing year. There's a reason everyone loves to yell "SQUIRREL"; on some level, it's easier to try to do everything at once than to focus on one small thing. Consider multi-tasking, the word 'busy-ness' or 'business', and the bullet journals that we all love to create. It's all to easy to forget that we are in fact "human beings" rather than "human doings."

Patanjali's Eight-Fold Path begins with how we respond to the rest of the world, giving us the yamas and niyamas to ensure that our conduct is moral and uplifting. From there, the study of yoga turns to a focus on one's body and breath, and finally to that part of us that is greater than any of this. After using pratyahara to pull ourselves away and inside, we then turn to dharana, or concentration. We pick something – perhaps a mantra, perhaps the ambient sounds in the room or the breath – and stay focused on that one thing. When the inevitable distractions arise, we acknowledge them, trying not to let them shift our focus. Dharana is ultimately achieved by bringing our consciousness back, over and over, gradually learning how to see the distractions without allowing them to rule our brains.

Note that this is far from easy. For some of us, it's difficult to even select one practice to use. Dharana requires the spirit of acceptance as we realize that we can't do everything at once. It also emphasizes the fact that 'having it all' is not necessarily good, and that our choices define our experience. Thankfully, we can choose a different focal point with each new time of practice, but ultimately our work with dharana shows us what works for us and where we need to focus.

Attention and concentration are two different actions. When we first try to concentrate, we learn just how scattered our attention is most of the time. As we continue to practice, however, we learn that recognizing distractions and letting them go is at the heart of the practice. There's always going to be something newer, shinier, and more attractive out there, but when we nurture what's inside we often discover the beauty that we never knew we had. Practicing dharana imperfectly means meditating in a spirit of humility and patience, accepting all of our current incarnation, the bizarre as well as the beautiful.

We don't have to confine dharana to seated meditation. Perhaps we can concentrate on walking, on a specific asana, or one letting go in savasana. As the popular saying goes, how we do one thing is how we do everything – our efforts in one area will then improve our concentration in others.

If you're interested in taking your yoga practice beyond the physical, try using dharana as a tool. When you take an asana, see if you can stay in a pose and "be there now," to quote Ram Dass. When using a particular pranayama technique, allow yourself to come back to the breath again and again. When interacting with other people, see if you can focus on the conversation and relationship without allowing interruptions, anxieties, or fears to take you away from what's current. If this is as far as you go – if you never get to the stage of seated meditation – you'll still find using dharana will positively impact your life.


You Should Also Read:
The Nature of Vritti
Paths to God
Pranayama and Stress Relief


Related Articles
Editor's Picks Articles
Top Ten Articles
Previous Features
Site Map





Content copyright © 2022 by Korie Beth Brown. All rights reserved.
This content was written by Korie Beth Brown. If you wish to use this content in any manner, you need written permission. Contact Korie Beth Brown for details.